Korea's international students reach out
Dec 16, 2011
On December 9, Korea's first student council for international students was formed at Kyung Hee University (KHU). Third-year undergraduates He Yun from China and Sun Zhiwei from Inner Mongolia, were chosen by their peers to represent the international student community in the coming academic year.
"I decided to run in the election because I want to help other international students to do well and overcome the challenges of studying in a foreign country," explained He in an interview with Yonhap News. "We work very hard, but improving our language skills is a continuous struggle."
He Yun (left), from China, and Sun Zhiwei (right), from Inner Mongolia, will head Korea's first student council for international students at Kyung Hee University (Photo: Yonhap News).
He, who won her position as council president with 96% of the vote, had been attending a Chinese university when she chanced upon the popular Korean drama Winter Sonata. Her interest in Korean culture thoroughly piqued, she decided to move to Korea, where she enrolled as a business management major at KHU.
Sun came to Korea in 2008, scrapping previous plans to study in New Zealand in order to spend time learning the Korean language. Currently studying in the College of Hotel Management, Sun will assist He as vice president of the student council.
With over 2,000 international students from 60 countries enrolled at its two campuses, Kyung Hee University has the largest population of international students in the country. On the Seoul campus, where 10% of the student body is from overseas, the formation of the student council is a milestone in the pursuit of increased dialogue within the student body and with regard to the administration as well.
"My ultimate goal is to help create a learning environment that will encourage greater interaction and deeper friendships among Korean students and foreign students," remarked He, who has suggested various programs, including one-on-one language mentoring, more diverse meal options, and expanded course offerings for foreigners. Sun, also, has suggested increasing scholarship funding and financial aid options for international students, who, due to the accumulated costs of living in a foreign country, typically have more expenses to cover than local students.
Konkuk University (KU), which currently has over 1,500 international students, is another local institution that is working to enhance the learning experience for international students.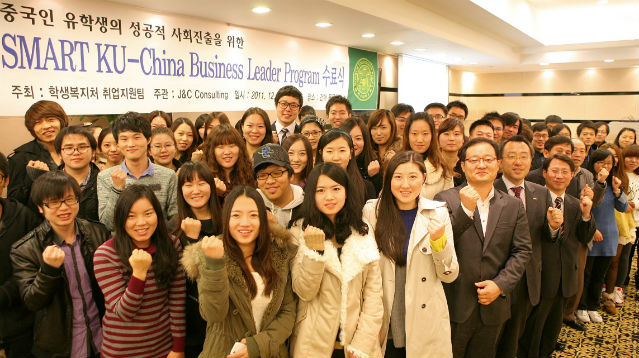 Konkuk University launched its "Smart KU-China Track" program to assist with employment of international students from China by connecting them with local Korean companies involved with business in China (Photo courtesy of Konkuk University).
On December 7, KU signed partnership agreements with LG Electronics, Dong-Yang Industries, Ucess Partners, and a host of other industry leaders, as part of its "Smart KU-China Track" program. The program will connect talented Chinese graduates, who altogether account for over 60% of Korea's international student population, with local Korean companies that are active in or interested in doing business in China.
Before this, KU had gained attention for its employment assistance program for international students, which provides training in resume writing, interviewing, communication, and leadership skills that are necessary for securing positions with domestic companies. KU has also arranged programs for students to experience Korean corporate culture firsthand at places like Samsung, LG, CJ, and E-land.
According to the Ministry of Education, Science and Technology, the number of international students in Korea has increased steadily over the past decade, from 16,832 students in 2004, to 32,557 students in 2006, to 63,952 students in 2008, and reaching 87,480 students in 2010. In addition to KHU and KU, the international student populations at Sungkyunkwan University, Dongguk University, and Hanyang University have also surpassed 1,000. With the 2011 estimate for international students in Korea at 93,232 students, the Korean government hopes to reach 100,000 students by 2012.

By Kwon Jungyun
Korea.net Staff Writer
Department Global Communication and Contents Division, Contact Us