Kimchi Bus promotes Korean food
Dec 22, 2011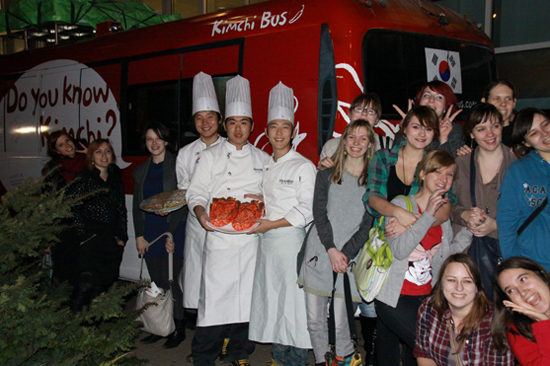 The team at the Korean Cultural Center in Poland (Photo courtesy of the Korean Cultural Center)
Three culinary students have planned a world tour to promote kimchi, one of Korea's best-known staple foods. They will travel a distance of 52,000 kilometers over 400 days on a bus painted with images of kimchi. On October 24, their Kimchi Bus Project began in Vladivostok, Russia.
Ryu Si-hyeong, Kim Seung-min, and Jo Seok-beom, from the department of Hotel Management at Kyunghee University came up with the idea to promote the globalization of kimchi. Their plan is to travel all around the world starting from Russia on their Kimchi Bus and cook various foods using kimchi as the main ingredient or in side dishes.


The leader of the group, Ryu, started planning the tour based on his experiences. Also as the author of the book "26 Euro," he spent 200 days traveling 26 countries with a budget of 800,000 won. "During my trip, I could see the daily life of local people in each country and saw the idea of having a kimchi tour someday," Ryu said during an interview with Donga Ilbo. "I saw the possibility that their foods can be reborn as new foods with various flavors if kimchi is added."


The team hosted its second event for cooking kimchi on December 15 at the Korean cultural center in Poland. Supported by the center, the group invited over 150 guests mainly consisting of Korean language learners and K-pop fans. Some fusion foods made by mixing Korean and Polish cuisine such as kimchi-bigos and kimchi-nalesniki were cooked at the event.


The Kimchi Bus is a medium-sized bus manufactured by Hyundai Motor Company. The interior is modified so the bus serves as a camping car where the members can sleep during their tour. The group has collected contributions worth 300 million won from sponsors including Hyundai Motor Company and Kyunghee University, though more sponsors are welcome for the group to keep going.

For more information about the team and their schedule, please visit http://www.kimchibus.com.

By Jessica Seoyoung Choi
Korea.net Staff Writer

Featured Topics
http://www.korea.net/NewsFocus/Society/view?articleId=90424
URL Copy
Department Global Communication and Contents Division, Contact Us