Speaking in the language of art
Jan 02, 2012
It is no exaggeration to say that one is an internationally-acclaimed artist when his or her works have been collected by prestigious art museums around the world. The Solomon R Guggenheim Museum in New York is the latest addition to the list of major venues to have included works by Korean conceptual artist Yang Haegue, following the Museum of Modern Art, the Los Angeles County Museum of Art and the Carnegie Museum of Art.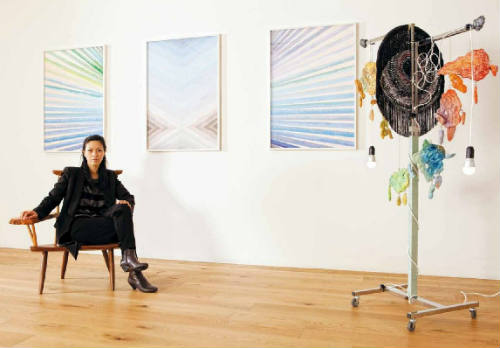 Guggenheim purchased Yang's Series of Vulnerable Arrangements _ Voice and Wind in October, which was first showcased at the Venice Art Biennale in 2009. Composed of window blinds, fans and sprays, the work stimulates all five senses and entices curiosity by filling the space with wind, fragrances and voices.
Yang met with KOREA at Kukje Gallery in central Seoul during a short autumn visit here, saying that she was glad to hear the news as it is a relief for an artist when a work is collected by a museum. "It means that the work will be well maintained and that it is guaranteed a long, secure life. The museum will showcase it over and over in many exhibitions. It will be different from works collected by individual collectors, which usually disappear from the field," she explains.
She has confidence that the oeuvre will work in whatever exhibition the museum decides to showcase it in. "Everyone said that the work was too site-specific after seeing it on show in Venice. It was challenging for me, too, because the aquarium-like white cube in the New Museum, where it was next showcased, was very different from the bustling pavilion in the Biennale. But the result turned out to be satisfying; the museum even pulled down the ceiling so that the work could stand out," Yang explains.
Crossing Boundaries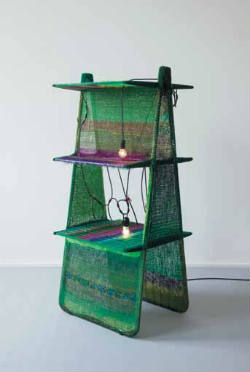 Born in Seoul in 1971, Yang graduated from Seoul National University's Fine Arts College and furthered her studies at Stadelschule in Frankfurt, Germany. German newspaper Capital included her as one of the top 100 international installation artists in 2009, along with compatriot Lee Bul. The young artist now lives and works alternately in Seoul and Berlin.
Her art world can be roughly summarized as a collection of familiar materials _ lights, fans, infrared heaters, window blinds, clothes hangers, carefully folded paper cranes or shattered glass but reassembled in different ways to create unfamiliar, inspiring scenes. The completed works, mostly realized in the form of installations but as paintings or sculptures as well, carries the artist's sentiments about certain individuals and incidents, or more generally about humanity, history and her memories.
Yang earned the gaze of the international spotlight after representing Korea at the 53rd Venice Biennale. She was invited by museums all over the world to participate in group and solo exhibitions. Some of her most important shows of late include the 2011 joint exhibition. The Sea Wall she held with Cuban artist Felix Gonzales-Torress at Arnolfini in the UK; her 2011 solo show Teacher of Dance at Modern Art Oxford in the UK; and her solo exhibition Art and Technique of Folding the Land held at the Aspen Art Museum in the US.
In terms of work ethic, Yang is obstinate and meticulous to the point of making her peers "suffer," as the artist herself lightheartedly describes. And unlike many artists who prefer to be secluded and conceal themselves when it comes to communicating with the public, Yang is very outspoken.
It is not always in the form of verbal language _ she happens to be fluent in Korean, German and English _ that she expresses her thoughts, but through art, writing books or even directing monodramas. She wrote the book Melancholy is a Longing for the Absoluteness in 2009 and directed the monodrama The Malady of Death in 2008, based on a short story by French writer Marguerite Duras, whose work has been influential in Yang's style.
"An artist should have a language of one's own, other than the linguistic one, something that can be best expressed through their works. It can be one's attitude or perspective on the world. It differs depending on the individuals and their backgrounds. I think that language is the most important one for an artist," she says.
When questioned about her versatility in crossing genres of art, literature and theater, Yang shakes her head. "That is a misunderstanding. I am not the type of person who does or can do so many different things. The things I do happen to be realized in different media, but to me, they are simply my works," she says.
"Is it not what you do that should be clear, rather than the genre? I think materials and media are what should follow, naturally, and get decided upon what you do. There are, of course, artists who really focus on the medium and ponder deeply on questions like 'what is video,' or 'what is photography.' But I'm not that much of a media-oriented person. I just take the materials that I need at the moment, stay under until I fully digest and interpret them in my own way, and come back up to the surface. After that, I like to be free of that material or genre."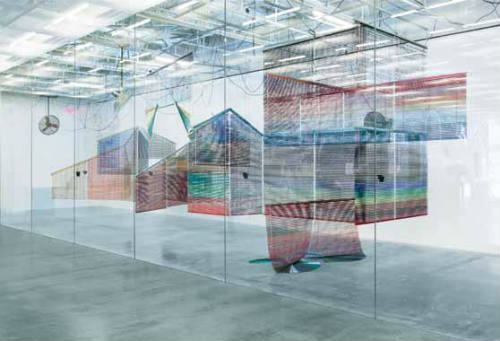 Communicating Inspiration

At first glance, Yang's works can be difficult to understand. Her choice of materials, usually ready-made objects available at stores anywhere in the world, would require explanation for most, and is one of the most characteristic aspects of her art. The artist reminisces about how the materials she had to use in her Seoul National University days at the Department of Sculpture did not suit her at all.

"The classes were very academic. In order to stand out in class, one had to be really good at cracking stones or kneading clay. I was not the type. 'Talking with the materials' or exploring the 'symbol of the materials' was not something for me," she admits.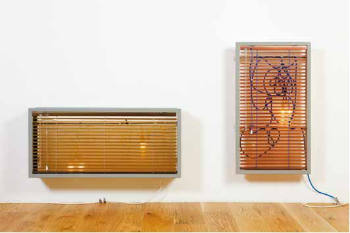 "I mostly use manufactured materials in my works. They were born in their own factory lines and already have a purpose and exist for a reason in society. I am meddling in the middle of all that."
Her installation work Manteuffelstrasse 112 _ Single and Solid, for example, is made of aluminum Venetian blinds, light bulbs and radiators that mimic the models she uses in her office. By gathering everyday household products that have a relationship to warmth, Yang materializes the concept of a house without an address or specific location.
The concepts are simple yet surprising. For Yang, finding inspiration is a magical thing that is hard to recognize in the moment. "Can you explain every single decision you have made in your life? No. We may seem different, but we are the same. We are not aliens," she laughs.


- The artist's major exhibits

2007 Remote Room, Galerie Barbara Wien (Berlin)
2008 Asymmetric Equality, REDCAT (Los Angeles)
Global EurAsia, Art Cologne (Cologne)
2009 Condensation, South Korean Pavilion, 53rd Venice Biennale (Italy)
Your Bright Future: 12 Contemporary Artists from Korea
LACMA(Los Angeles)
Monument to Transformation, City Gallery Prague (Prague)
Everything, Then, Passes Between Us, Kolnischer Kunstverein (Cologne)
2010 Voice Over Three, Artsonje Center (Seoul)
Voice and Wind, New Museum (New York)
After Architects, Kunsthalle Basel (Basel)
10,000 Lives, 8th Gwangju Biennale (Gwangju)
Like Eskimo Space, 1857 (Oslo)
2011 Teacher of Dance, Modern Art Oxford (Oxford)
The Sea Wall, Arnolfini (Bristol)
Art and Technique of Folding the Land, Aspen Art Museum (Colorado)
Playing Among the Ruins, Museum of Contemporary Art Tokyo (Tokyo)



* Article from Korea Magazine

Department Global Communication and Contents Division, Contact Us