Rhythmic gymnast Son Yeon-jae sets sights on Olympics
Jan 09, 2012
In recent years, several of Korea's young female athletes have received the spotlight at home and abroad for the charm and flourish with which they distinguish themselves in sports historically led by European athletes. Along with figure skating, which is dominated internationally by Olympic gold medalist Kim Yu-na, rhythmic gymnastics is another sport that is beginning to find a following among Koreans.
At the center of the buzz is 18-year-old Son Yeon-jae, dubbed Korea's "gymnastics fairy" by her fans.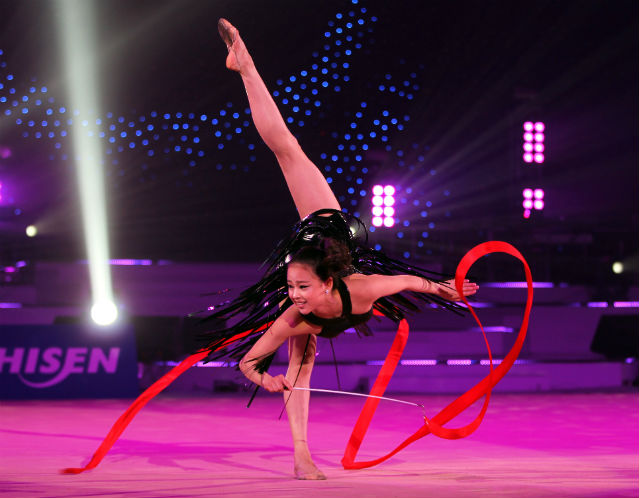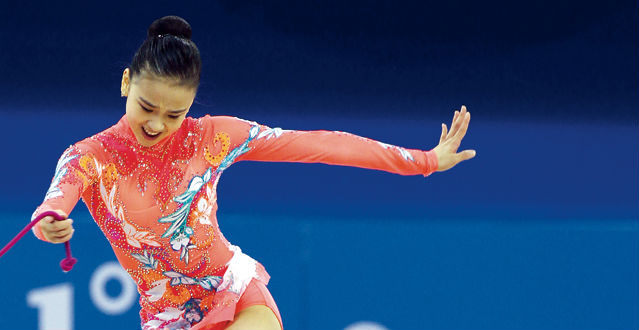 Rhythmic gymnast Son Yeon-jae performs with ribbon (above) and rope (below) (Photos: Yonhap News, Weekly Gonggam).
Son recently secured a spot at the 2012 London Olympics after placing eleventh in the individual all-around final at the 2011 World Rhythmic Gymnastics Championships in Montpellier, France, where the top 15 finalists were slated to go on to compete in London. Local sports fans and commentators took note of Son's performance, and especially the record improvement she showed since her first run at the 2010 World Championships in Moscow, where she finished in 32nd.
Son, who is currently undergoing intensive training at the famed Novogorsk Training Center outside of Moscow to prepare for her Olympic debut, arrived in Korea last December 15 for a brief holiday. Giving up vacation time to continue with her rigorous practice regimen, Son met with fellow national teammate Kim Yun-hee for daily eight-hour practices, attended physical therapy three times a week, and worked on her expression skills at a jazz class two times a week.
On December 21, Son appeared in an interview with News Y, Yonhap News Agency's all-news cable channel, where she expressed her determination to place among the top ten and compete in the finals in London.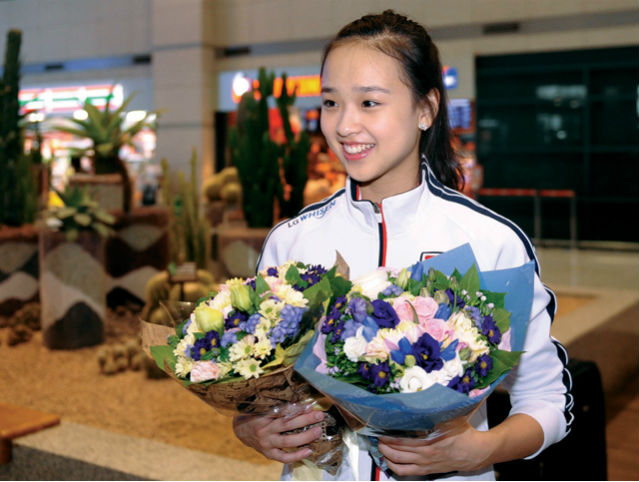 Son Yeon-jae arrives in Korea after securing her ticket to the Olympics at the 2011 World Championships in France (Photo: Weekly Gonggam).
On the 26th, Choe Kwang-sik, Minister of Sports, Culture and Tourism, invited Son and her mother to the Ministry to congratulate her on her accomplishments and hear about her Olympic aspirations.
"I haven't missed any of your performances," said Choe to Son. "Like all Koreans, I watch with my breath held. We're so proud of you for earning your way to the Olympics."
"In order to be acknowledged in the gymnastics world, I will need to work harder, motivating myself to continue competing in a variety of international events," said Son, who thanked Choe for his encouragement.
Son has been praised for her exceptional agility, flexibility, and balance, and also for being very adept at handling the ball apparatus used in the sport. Assessments suggest that she will need to raise her average score by at least 27 points in order to reach the final round at the London games.
Son first arrived on the gymnastics scene in 2009, becoming the first Korean three-time medalist in the international junior championships. With her cute features and winning smile, the fresh-faced teen piqued the interest of many a Korean in the previously unknown sport of rhythmic gymnastics.
In 2010, Son won the bronze medal in the individual all-around final event at the Guangzhou Asian Games, becoming the first Korean athlete to earn a medal in rhythmic gymnastics since the sport was first adopted as an official event at the 1994 Hiroshima Asian Games.
"Many more Koreans are showing an interest in rhythmic gymnastics than before, but there is still a lot of room for growth, "added Son in her meeting with Choe. "In Korea, I often have to practice by myself, and there aren't many facilities besides the ones at my school. I hope more people will come to love the sport, so that we can enjoy it together."
By Kwon Jungyun
Korea.net Staff Writer
Adapted from Weekly Gonggam Magazine
Department Global Communication and Contents Division, Contact Us