The transcendental power of poetry
Jan 26, 2012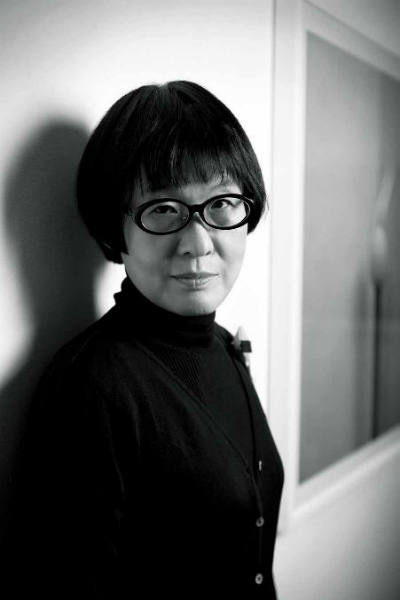 "Poetry should not be concerned with quantity, as long as it contains a connotative and implicative nature within," says Kim Hye-soon, a poet and professor at the Seoul Institute of the Arts. "So it doesn't matter if the poem goes on for 35 pages or even 350 pages."
Kim's career took off since her debut in 1979, when she became one of the first female writers to be published in the influential quarterly Literature and Intellect. Over the past three decades, she has published 10 collections, helping gain ground for female writers in a Korean literary field dominated by males. Her latest book, Sadness Toothpaste Mirror Cream (unofficial translated title) was published in November nearly simultaneously with the release of a new English-language anthology of her work, All the Garbage of the World, Unite!
Kim's name has been circulated in international literature with works translated into Spanish, German and English, and her growing exposure both at home and abroad sends her globetrotting frequently. The recipient of the Kim Su-yeong Literary Award (1997) and the Daesan Literary Award (2008), this poet is still gaining recognition years since her debut. She most recently appeared at a poetry festival in Berlin in June 2011 before heading to the Poetry International Festival in Rotterdam, the Netherlands.
Though today her international success is no longer shocking news to the poet, Kim still recalls a time when it was revolutionary to even write as a woman in Korea. "However difficult it was to be recognized as a female poet, I felt I had no other choice but to create poetry after I learned how to read and write," Kim says. "I felt I needed to write poetry."
Moving past Language
The charm of writing for her comes from creating something of value beyond what language typically offers. Although poetry is written with everyday words, the final meaning and emotion of each piece represents concepts that exceed human language.
"Words can explain that you are a girl, your hair is long and your coat is brown," Kim says. "The words clarify the external identity of a person, but there can be more there than these words that are being spoken."
However, that does not mean that word choice is any less important. She believes that a poem is a work of art, and a sense of dignity is needed for some works to become a true poem. "Even one postpositional particle should be used to compose a perfect structure," explains Kim as she asserts that it is important to pursue perfect composition in writing. "People who say, 'Oh I just tried something because I was bored,' should not call themselves an artist."
Her desire to have control over the total structure of her works manifests itself in each title. Though it seems some of the sensational titles of her works (her debut piece in 1979 was The Corpse That Smokes Cigarettes) were made to garner attention, she says that wasn't her intent. "I simply choose titles that represent the entire content of my poems," Kim says. "The title being unique isn't my first concern."
The recently published All the Garbage of the World, Unite! includes the 35-page poem titled Manhole Humanity. Kim feels choosing the word "manhole" to show the relationship of interactions between humans was necessary. "Although people wear different perfumes and different makeup, their 'piping' is all the same underneath," Kim says. "So it was natural to name the poem that way, because I was in search of the characters of humanity that are hidden underneath these façades."
However, she surprisingly takes little interest in the book covers, which potential readers might judge her work by. The cover for the recent English collection was designed by her daughter who is also an artist, but it wasn't her idea to work with her family. She says it was all arranged by her publisher. "I just focus on how to make better literary creations," Kim says.
The writer was actually introduced to the English-language international community through one her fans. Choi Donmee contacted the poet, explaining that she wanted to share the insights of Kim's work with a range of readers. The writer agreed, and Choi got to work on translating the poems, eventually resulting in several collections: When the Plug Gets Unplugged (2005), Mommy Must Be a Fountain of Feathers (2008), All the Garbage of the World, Unite! (2011) and others.
Kim fully entrusts the translating to Choi and, though the expressions used might be somewhat different from the original Korean, Kim feels confident in her work. "I consider translated literature as a different genre," Kim says. "It's a different work of art from the original and that's why I just let her do her own thing with the work. She knows better than I what English word choice will appeal to readers most to deliver the message hidden in the poem."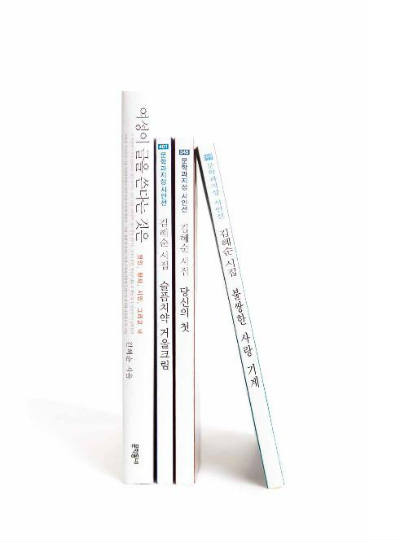 Rules of Writing
Kim feels that one of the basics of writing poetry is to discard the desire to write well. This will enable a writer to think about how to play with words more freely, experimenting so that the combination of each can allude to something else in the bigger picture. Therefore, more layers, undertones and subtle meanings can be embraced by the words. "Poems do not present exposition. Once a poem starts explaining things, it's not a poem anymore, since it is no longer implicative," Kim says with conviction. "Being expository is the basic human urge, and I help students get rid of it in their works."
However, this minimal use of explanation has helped the general public to perceive her works as difficult to understand. Kim is aware of the fact that people sometimes read her works and fail to grasp the subtexts. "'Your work is difficult' is probably the phrase I've heard most about my work in the past 30 years," laughs Kim. But she says it is the readers' job to take as much as they can. "I've put my work out there for people to interpret as they wish … the degree to which each person absorbs the meaning of the poems will be different for everyone."
These difficult works have made her one of the more popular professors at the Seoul Institute of the Arts. Although the general public may have labeled her an abstruse writer, her students respect her writing style. "Students look to me to learn what I have learned over the years as a writer, so they tend to respect my comments on their work regardless of how harsh I am," Kim says. "But since it is a creative genre, I can only tell students what not to do, and not what to do."
Kim studied Korean literature in college at Konkuk University, but focused on poetry as she found essays and novels did not suit her style. "Poetic language can be used in novel writing, but the fictional language used in novel writing can never be applied to poetry," Kim believes. "I think I would feel as if I would plunge down to the bottom if I were to write something that doesn't work in poetry."
Gender Games


Though she made her literary debut in the late 1970s when the field was comprised only of male writers, today, Kim finds more and more aspiring females in her creative writing course. She hopes that one day, the field will become so dominated by women, that it will have to be the men who strive to pave their own way and style amongst the female literary giants.
For her part, Kim has trailblazed the way for several writers in her generation, with her unique style unafraid of graphic descriptions and sensualized imagery. Her 1997 Poor Love Machine brought to light a confrontational style that discussed everything from love to death. For example, Rat, from the collection, discovers an existential philosophy in the simple act of turning on a light, replete with textual cries, onomatopoeias and a sense of the unknown.
However, the poet is worried that there is still a long road to travel for women to be recognized as leaders within the Korean literary world. "Male writers are just called writers, but female writers are specifically called female writers," Kim explains. "And, although there is no such categorization among male writers, women are typically divided up into'young female ' writers, 'unmarried female' writers or even 'old female' writers. I find this system to be so odd and hope that it will be changed one day soon."
[Representative work]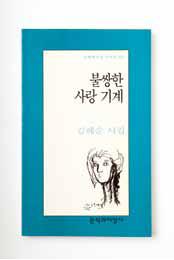 Poor Love Machine (1997)

In the collection Poor Love Machine, poet Kim Hye-soon dives straight into the topics of feminine philosophy and sexuality without looking back. Complete with the sensational titles Kim is so well known for and a biting grasp of reality, the collection provides an insightful and dark view into the world of love and death. The title poem looks into the symbolic love of a machine, which is only revived by the narrator 's human touch. A sharp comparison is drawn between the machine and the human heart in simple, enlightening sentences. Although the word choice in this collection is not overly abstract, the illustrative imagery can be interpreted in several creative ways depending on the reader. The gritty honesty of Poor Love Machine won Kim the prestigious Kim Su-yeong Literary Award in 1997. Several of the poems can be found in the poet's English-language collection Mommy Must Be a Fountain of Feathers, including Rat.
* Article from Korea Magazine
Department Global Communication and Contents Division, Contact Us