French encyclopedia publisher adopts 'East Sea' denomination
Feb 24, 2012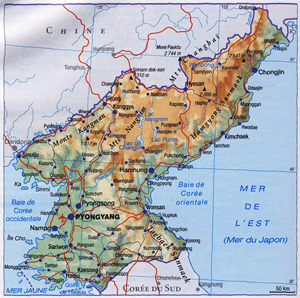 Two leading French publishers, Larousse and Michelin, have started using the term "East Sea" to describe the body of water located between Korea and Japan, on their world maps.
The term "East Sea" was used in the 2012 editions of
Le Petit Larousse
and in a guide of global economies and societies. The two publications wrote "Mer de L'est" (East Sea) with "Mer du Japon" (Sea of Japan) in parentheses on maps of the Korean peninsula.
The travel guide
Michelin
also used both terms on a large map and in a guidebook published last year.
Launched in 1854, Larousse is a publisher specializing in encyclopedias and dictionaries, while Michelin is an internationally recognized publisher of maps and guidebooks.
"Recently, publishers in France started to indicate both terms on maps," said Dr. Lee Jin-Myung of the University of Lyon 3 in France. "It is groundbreaking news that two major French publishers decided to include both terms in publications with such wide readerships."
Previously, the newspaper
Le Monde
began using the two terms together in 2009, and smaller-sized publisher
Le Figaro
also followed suit.
Jacques Florent, the editor of
Le Petit Larousse
, said in an interview with Chosun Ilbo that it is not widely known but it is true that the sea has the two names. "I just wanted to provide accurate information for readers," said Florent. The editor started to take an interest in the name of the sea when he visited Korea in 2010. He came to know about the controversial topic as he attended meetings with workers in the publishing industry and academia. He ended up admitting the logic of using "East Sea" after he studied ancient maps.
Accordingly, the International Hydrographic Organization's plans to discuss the disputed names in April will be influenced by the current situation. "The adoption of the new name of the sea by some world-famous publishers would trigger big changes in French-speaking countries including Africa," said Dr. Lee.
By Lee Seung-ah
Korea.net Staff Writer
Department Global Communication and Contents Division, Contact Us