Learning Korean online gets easier
Apr 09, 2012
Nuri-Sejonghakdang, opened to the public on April 2 to bring Korean language and culture education to cyberspace.
An affiliate of the King Sejong Institute, the Korean language study website run by the Ministry of Culture, Sports and Tourism now boasts a variety of tailor-made digital course materials and e-textbooks, available in multilingual services.
Not only has the new edition undergone a major transformation to be more user friendly, it also provides up-to-date services that respond to the needs of different users from first-time learners to instructors in just a few clicks from anywhere across the globe.
Along with its structure remodeling, the government-sponsored web service has incorporated two additional languages, Russian and Indonesian, to supplement the services previously offered in six different languages -- Korean, English, Chinese, Vietnamese, Thai, and Mongolian.
Another improvement of the renewed website is its inclusion of communicative channel aspects, which allow users and instructors to freely express and share opinions while learning the language and experiencing Korean culture.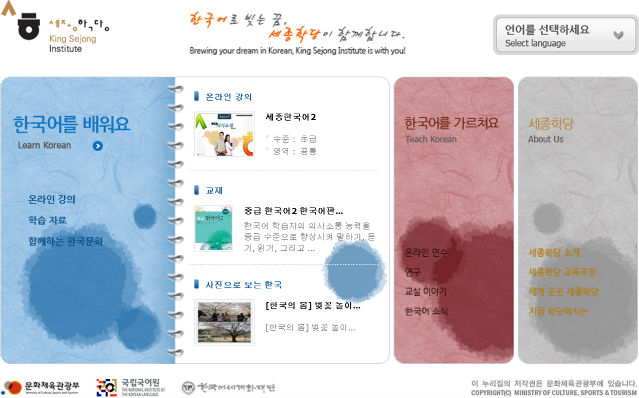 Anyone is invited to master the rules of Korean spelling and pronunciation or learn basic Korean through complimentary educational archives that the website has to offer in diverse languages. Visitors may also receive the latest news and information from overseas King Sejong Institutes.
Meanwhile, the Ministry of Culture, Sports and Tourism is set to continuously update both the online and offline content of the state-run institute in a bid to provide better access to Korean language materials in all corners of the world. As of March 2012, the King Sejong Institute boasts 75 branches in 35 nations worldwide.
For more information, please visit the
official website
.
By Hwang Dana
Korea.net Staff Writer
Department Global Communication and Contents Division, Contact Us