Weightlifters ready to lift the world
Jun 07, 2012
On a day in May, the weightlifting gymnasium in the Taereung National Training Center is filled with short, pointed shouts and grunts by the weightlifters and thuds of barbells falling to the floor. The weightlifters representing South Korea have just competed at the 2012 Pyeongtaek Asian Weightlifting Championships, and they are rebuilding their form while sweating profusely to improve their techniques and strengthen muscles.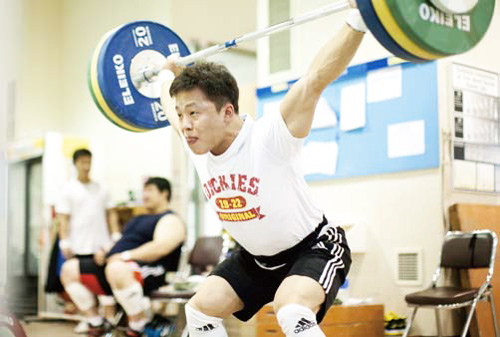 Less than two months remain before they fly to London. In Olympic-style weightlifting, the rankings are based on the combined scores of the "Snatch" and the "Clean and Jerk". This requires a balanced performance from the weightlifters in both events.
South Korean weightlifters have long been successful in many international competitions including the Olympics. Their counterparts are also great athletes. Weightlifters from China, Turkey, Kazakhstan, and Iran are formidable rivals. As to who will stand on the podium is anyone's guess.
Lee Hyeong-geun (coach of the men's team) and Kim Gi-ung (coach of the women's team) anticipate three or four medals in the London Olympics. Ten athletes will compete in London this summer including Sa Jae-hyouk (men's 77 kg), Won Jeong-sik (men's 69 kg), Kim Minjae (men's 94 kg), Jeon Sang-gyun (men's 105 kg), Jang Mi-ran (women's 75 kg), and Im Ji-hye (women's 75 kg).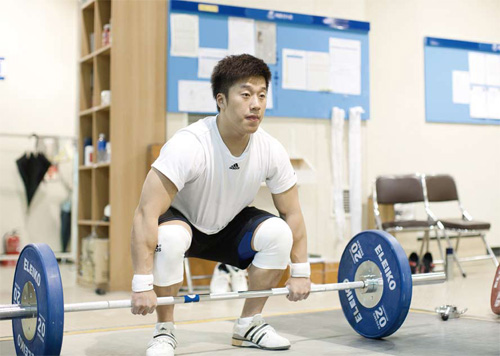 Sa Jae-hyouk impressed the world at the 2008 Beijing Olympics when he lifted a total of 366 kg (Snatch: 163 kg; Clean and Jerk: 203 kg). He was the first male South Korean lifter to win an Olympic gold medal in 16 years. He had been weak in the Snatch, but he set a new personal record of 167 kg in it in last month's Pyeongtaek Asian Weightlifting Championships. His previous personal record in the Snatch was 165 kg. Sa has suffered frequent injuries and says, his face beaded with perspiration, he is honored to be able to compete in the Olympics a second time. He has two clear goals: another Olympic gold medal and a new personal record.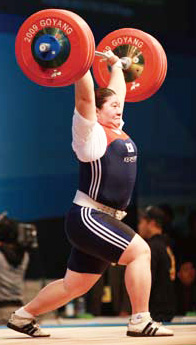 Kim Min-jae won a gold medal in the men's 94 kg division in the Pyeongtaek Championships last month, and it was South Korea's first-ever gold medal in the division in a major international competition. Kim is now under intense public scrutiny as a dark horse.
In the women's division, Jang Miran stands out. With her victory in the Pyeongtaek Championships, she achieved the weightlifting grand slam of winning medals at the Olympics, Asian Games, World Championships, and Asian Championships, a first for any female South Korean lifter. She seems to have achieved everything a weightlifter could dream of, but she remains determined to press on and challenge her own records.
The weightlifters concentrate and concentrate during the training. Iced water is their partner to chase away the heat of their lonely battles against themselves. In a sense, they seem to be solitary fighters, and when they stand before the barbell on the Olympic stage, they may feel even more lonely. When they hold the barbell and catch their breath in the arena, their families, friends, and fans will only be able to hold their breath and root for them in their hearts, silently shouting words of encouragement about their courage, passion, and perseverance.
*Article from Korea Magazine (June 2012)
Featured Topics
http://www.korea.net/NewsFocus/Sports/view?articleId=100699
URL Copy
Department Global Communication and Contents Division, Contact Us