Sports meet art: Korea Sports Art 2012 arrives in London
Jul 25, 2012
As the torch relay continues its journey around the British capital, Korean visual artists have gathered together for
Korea Sports Art 2012
, a group exhibit in celebration of the upcoming
London Olympic Games
, slated from July 27 to August 12.
Beginning on July 20, Korea Sports Art 2012 welcomes Londoners and Olympic travelers across the globe to the world of sports art, introducing Korean talents who have pioneered and developed a relatively new genre at one of Europe's centers for the contemporary arts and design. Visitors are welcome to discover an inspiring mix of sports art at
MOKSPACE Gallery
(33 Museum Street, London WC1A), only a few steps away from the
British Museum
until August 15.
Fourteen emerging Korean artists bring collections of their works executed using diverse media to share the global spirit of sports. The works on display range from traditional genres including video installation, photography illustrations, and paintings that capture the thrill and emotion of athletes in action to more cutting-edge objects like figurines, custom sneakers, and a bicycle saddle wittily redesigned as a reindeer head sculpture.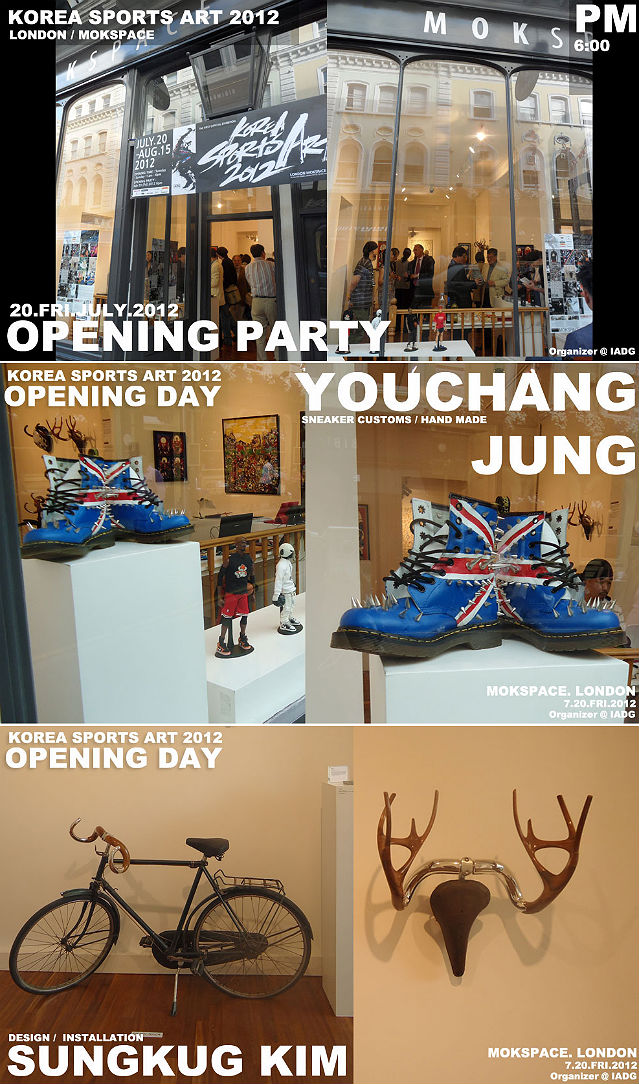 "Sports art may not have drawn much attention so far, yet is one of the universal genres sharing cultural values that can be easily enjoyed by a wider scope of audiences beyond borders," remarked Jung Jisuk, artistic director of the
International Art Directors Group
(IADG), who organized the show. "While curating the whole exhibition, the most exciting part was to reinterpret the different roles sports play in our lives, and turn the energy and beauty it bears into artistic creations in various media. We expect this exhibition would further gain momentum in raising awareness of both the genre and Korean contemporary culture under the common theme of sports, and as the first official event of its kind.
Those outside of London are also invited to explore the virtual exhibit offered free-of-charge through
Hexa Gallery
, a smartphone and smartpad application, which brings a real-life gallery to your fingertips.
Participating artists include Kim Min-seok (a.k.a. KWANG), Kim Younsung (a.k.a. Gaeko), Kim Sungkug, Park Kyeongho, Sakiroo, Shin Dongjin (GFX), Shin Heungwoo, Yoon Seohee, COOLRAIN, Won Chunho, Saemi Cho, Youchang Jung, Zooki, and Lee Jungmin.
For more information, please visit
www.mokspace.com/korea_sports_art_2012.php
or to view a video clip, click
here
.
By Hwang Dana
Korea.net Staff Writer
Featured Topics
http://www.korea.net/NewsFocus/Sports/view?articleId=101472
URL Copy
Department Global Communication and Contents Division, Contact Us