2012 Olympics: Taekwondo rule changes
Jul 26, 2012
The opening of the
2012 London Olympics
is only a day away. Olympic teams from 204 nations will compete for a total of 302 gold medals in 26 different sports. Taekwondo has become an international sport, and the preliminary match starts on August 8.
Competing for a total of 32 medals (eight gold, eight silver, 16 bronze), 128 athletes from 63 nations are divided into four different weight categories for both men and women. Twenty-four athletes secured places at the Olympics through the World Qualification Tournament, and 96 are allocated to winners who advance through each continental qualification tournament (24 places each for Europe, Asia and the Americas, 16 for Africa, and eight for Oceania) and four places are reserved for Great Britain as host nation. The taekwondo competition at the 2012 Games will be held at ExCeL, London.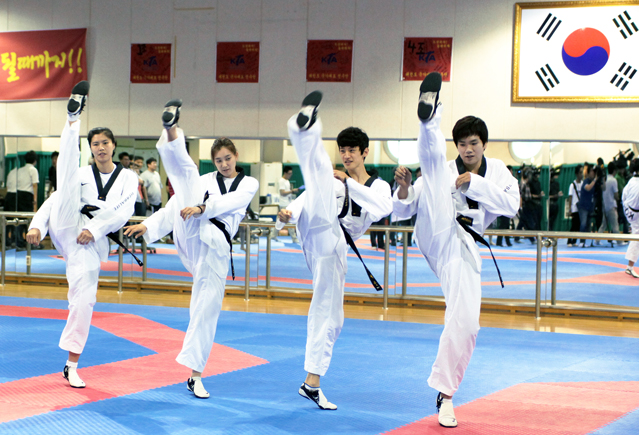 Change of game rules

Taekwondo became an official medal sport at the 2000 Sydney Games, and it has been selected as an official Olympic sport four consecutive times: at the 2004 Athens Games, 2008 Beijing Games, 2012 London Games. This year, the
World Taekwondo Federation (WTF)
made a few changes in game rules to enhance the qualities of taekwondo which are respectful yet vibrant in terms of movement.
For example, rules about scoring system, penalties, and size of the ring have changed in the 2012 London Olympics. Players who challenge their opponents by demonstrating more aggressive attacks may earn more points.
Sparring and Penalty Rules

The WTF has made some changes to sparring rules. In the past, a body kick earned one point and a head kick two points, and the possibility of reversion was slim if the score gap was big. This year, the rule has changed and players can earn one point for a straight body kick, two points for a spinning body kick, three points for a straight head kick, and four points for a spinning head kick. This means that a player has a chance to win even if he/she is three points behind by successfully demonstrating one spinning head kick. The aim of the rule changes is to make WTF taekwondo fairer, and more interesting to watch.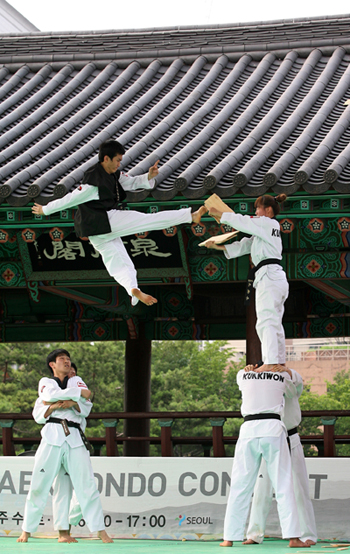 Kukkiwon Taekwondo trainees give a kyukpa demonstration during the Kukkiwon Taekwondo Concert in Namsangol Hanok Village in Seoul (photo: KOCIS).
Also, players are more restricted in terms of running down the clock. The defending player gets the ten-second rule and if the player is warned twice, one point is deducted from the score. And points are now deducted for inactivity. The taekwondo sparring ring is now smaller, reduced to eight by eight meters from the previous ten by ten meters. Officials hope this will result in more action.
Elecronic hogu and IVR system

To minimize disputes during the game, the WTF decided to include an electronic hogu (chest protector) and an Instant Video Replay (IVR) system.
Players at high-level taekwondo tournaments now wear an electronic hogu. This means that body shots are counted automatically.
To score a point your punch or kick has to be accurate and powerful. Light tapping kicks do not score. In major competitions, chest protectors have electronic scoring systems in them. These are adjusted to take into account the weight category of the competitors. If the electronic hogu malfunctions, the players immediately switch to a regular hogus. The audience may see the change when they see the score disappear on the board.
The introduction of the IVR system is expected to help minimize scoring controversies. Two broadcast cameras and four HD-quality high-speed cameras will monitor each match, offering detailed views from overhead, from the center of the combat area, and from the four corners of the square combat area.
Each athlete will have one opportunity to request a video review in contestation of a referee's decision throughout the tournament, and athletes who proceed to the final and semi-final matches will receive an additional opportunity to use video replay to challenge a ruling. The most interesting feature distinguishing the new system from the existing system is that the video footage can be watched on big screens by not only referees, athletes, coaches, but also the spectators watching the competition.
A truly international sport

From
Team Korea
, four athletes will be competing for Olympic gold in the taekwondo event: Lee Dae-hoon and Cha Dong-min in the men's tournament, and Hwang Kyung-seon and Lee In-jong in the women's tournament. Cha and Hwang, having won gold in the men's +80kg and women's -67kg categories, respectively, at the Beijing Olympic Games, will both be vying for a second title. Also hailing from Korea are Korean-born Seulki Kang, who will represent the Central African Republic, and Robin Cheong, who will represent New Zealand.
Armenia and Algeria will be participating for the first time in the taekwondo event at the Olympics. Another notable first will be marked by the Central African Republic, which has sent players to participate in previous Olympic Games but only by wild-card invitation, making this year's competition the first time that the country's team has placed in the qualification tournament.
Moreover, of the total five athletes that will be representing the Central African Republic in London, two will be competing in the taekwondo competition. As well, of the Afghanistan team's six competitors, two will be on the taekwondo court.
Dreaming bigger with taekwondo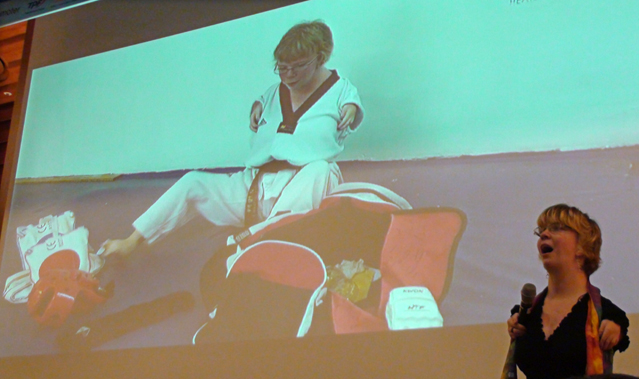 Ahead of the upcoming games, over 200 participants from 33 countries attended the Fourth World Youth Taekwondo Camp in
Muju
,
Jeollabuk-do (North Jeolla Province)
from July 19 to 24. Organized by the WTF and the Taekwondo Promotion Foundation and sponsored by the Ministry of Culture, Sports and Tourism and the Ministry of Foreign Affairs and Trade, the camp included a seminar on taekwondo techniques as well as presentations on the shared values that are central to the sport. Beijing gold medalist Son Tae-jin and Sheila Radziewicz, who has inspired countless people with her story of how she overcame her physical disabilities to earn a black belt, were among the notable speakers present.
Radziewicz, who was born without arms or kneecaps due to a rare birth defect, told her audience that before she began learning taekwondo, it had been difficult to stand for even 30 seconds. Today, she is not only strong enough to perform two or three consecutive kicks, but has also become a messenger of hope to inspire others to overcome their own limitations. Radziewicz went on to address taekwondo instructors who work with students with disabilities, stressing the importance of trying to understand the disabled and give them courage to believe in themselves and not give up on their training. Through this and other stories, the participants in the program were able to experience firsthand the strength of mind that characterizes the spirit of taekwondo, in addition to building friendships and getting a taste of Korean culture.
Taekwondo, at home and abroad

As taekwondo continues to win the interest and dedication of people across the world, a diverse array of programs has been introduced for practitioners and fans making their way to the sport's country of origin. Highlights include the regular taekwondo demonstrations that take place at Kukkiwon, also known as the World Taekwondo Headquarters, located in Namsangol Hanok Village in Seoul, and the demonstrations of poomsae (forms) and kyukpa (breaking) that are performed at Insadong by the Jongno-gu Taekwondo Team.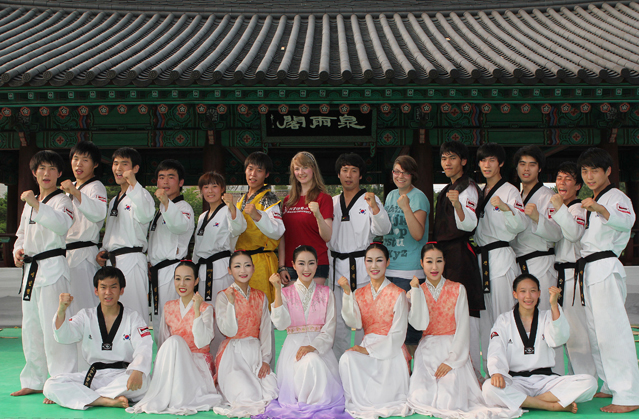 "We happened to come across the taekwondo demonstrations at Kukkiwon during our weekend visit to Namsangol Hanok Village," said Sydney Fortowsky of Canada who is in Korea with Christine Emrud of the United States to learn the Korean language.
"We were really impressed," continued Fortowsky, who took a commemorative photo with the demonstration team and joined in on a rousing cheer to wish the Korean national team success at the upcoming Olympics. "We will continue to follow taekwondo with great interest."
By Jeon Han
Translated by Kim Eunjung
Featured Topics
http://www.korea.net/NewsFocus/Sports/view?articleId=101520
URL Copy
Department Global Communication and Contents Division, Contact Us