Yang vaults to first gymnastics Olympic gold for Korea
Aug 07, 2012
South Korean gymnast Yang Hak-seon grabbed a gold for men's vault at the North Greenwich Arena, on Monday, picking up the eleventh gold for Korea and the first gold in gymnastics since the country's national gymnasts first appeared at the 1960 Summer Olympics in Rome.
During the artistic gymnastics men's apparatus finals on August 6, Yang posted an average score of 16.533 points after performing two vaults.
Every contestant was hitting his marks in the men's vault final in the gymnastics competition, yet none moreso than the 19-year-old reigning World Champion.
For the first turn, Yang scored 16.466 points pulling off his signature move "the Yang Hak-seon," a triple-twisting handspring front somersault that he devised to win the
2011 World Championships in Tokyo
last October, with a record-breaking score of 16.866 points. Named after the athlete, the move was inscribed as a new scoring element by the
International Gymnastics Federation
(FIG), with a start value of 7.4, higher than any other move in the event.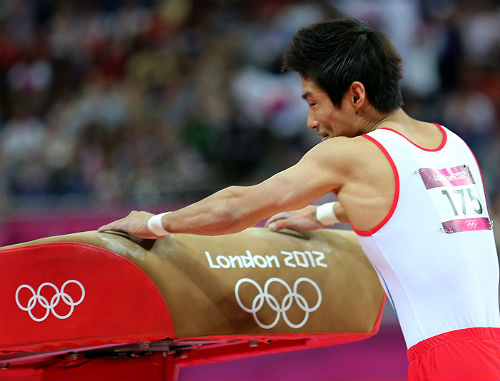 Yang then performed a 7.0 difficulty vault for his second attempt to an "ice-cold" perfect landing, earning a golden score of 16.600 points, winning over Russia's Denis Ablyazin (16.399, silver).
Team Korea
continues its Olympic journey as the 2012 Summer Olympics heads to a close on August 12. The Korean football team led by Hong Myung-bo plays Brazil at Old Trafford in Manchester in the historic semifinal of the Men's Olympic Football Tournament on August 7 (local time).
Starting on August 8 (local time), Korean taekwondo athletes will also compete, vying to keep up the golden medal relay which kicked off at Sydney 2000, representing the country from which taekwondo has originated.
By Hwang Dana
Korea.net Staff Writer
Featured Topics
http://www.korea.net/NewsFocus/Sports/view?articleId=101734
URL Copy
Department Global Communication and Contents Division, Contact Us