Summit Diplomacy

RSS
Summit Diplomacy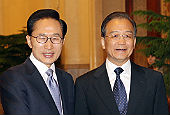 Korea-China Summit (May 2012)

President Lee Myung-bak held a bilateral summit with Chinese Premier Wen Jiabao on May 13, on the margins of the fifth trilateral meeting between Korea, Japan, and China, and exchanged opinions on a variety of issues of mutual interest. Marking the 20th anniversary of the establishment of diplomatic ties, they gave high marks to the rapid growth of bilateral relations, and agreed to push forward the strategic cooperative partnership. The two leaders also agreed to make joint efforts to reaching the USD 300 billion trade breakthrough ahead of the projected target year of 2015, through taking steps forward to a Korea-China free trade pact among others.
Current Affairs The 5th Korea-Japan-China Summit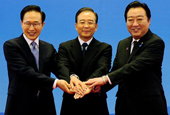 Korea-Japan-China Summit (May 2012)

President Lee Myung-bak held a trilateral summit with Japanese Prime Minister Yoshihiko Noda and Chinese Premier Wen Jiabao on May 13, in Beijing, China. The three leaders gave a positive evaluation of the trilateral cooperation, which has been productive in various fields. The three countries signed the Trilateral Agreement for the Promotion, Facilitation, and Protection of Investment on the sidelines of the fifth trilateral annual summit and agreed to launch negotiations for a three-way free trade treaty within this year. They reaffirmed their commitment to jointly solve the North Korean nuclear issue alongside other regional affairs.
Current Affairs The 5th Korea-Japan-China Summit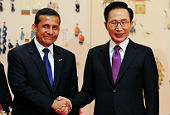 Korea-Peru Summit (May 2012)

President Lee Myung-bak held talks with President Ollanta Humala of the Republic of Peru on May 10, elevating the level of bilateral relations from a Comprehensive Economic Partnership to a more omnidirectional Comprehensive Strategic Partnership. The two sides reaffirmed their shared commitment to further reinforcing opportunities for investments and exchanging services. Both sides agreed to develop joint programs and share experience in e-government and information technology, as well as official aid development along with military cooperation.
Korea-Sri Lanka Summit (April 2012)

President Lee Myung-bak and President Mahinda Rajapaksa of Sri Lanka held a summit talk on April 24 at Cheong Wa Dae, pledging to further consolidate opportunities for cooperation in the realms of economy and infrastructure. The two leaders discussed their partnership in line with Sri Lanka's national development strategy, agreeing to push ahead projects that transfer Korea's development experience. The summit resulted in producing memoranda of understanding between Korea and Sri Lanka expanding the scope of bilateral cooperation in the fields of development, energy, and information technology. Both also cited the need to carry forward mutually beneficial personnel, educational, and cultural exchanges.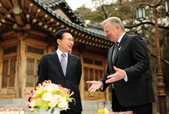 Korea-Hungary Summit (March 2012)

President Lee Myung-bak met with Hungarian President Pal Schmitt on March 29 on the sidelines of the Seoul Nuclear Security Summit. The Korean leader gave positive marks to the bilateral relations which have moved steadily forward ever since establishment in 1989. Hungary was the first East European nation Korea established diplomatic ties with in 1989. The two sides agreed to further consolidate cooperation in nuclear energy and science and boost balanced trade.
Current Affairs 2012 Seoul Nuclear Security Summit
Korea-Georgia Summit (March 2012)

President Lee Myung-bak held bilateral talks with Georgian President Mikheil Saakashvili on March 29 on the margins of the Seoul Nuclear Security Summit. The two welcomed the foundation of the Georgian embassy in Seoul, marking the 20th anniversary of diplomatic ties and agreed to expand the scope of cooperation in the economic, trade, and development sectors.
Current Affairs 2012 Seoul Nuclear Security Summit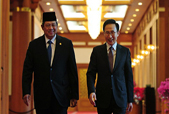 Korea-Indonesia Summit (March 2012)

President Lee Myung-bak held a summit with President Susilo Bambang Yudhoyono of Indonesia on March 28 and discussed ways to further consolidate the already-solid strategic bilateral partnership. The two sides vowed to launch official talks on a Comprehensive Economic Partnership Agreement (CEPA) to extend trade cooperation beyond the Korea-ASEAN FTA, with plans to start the first round of negotiations within this year. The two leaders pledged more active civic contributions, announcing plans to host events in 2013 to mark the Year of Korea-Indonesia Friendship in commemoration of the 40th anniversary of bilateral ties.
Current Affairs 2012 Seoul Nuclear Security Summit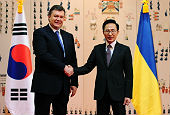 Korea- Ukraine Summit (March 2012)

President Lee Myung-bak held a summit with Ukrainian President Viktor Yanukovych on March 28, on the sidelines of the Seoul Nuclear Security Summit, where they exchanged views on a variety of topics of mutual interest. Commemorating the 20th anniversary of the establishment of diplomatic ties, the two leaders praised the relationship between their two countries, which has been constantly developing in such sectors as politics, economy, and culture. The two sides also agreed to increase cooperation in other areas like aerospace, agricultural industry, and infrastructure.
Current Affairs 2012 Seoul Nuclear Security Summit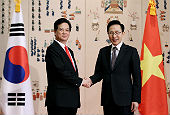 Korea-Vietnam Summit (March 2012)

President Lee Myung-bak met with Vietnamese Prime Minister Nguyen Tan Dung on March 28 on the sidelines of the NSS, where they praised the steady progress of bilateral relations. Both leaders attributed high marks to bilateral trade reaching a breakthrough of USD 18.5 billion in 2011, and agreed to strengthen cooperative measures to reach the USD 20 billion mark at an early date. The two leaders also reached a consensus to launch official talks on a bilateral free trade pact and welcomed the signing of an MOU on cooperation in the development of nuclear power plants in Vietnam.
Current Affairs 2012 Seoul Nuclear Security Summit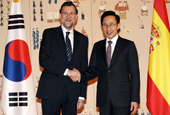 Korea-Spain Summit (March 2012)

President Lee Myung-bak met with Prime Minister Mariano Rajoy of Spain on March 28, on the sidelines of the Seoul Nuclear Security Summit, to discuss bilateral economic and trade cooperation. The two sides talked about the investment made by Spanish conglomerate group Acciona on the building of a wind power plant in Gyeongsangbuk-do (North Gyeongsang Province) and agreed to reinforce cooperation in the new and renewable energy sector as members of the International Renewable Energy Agency.
Current Affairs 2012 Seoul Nuclear Security Summit