Summit Diplomacy

RSS
Summit Diplomacy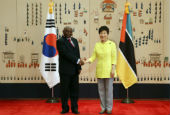 Korea-Mozambique summit (June 2013)

President Park Geun-hye on June 4 held summit talks with Mozambican President Armando Emílio Guebuza at the presidential office of Cheong Wa Dae in Seoul. At the summit, the two leaders discussed strengthening bilateral cooperation and exchanged opinions on a wide range of issues, including trade, energy, resources, official development assistance (ODA) and bilateral cooperation between their countries in the international community.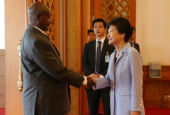 Korea-Uganda Summit (May 2013)

President Park Geun-hye had summit talks with Ugandan President Yoweri Museveni on May 30 at Cheong Wa Dae to discuss ways to boost exchange and cooperation between Korea and Uganda. The two leaders exchanged opinions on the 50-year old Korea-Uganda diplomatic relationship, cooperation in the international community and Saemaeul Undong (New Community Movement), an initiative led by former President Park Chung-hee (1917-1979) to modernize the Korean economy in the 1970s and common interests involving the two countries, including trade, investment, energy, resources, and development cooperation.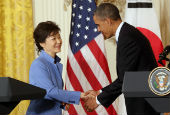 Korea-U.S. Summit (May 2013)

President Park Geun-hye held summit talks with U.S. President Barack Obama on May 7 at the White House in Washington D.C. where the two leaders upgraded the Korea-U.S. alliance to a global partnership. The six-day U.S. trip brought a fruitful outcome in many ways. The visit strengthened the Seoul-Washington alliance and set a future direction for a greater level of cooperation which embraces not only the Korean Peninsula, but also Northeast Asia and the whole world; it enhanced bilateral economic cooperation with further cooperative opportunities in creative economy and culture.
Current Affairs The president's trip to the United States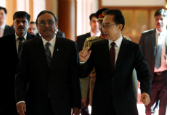 Korea-Pakistan Summit (December 2012)

President Lee Myung-bak held summit talks with President Asif Ali Zardari of Pakistan on December 14 at Cheong Wa Dae to discuss ways to enhance bilateral relations. President Lee and his Pakistani counterpart expressed satisfaction with the ties between Korea and Pakistan which have shown continuous progress since the establishment of diplomatic relations in 1983. The two leaders further agreed to strengthen cooperation between the two countries by expanding the level of cooperation in various sectors, including energy development, trade, and construction. They further agreed to extend cooperation in the future in waterpower generation, water resources development, and road construction in Pakistan.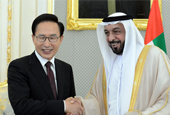 Korea-UAE Summit (November 2012)

President Lee Myung-bak held a summit with Sheikh Khalifa bin Zayed Al Nahyan, president of the United Arab Emirates, in Al Ain, Abu Dhabi on November 21. The two leaders both expressed satisfaction with the progress of construction on a nuclear power station in Barakah, a project headed by the Korea Electric Power Corporation. President Lee also expressed his gratitude to Sheikh Khalifa for the UAE's support in finalizing a historic contract that will secure Korea's oil supply in case of emergency. The two leaders agreed to work together closely to ensure the success of these key projects and President Lee recognized Sheikh Khalifa for his contributions to strengthening Korea-UAE ties by presenting him with the Grand Order of Mugunghwa, the highest decoration awarded by the Korean government.
Current Affairs President Lee visits Cambodia, UAE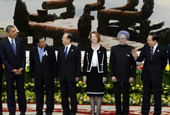 The 7th East Asia Summit (November 2012)

President Lee Myung-bak took part in the 7th East Asia Summit (EAS) in Phnom Penh, Cambodia on November 20. Key outcomes of the summit included the official adoption of the Declaration of the 7th East Asia Summit on Regional Responses to Malaria Control and Addressing Resistance to Antimalarial Medicines as well as the Phnom Penh Declaration on the East Asia Summit Development Initiative.
Economic integration was another important topic of discussion, with summit participants agreeing to commence negotiations for the establishment of a Regional Comprehensive Economic Partnership (RCEP), which will include the ten ASEAN member states along with Korea, China, Japan, New Zealand, Australia, and India.

Current Affairs President Lee visits Cambodia, UAE
ASEAN+3 Summit (November 2012)

President Lee Myung-bak attended the 15th ASEAN+3 Summit in the Cambodian capital of Phnom Penh on November 19. Leaders from the ten ASEAN member states and their counterparts from Korea, Japan, and China exchanged views on food security, the financial crisis, and economic integration. The leaders reviewed the progress that has been made since the first ASEAN+3 Summit in 1997, agreeing that stronger regional cooperation is necessary in the aftermath of the eurozone crisis and welcoming the adoption of the new Asian Bond Markets Initiative (ABMI) for development of a regional bond market. They also agreed to make a concerted effort to enhance food security by implementing the ASEAN+3 Emergency Rice Reserve (APTERR) and adopted the Leaders' Statement on the ASEAN+3 Partnership on Connectivity.
Current Affairs President Lee visits Cambodia, UAE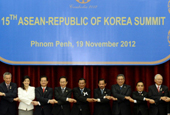 KOREA-ASEAN Summit (November 2012)

President Lee Myung-bak attended the 15th Korea-ASEAN Summit on November 19 in Phnom Penh, Cambodia, where he exchanged thoughts on the present and future of Korea-ASEAN cooperation with the leaders of the ten ASEAN member states. The leaders noted key accomplishments from the last five years including the completion of the Korea-ASEAN Free Trade Agreement (FTA), establishment of the Korea-ASEAN Center, and hosting of the Korea-ASEAN commemorative summit in 2009 as well as the establishment of a strategic partnership between Korea and ASEAN in 2010. They also welcomed the agreement on the ASEAN-Korea Forest Cooperation which took effect this year and agreed to strengthen their cooperation in green growth and climate change countermeasures.
Current Affairs President Lee visits Cambodia, UAE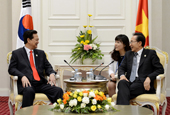 Korea-Vietnam Summit (November 2012)

President Lee Myung-bak met with Prime Minister Nguyễn Tấn Dũng of Vietnam on November 19 on the sidelines of the 21st ASEAN and ASEAN+3 summits in Phnom Penh, Cambodia. The discussion focused mainly on measures to strengthen the Korea-Vietnam strategic partnership and promote substantive bilateral cooperation, with the two leaders pledging to work together to raise bilateral trade volume and also facilitate progress on ongoing FTA talks. The two leaders also highlighted their progress in the nuclear energy sector and pledged cooperation for further development of their respective industries.
Current Affairs President Lee visits Cambodia, UAE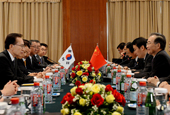 Korea-China Summit (November 2012)

President Lee Myung-bak met with Premier Wen Jiabao of China for a bilateral summit on November 19 on the sidelines of the ASEAN+3 Summit in Phnom Penh, Cambodia. Key outcomes of their discussion included an agreement to increase bilateral trade volume to USD 300 billion by 2015 and a related agreement to seek continued progress in Korea-China FTA negotiations. The two leaders also discussed the importance of improving relations on the Korean Peninsula, with Premier Wen agreeing to President Lee's statement that North Korea should prioritize the livelihood of its people and the health of its economy. They also expressed their hope that the cooperative relationship between their countries will continue under new leadership in the future.

Current Affairs President Lee visits Cambodia, UAE