Summit Diplomacy

RSS
Summit Diplomacy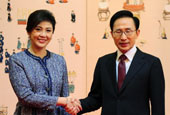 Korea-Thailand Summit (March 2012)

President Lee Myung-bak held a summit with Prime Minister Yingluck Shinawatra of Thailand on March 24, on the margins of the Seoul Nuclear Security Summit, where they agreed to work together to further strengthen the strategic partnership between their two countries. They also agreed to partner up for the development of Thailand's water resource management system and expand cooperation in the defense sector. During her visit to Korea, the Thai Prime Minister toured sites on Korea's Four Rivers for a firsthand look at Korea's river management control system.
Current Affairs 2012 Seoul Nuclear Security Summit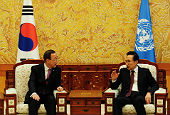 Korea-UN Summit (March 2012)

President Lee Myung-bak held a summit with UN Secretary-General Ban Ki-moon on March 24, on the sidelines of the Seoul Nuclear Security Summit, where they exchanged views on a variety of topics of mutual interest, including the state of Korean Peninsula affairs, development cooperation, and green growth. At the summit, the Korean president praised the UN's prompt release of a statement urging the North Korean regime to retract the plan. The two leaders agreed to cooperate closely in tackling any threats associated with the planned rocket launch.
Current Affairs 2012 Seoul Nuclear Security Summit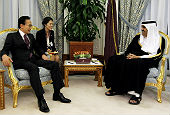 Korea-Qatar Summit (February 2012)

President Lee Myung-bak held a summit on February 9 with Emir Sheikh Hamad bin Khalifa Al Thani, on the occasion of his official visit to Qatar. The two leaders remarked that President Lee's state visit established a foothold for enhanced cooperation in natural gas and agreed to further expand the scope of cooperation into construction, medical and health care, education, green growth, and climate change. At the official dinner held at Qatar Palace, the two leaders also exchanged views on a variety of topics including the Qatar 2022 World Cup, improvements in Korea-Qatar culture exchange, and political issues regarding the Korean Peninsula and the Middle East.
Current Affairs President Lee's visits to Turkey, Middle East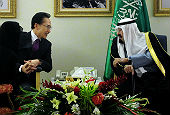 Korea-Saudi Arabia Summit (February 2012)

President Lee Myung-bak held a summit with King Abdullah bin Abdul-Aziz Al Saud on February 8, on the occasion of his official visit to Saudi Arabia. During the summit, held on the grounds of the Janadriyah Festival, the two leaders discussed a wide range of bilateral issues, heath care in particular. The two leaders agreed to implement programs for research in the medical sciences and the exchange of medical expertise. Marking the 50th anniversary of diplomatic relations between the two countries, President Lee and King Abdullah both agreed to deepen the friendship as well as cooperation in a wider range of sectors, including health care, national defense, and IT.
Current Affairs President Lee's visits to Turkey, Middle East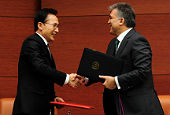 Korea-Turkey Summit (February 2012)

President Lee Myung-bak and President Abdullah Gül of Turkey agreed to elevate the bilateral relations between their respective countries into a strategic partnership, after engaging in a fruitful dialogue at a summit held on February 6. At the summit held in Ankara on the occasion of the Korean President's state visit to Turkey, the two sides reaffirmed their shared determination to expand and diversify bilateral relations in a comprehensive manner, expanding the scope of cooperation into the sectors of economy and defense. They also shared a recognition on the importance of increasing collaboration in multilateral venues, such as the UN and G20 in particular.
Current Affairs President Lee's visits to Turkey, Middle East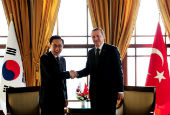 Korea-Turkey Summit (February 2012)

President Lee Myung-bak met with Turkish Premier Recep Tayyip Erdogan on February 5 in Istanbul, exchanging opinions on various issues of mutual interest, including free trade, infrastructure development, atomic energy, and cultural exchanges. The two leaders agreed to reinforce cooperative measures for increased trade and foster closer economic ties in preparation for the anticipated bilateral free trade agreement. President Lee also called upon his counterpart's support of Korean businesses' investment expansion in Turkey.
Current Affairs President Lee's visits to Turkey, Middle East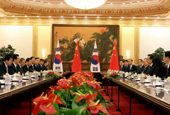 Korea-China Summit (January 2012)

President Lee Myung-bak met with Chinese Premier Wen Jiabao on January 10 in Beijing, to hold a bilateral summit and discuss mutual concerns, including bilateral ties and the current state of the region alongside tripartite cooperation with Japan. The two leaders agreed to reinforce cooperative measures for increased trade and acknowledged the common goals of peace and stability on the Korean Peninsula. They also gave high marks to the institutionalization of the trilateral cooperation, referring to the establishment of a cooperative office in Seoul. Marking the Year of Korea-China Friendship this year, they shared the recognition that the enhancement of civic exchanges would expand the scope of collaboration.
Current Affairs President Lee's state visit to China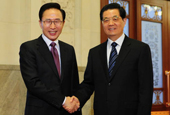 Korea-China Summit (January 2012)

President Lee Myung-bak held a bilateral talk on January 9 with President Hu Jintao of China in Beijing and exchanged opinions on various issues of mutual interest, including cultural and human resource exchanges and trade, alongside the peace and stability of the Korean Peninsula. Both leaders gave a positive evaluation of the steady progress in bilateral ties and agreed to extend the scope of cooperative measures. This year, Korea and China will mark the 20th anniversary of diplomatic relations between the two nations and the Year of Korea-China Friendship. The two heads of state also concurred on taking further steps toward the Korea-China free trade agreement.
Current Affairs President Lee's state visit to China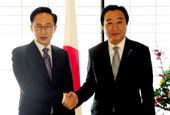 Korea-Japan Summit (December 2011)

President Lee Myung-bak held a summit on December 18 with Japanese Prime Minister Yoshihiko Noda on the occasion of his visit to Kyoto, Japan, part of the "shuttle diplomacy" between the two heads of state. President Lee and Prime Minister Noda exchanged opinions on topics including bilateral relations, North Korea issues, and compensation for comfort women. President Lee urged Japan to show genuine courage by giving priority to resolving the longstanding issue. Prime Minister Noda responded with Japan's legal stance and existing position, expressing his wish to approach the issue with a humanitarian perspective.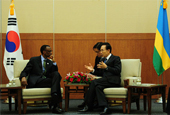 Korea-Rwanda Summit (November 2011)

President Lee Myung-bak held a summit on November 30 with President Paul Kagame of the Republic of Rwanda in Busan, on the occasion of the fourth High Level Forum on Aid Effectiveness. During the summit, President Lee and President Kagame discussed ways to further consolidate opportunities for cooperation in the economy, trade, and infrastructure, along with development assistance. The Korean leader also expressed hope to contribute to Rwanda's socio-economic development by helping nurture Rwandan manpower in various fields.