Summit Diplomacy

RSS
Summit Diplomacy
Korea-U.K. Summit (November 2013)

President Park Geun-hye held summit talks with Prime Minister David Cameron of the United Kingdom on November 6 in London to discuss measures to extend Korea-U.K. cooperation.

The two leaders said that President Park's U.K. state visit holds great significance as this year marks the 130th anniversary of establishing Korea-U.K. diplomatic relations and is the 60th anniversary of the armistice ending the Korean War (1950-1953). They also discussed ways to strengthen bilateral cooperation and exchanged opinions on a wide range of issues, including how to cooperate on joint responses to regional and global issues.
Current Affairs Presidential visit to France, U.K., Belgium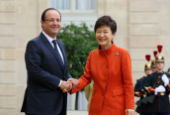 Korea-France Summit (November 2013)

President Park Geun-hye held summit talks with French President François Hollande on November 4 at the Élysée Palace in Paris.

The two leaders agreed to bolster bilateral trade and investment through the smooth implementation of the Korea-EU free trade agreement (FTA), provide for new growth engines through cooperation in the creative economy and future-oriented new industries, and extend bilateral exchanges in culture and creative industries.
Current Affairs Presidential visit to France, U.K., Belgium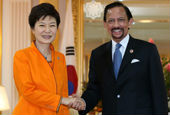 Korea-Brunei Summit (October 2013)

President Park Geun-hye had a bilateral summit with Brunei's Sultan Hassanal Bolkiah in Brunei on October 9. They discussed how to boost friendship and cooperation between the two countries, the situation on the Korean Peninsula and their collaboration in both regional and international settings.
Current Affairs President Park's Southeast Asian trip for APEC, ASEAN+3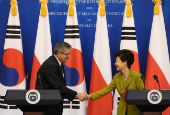 Korea-Poland Summit (October 2013)

President Park Geun-hye and visiting Polish President Bronislaw Komorowski held a summit meeting in Seoul on October 22 to discuss political affairs, economics, trade, defense, information and communication technology (ICT), health and medical services, culture and education.

They also held in-depth discussions on both regional and international issues that face the two nations, including issues about the Korean Peninsula. Komorowski's visit is the first by a European leader since President Park took office in February.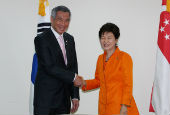 Korea-Singapore Summit (October 2013)

President Park Geun-hye held summits with Singaporean Prime Minister Lee Hsien Loong in Bandar Seri Begawan, Brunei, on October 9. The two leaders discussed bilateral issues including economic cooperation between the two nations and the Korea-Singapore free trade agreement.
Current Affairs President Park's Southeast Asian trip for APEC, ASEAN+3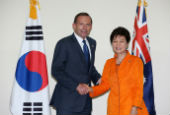 Korea-Australia Summit (October 2013)

President Park Geun-hye held summits with Australian Prime Minister Tony Abbott in Bandar Seri Begawan, Brunei, on October 9. They discussed ways to strengthen friendly relations with his new administration. The two leaders also agreed to more closely cooperate on issues surrounding the Korean Peninsula.
Current Affairs President Park's Southeast Asian trip for APEC, ASEAN+3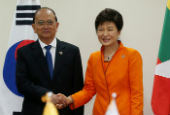 Korea-Myanmar Summit (October 2013)

President Park Geun-hye held summits with Myanmar President Thein Sein in Bandar Seri Begawan, Brunei, on October 9. The two leaders discussed ways to further develop friendly relations between the two countries and how to expand economic cooperation, touching upon issues on the Korean Peninsula as well as regional and international cooperation.
Current Affairs President Park's Southeast Asian trip for APEC, ASEAN+3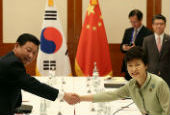 Korea-China Summit (October 2013)

President Park Geun-hye held summit talks with Chinese President Xi Jinping and exchanged opinions on common issues of interest during her visit to Bali, Indonesia, for the Asia-Pacific Economic Cooperation (APEC), on October 7.
President Park called for the Chinese leader to make efforts to persuade Pyongyang to focus on economic development, not the possession of nuclear weapons.
Current Affairs President Park's Southeast Asian trip for APEC, ASEAN+3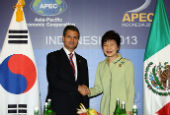 Korea-Mexico Summit (October 2013)

President Park Geun-hye held summit talks with Mexican President Enrique Peña Nieto to discuss cooperation. She invited the Mexican leader to Korea and spoke on the various events that were held last year to mark the 50th anniversary of Korea-Mexico diplomatic relations. She expressed her sympathy for the Mexican citizens recently affected by Hurricane Manuel.
Current Affairs President Park's Southeast Asian trip for APEC, ASEAN+3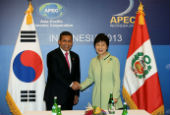 Korea-Peru Summit (October 2013)

President Park Geun-hye held summit talks with Peruvian President Ollanta Humala to discuss cooperation. President Park expressed her appreciation for the past 50 years of Korea-Peru diplomatic ties and said that she was pleased that bilateral relations were upgraded to become a comprehensive strategic partnership last year.
Current Affairs President Park's Southeast Asian trip for APEC, ASEAN+3