Summit Diplomacy

RSS
Summit Diplomacy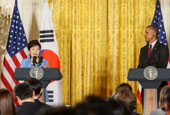 Korea-U.S. Summit (October 2015)

Korean and U.S. leaders formally released the "2015 Republic of Korea and United States of America Joint Statement on North Korea" on Oct. 17 (Korean time).

In the statement, both leaders stated that North Korea's continual development of nuclear and ballistic missiles is an ongoing violation of multiple U.N. Security Council resolutions. They warned that, "In particular, if North Korea carries out a launch using ballistic missile technology or a nuclear test, it will face consequences, including seeking further significant measures by the U.N. Security Council."


Current Affairs President Park's official visit to the US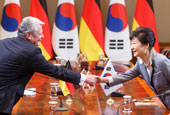 Korea-Germany Summit (October 2015)

President Park Geun-hye held talks with her German counterpart President Joachim Gauck on Oct. 12 at Cheong Wa Dae. During the talks, the two leaders agreed to enhance cooperation in order to achieve a peaceful unification of the Korean Peninsula.

"We both saw eye to eye on the urgency and gravity of non-proliferation in North Korea. We also agreed to join forces to have the North give up its nuclear weapons and become a responsible member of the international community," said President Park during a joint press conference following the talks. "Korea and Germany will continue to cooperate to help improve the North's human rights record, too," she added.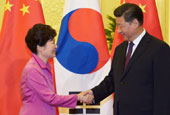 Korea-China Summit (September 2015)

President Park Geun-hye and Chinese President Xi Jinping held summit talks in the Great Hall of the People in Beijing on Sept. 2. The two leaders discussed ways to develop Korea-China cooperation and how to deepen the friendly, bilateral relationship that exists between the two nations.
Current Affairs President Park's commemorative visit to China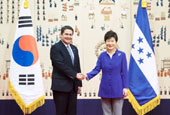 Korea-Honduras Summit (July 2015)

Korea and Honduras have agreed to cooperate on new renewable energies and to try to quickly reach a free trade agreement. President Park Geun-hye held a bilateral summit with Honduran President Juan Orlando Hernandez at Cheong Wa Dae in Seoul on July 20. As part of the summit, the two nations signed four memoranda of understanding (MOUs), including ones covering the energy industry and an agreement to accept the other country`s drivers` licenses.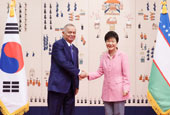 Korea-Uzbekistan Summit (May 2015)

President Park Geun-hye and Uzbek President Islam Karimov, in Korea for a state visit, held a bilateral summit meeting at Cheong Wa Dae on May 28. The two leaders welcomed the fact that the two nations' cooperation has expanded from energy and building infrastructure to include transportation, logistics and ICT. In addition, they appreciated that their strategic partnership has become more solid with the signing of memoranda of understanding (MOUs) that cover diplomacy, social security and public order.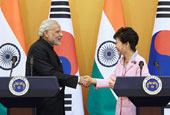 Korea-India Summit (May 2015)

President Park Geun-hye and Indian Prime Minister Narendra Modi held a summit meeting on May 18. The two leaders upgraded their bilateral relationship to a, "special strategic partnership." "Over the past 42 years, the Korea-India relationship has made significant progress," said President Park. "In particular, the Comprehensive Economic Partnership Agreement (CEPA) between Korea and India took effect in 2010. It solidified the basis for our bilateral economic cooperation and contributed to an increase in the exchange of the arts and people."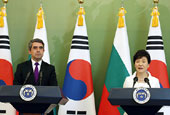 Korea-Bulgaria Summit (May 2015)

President Park Geun-hye held a summit meeting on May 14 with her Bulgarian counterpart, Rosen Plevneliev, currently in Korea on an official visit. They agreed to upgrade their existing bilateral relationship and to turn it into a "future-oriented comprehensive partnership." During the joint press conference at Cheong Wa Dae, President Park said, "This year marks the 25th year of the establishment of diplomatic ties between Korea and Bulgaria. President Plevneliev's visit to Korea this year is of great meaning to the development of bilateral relations. Today, we discussed ways to enhance our traditional cooperative relationship and how to strengthen the partnership."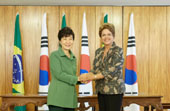 Korea-Brazil Summit (April 2015)

President Park Geun-hye held a summit with her Brazilian counterpart President Dilma Rousseff, on April 24. During the talks, the two leaders had an in-depth discussion on many issues of common interest, including strategies for expanding practical cooperation across economic and commercial sectors, as well as enhancing mutual cooperation on the global stage. Both leaders also vowed to strengthen their partnership in creating higher value-added businesses by diversifying the scope of mutual cooperation. They continued to agree that the two countries would further cooperate in creative industries as well, in the pursuit of sustainable growth.
Current Affairs Presidential trip to 4 South American countries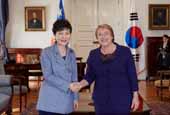 Korea-Chile Summit (April 2015)

President Park Geun-hye and Chilean President Michelle Bachelet discussed how to upgrade the free trade agreement (FTA) between their two countries and strengthen cooperation on high value-added areas at a bilateral summit on April 22. During the summit at the presidential palace in Santiago, the two leaders exchanged their opinions on expanding exchanges and cooperation in new growth areas including science and technology, information and communications technology (ICT), the health and medical industry, the defense industry and education.
Current Affairs Presidential trip to 4 South American countries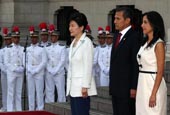 Korea-Peru Summit (April 2015)

President Park Geun-hye and Peruvian President Ollanta Humala held a bilateral summit on April 20 and discussed issues of common interest between the two Pacific trade partners. The two leaders exchanged opinions on how to expand cooperation on the economy and trade as well as on regional and international affairs during the summit, held at the presidential palace in Lima, the Peruvian capital.
Current Affairs Presidential trip to 4 South American countries