Summit Diplomacy

RSS
Summit Diplomacy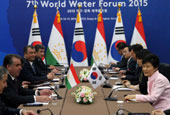 Korea-Tajikistan Summit (April 2015)

President Park Geun-hye hosted a summit with Tajikistan President Emomali Rahmon at the EXCO convention center in Daegu on April 12. The Tajikistani leader is visiting Korea to attend World Water Forum 2015. President Park praised the leading role Tajikistan plays in the international discussions on water, as it hosted high-ranking U.N. cooperation meetings on water in both 2013 and earlier this year. She also mentioned that the country is rich in water resources, ranking eighth in the world. She welcomed the opening of the Tajikistani embassy in Seoul on April 13, on the occasion of President Rahmon's visit, saying that the new embassy will strengthen bilateral cooperation across many fields and boost people-to-people exchanges and economic cooperation.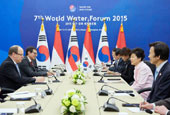 Korea-Monaco Summit (April 2015)

President Park Geun-hye held a summit with Prince Albert II of Monaco, who is in Korea to attend the seventh World Water Forum 2015 in Daegu on April 12. President Park noted the fact that bilateral trade between the two nations is increasing and hoped that their cooperative relationship would be further expanded through the mutual exchange of information about areas of possible future cooperation.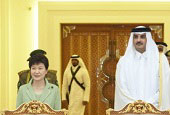 Korea-Qatar Summit (March 2015)

President Park Geun-hye held a summit with Tamim bin Hamad Al Thani, the emir of Qatar, on March 8 in Doha. The two heads of state discussed cooperation on energy and construction, currently the foundation of their relationship, and agreed to strengthen cooperation in the areas of investment, nuclear energy, defense and public health. President Park stressed that Qatar has been a close partner in both energy and construction, as well as in newer rapidly growing industries. She said that Korea and Qatar have many opportunities for cooperation in the future, as Korea has its "Creative Economy" plan and Qatar has its National Vision 2030. She hoped that bilateral cooperation would expand in high value-added industries, such as new technologies, public health and IT.
Current Affairs Presidential visit to 4 Middle Eastern countries
Korea-UAE Summit (March 2015)

President Park Geun-hye, on her four-state visits to the Middle East, held a summit with Crown Prince Sheikh Mohammad bin Zayed Al Nahyan of Abu Dhabi in the United Arab Emirates, the third stop on her tour. The two leaders held in-depth discussions concerning a wide range of issues, including the two countries' existing areas of cooperation -- nuclear power plants, energy, construction and infrastructure -- as well as new areas of cooperation such as health & medicine, food and agriculture. "There are only three countries that I've visited twice since my inauguration. One of them is the United Arab Emirates," said President Park. "It reflects the strong strategic partnership between Korea and the UAE."
Current Affairs Presidential visit to 4 Middle Eastern countries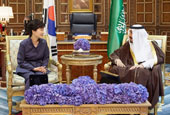 Korea-Saudi Arabia Summit (March 2015)

President Park Geun-hye, currently in Saudi Arabia on a four-state visit to the Middle East, held a bilateral summit with Salman bin Abdulaziz Al Saud, the king of Saudi Arabia, on March 3 at the Erga Palace in Riyadh. The two heads of state discussed ways to strengthen their bilateral partnership and to develop co-prosperity across a range of sectors. President Park mentioned that Saudi Arabia means quite a lot to Korea, as it is Korea's largest oil supplier, the largest market for Korean construction projects overseas and is Korea's largest trade partner in the Middle East. Describing the bilateral relationship as "rafiqi," which roughly means "friend" in Arabic, she suggested the two nations enhance cooperation on national development based on creativity and innovation.
Current Affairs Presidential visit to 4 Middle Eastern countries
Korea-Kuwait Summit (March 2015)

President Park Geun-hye held a summit meeting with the emir of Kuwait, Sabah al-Ahmad al-Jaber al-Sabah, at the Bayan Palace in Kuwait City on March 2. President Park said the two nations have continuously maintained a friendly, cooperative relationship since the beginning of their diplomatic relations in 1979. The president also said that she is glad that the two sides have recently improved their cooperation, turning it into an inclusive partnership that not only covers the economy, but also politics, diplomacy, the arts and regional & global issues.
Current Affairs Presidential visit to 4 Middle Eastern countries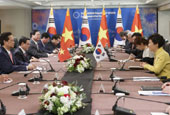 Korea-Vietnam Summit (December 2014)

President Park Geun-hye held summit talks with Vietnamese Prime Minister Nguyen Tan Dung to discuss measures to extend cooperation, on December 10 in Busan. They exchanged opinions on the ASEAN-Republic of Korea Commemorative Summit, cooperation both in the region and on the international stage, issues involving the Korean Peninsula and other regional issues, such as Korea's Northeast Asia peace and cooperation initiatives.
Current Affairs 2014 ASEAN-Republic of Korea Commemorative Summit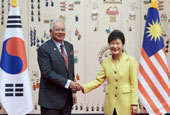 Korea-Malaysia Summit (December 2014)

President Park Geun-hye held summit talks with Prime Minister Najib Razak of Malaysia to discuss measures to extend cooperation, on December 10 in Busan. They exchanged opinions on the ASEAN-Republic of Korea Commemorative Summit, cooperation both in the region and on the international stage, issues involving the Korean Peninsula and other regional issues, such as Korea's Northeast Asia peace and cooperation initiatives.
Current Affairs 2014 ASEAN-Republic of Korea Commemorative Summit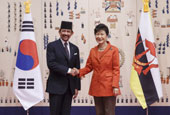 Korea-Brunei Summit (December 2014)

President Park Geun-hye held summit talks with Sultan Hassanal Bolkiah of Brunei on December 9 at Cheong Wa Dae. The two leaders agreed to bolster cooperation in various sectors, including infrastructure construction and agriculture. President Park told the Bruneian leader, "I would like to extend my sincere welcome to your state visit to Korea, as this year marks the 30th anniversary of the establishment of the Korea-Brunei diplomatic relationship."
Current Affairs 2014 ASEAN-Republic of Korea Commemorative Summit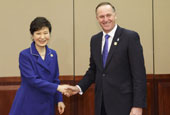 Korea-New Zealand Summit (November 2014)

President Park Geun-hye and New Zealand Prime Minister John Key announced the completion of bilateral FTA talks in Brisbane, Australia, on November 15, where both leaders were attending the G20 leaders' summit. The Korea-New Zealand FTA will allow people of both nations to study or work in the other country, leading to a greater exchange of people, a key factor for the development of bilateral relations.
Current Affairs Presidential visit to China, Myanmar, Australia for APEC, G20