Riverside leisure becomes vacation trend in Korea
Jun 08, 2012
The regions around the four restored rivers have seen a continuous flow of visitors since the official opening of the new weirs, cycling roads, and riverside campsites.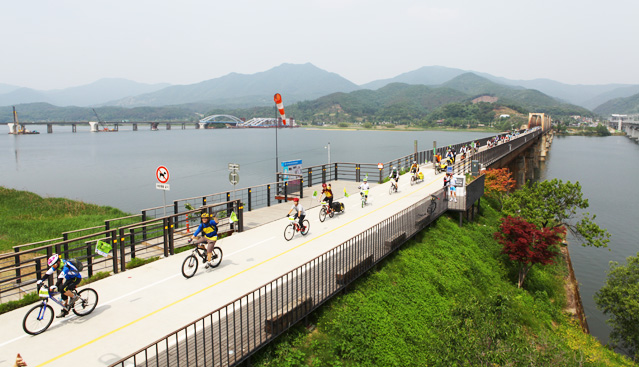 The cross-country cycling road, officially opened last month, was praised as "an unprecedented innovative facility" by Kathleen Stephens, the former U.S. Ambassador, who recently became the first foreign cyclist to complete the cross-country challenge. She expressed her wish that she could have more time in Korea to complete every course.
As part of the Four Rivers Bike-Train Project, the Bike Camping Festival 2012 was held at Ipo Weir in Yeoju County, Gyeonggi Province on June 2. During the two-day event, visitors were introduced to a wide range of leisure activities including biking, kayaking, horseback-riding, barbecuing, and making a campfire. The array of riverside entertainment has been garnering a positive review as an offbeat experience for participating in marine sports activities and enjoying stunning night views while having dinner around the region.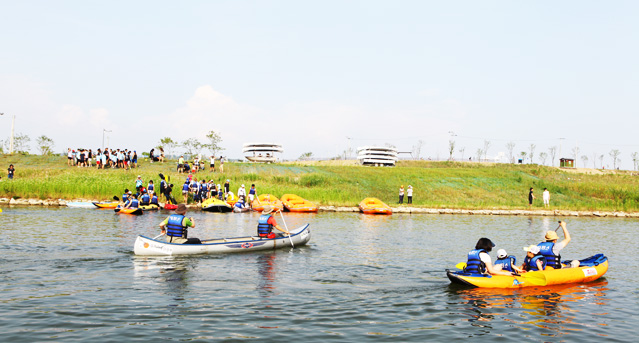 It has been receiving a rave response from foreigners as well. Previously, around 600 foreign residents including ambassador couples and young students of various nationalities coming from India, Poland, Uzbekistan, and Afghanistan paid a visit to Baekjae Weir on the Geum River to enjoy diverse cultural programs such as biking and trekking and experience Korean history.
"It was the first time in 30 years I rode a bike on such a long trail" an ambassador present at the cultural event said.
"The bike trail has many ups and downs," said a Canadian participant who teaches English in Chungcheongnam-do (South Chungcheong Province). "I felt like I was on a roller coaster."

The number of visitors to riverside leisure sites including the 16 weirs, bike roads, and camping sites exceeded the 5 million mark in May. The record remained at 3 million until April since its official opening on October 22 last year but the rivers saw a spike of more than 1 million in May.
Among the leisure facilities, the weirs were visited the most, by Around half of all total visitors, and the riverside parks, bike road, and camp sites followed by recording 1.7 million, 490,000, and 310,000 respectively.
Currently, campsites surrounding the Yeongsan and Geum Rivers are booked solid on weekends. The certification system that awards the cross-country cyclists is expected to inspire more visitors.
By Lee Seung-ah
Korea.net Staff Writer
Department Global Communication and Contents Division, Contact Us