Driver's Licenses
Driver's licenses
To drive a car in Korea, people need a driver's license or an international driver's license from their own country.

International driver's licenses are valid for a period of one year. Those who have driver's licenses from their own countries need to submit an original copy of the license, a certified translation of the license, certification from the embassy, their passport, Alien Registration Card, certification of immigration and three colored photos to the driver's license examination office to be exempted from some of the tests to acquire a domestic driver's license. It's difficult for those staying less than 90 days to get a Korean driver's license.
Useful Tips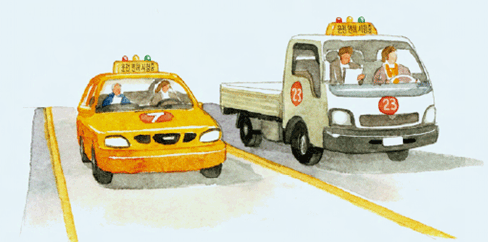 To drive a car, you need to obtain a driver's license in Korea or obtain an international driver's license in your home country.
Testing procedures for a driver's license

1. Complete traffic safety education - Traffic safety education takes place in the traffic safety education center at driver's license test sites or at driver training institutions
2. Complete physical examination and written test
Available languages : English, Chinese and Vietnamese Required items when taking the written test: Application form (with three photos), a marker for computer paper and an ID card
3. Test on a driving course after passing the written test Necessary Documents : Application form, Resident Registration Card (or other document proving your identity)
4. After passing the test on the driving course, a learner's permit is issued to complete 10 hours of road training
5. Complete the road test
6. Notification of pass or fail

* Multicultural family support centers and police stations can help foreigners or married immigrants to acquire a driver's license for free. For detailed information, contact your local Multicultural Family Support Center or police station or driver's license examination office. (Call 1577-1120)
Department Global Communication and Contents Division , Contact Us