2002 FIFA World Cup Korea/Japan
2002 FIFA World Cup Korea/Japan
The 2002 FIFA World Cup Korea/Japan ended its one-month epic run on June 30, 2002. The first FIFA World Cup of the 21st century consisted of a total of 64 matches and was safely completed without any hooliganism or terrorist acts.

The national teams of Korea and Japan both cleared the first round of competition, and played admirably, the Japanese team advancing to the final 16, and the Korean team astounding the world by advancing through to the semi-finals. These successes were ones that until this tournament had never been achieved by an Asian country in the World Cup.

There were multiple sources of Korea's dynamic performance on and off the soccer field. Having struggled through the 1997 financial crisis, it was an uplifting accomplishment that still symbolizes the nation's resilience. The Government as well as the private sector have benefited from this hard-earned momentum.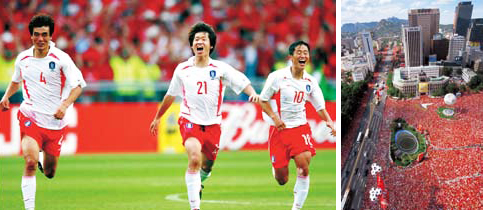 Koreans still like to recall the victorious moment of the 2002 FIFA World Cup Korea/Japan when the Korean national team advanced to the semifinal. (left) A huge crowd in red T-shirts cheers for the national football team in Seoul Plaza during the 2002 FIFA World Cup Korea/Japan. (right)
Foreign media praised Korea as the biggest winner of the 2002 FIFA World Cup. Korean fans impressed onlookers with their enthusiastic and orderly "street cheering" Combined, nearly 22 million took to the streets nationwide to cheer for the Korean national soccer team. The numbers swelled to 4.2 million people for the final-16 match against Italy, 5 million for the quarterfinal against Spain and 6.5 million for the semifinal against Germany. Even for the third-place match against Turkey on June 29, 2.17 million people showed up on the streets. In Seoul, over 10 million people gathered in the streets during the seven games, which accounts for 88% of the capital's population.

In 1983, Korea became the first country in Asia to field a professional soccer league. In 1994, the professional league changed its name to the K-League. Today, 16 teams compete in this league, which allowed foreign players' participation beginning in the 1996 season.
Department Global Communication and Contents Division , Contact Us