How South Korea Became a Sporting Powerhouse
How South Korea Became a Sporting Powerhouse
South Korea's national team surprised the world by ranking 5th place in the medals table (gold, silver and bronze) at the 2012 London Summer Olympics. It is also worth noting that the team won the soccer bronze medal at those Games. The potential of the country's soccer is explained by the presence of several South Korean players in European football (soccer) leagues. Also, at the 2008 Beijing Olympics, the South Korean team won the gold medal for baseball with several South Korean players now enjoying great popularity among fans in the United States and Japan as members of local teams.
Asians used to do poorly in figure skating, but Yuna Kim, a South Korean changed that by breaking world records in the discipline. In fencing, which used to be regarded as a sport for westerners and the nobility, South Korean athletes have won many medals. It is a well-known fact that many South Koreans have won both the PGA and LPGA championships. It is also noteworthy that three or four Koreans continually rank in the top ten at each LPGA championship. Formula 1 also visited Korea between 2010 and 2013 with the Korean Grand Prix held at Yeongam, Jeollanam-do, South Korea. And another international sporting event held in South Korea is the Tour of Korea, an annual professional road bicycle stage race.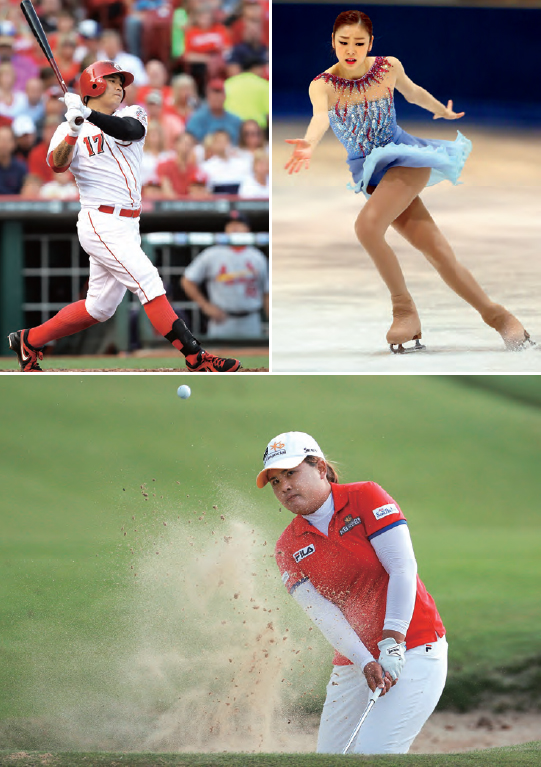 How South Korea Became a Sporting Powerhouse
The most important factors behind South Korea's transformation into a sporting powerhouse are the country's large number of sports lovers and efficient investment. The country strives to find promising young athletes, train them efficiently, and help them build their skills by accumulating a wealth of experience in domestic competitions. There are also professional sporting facilities dedicated solely to the training of athletes selected for international events such as the Olympic Games or the Asian Games.
National Sports Infrastructure
Many South Korean soccer lovers gather together early in the morning of a holiday to enjoy the sport. Teams from neighboring villages often take part in games and tournaments with the number of teams composed of neighbors currently standing at about 500,000.
The country's sports infrastructure is solid and wide-ranging. As of 2013, the number of ordinary sports lovers' clubs came to 4.13 million, i.e. 8.1% of the entire population. The number of soccer lovers who have joined clubs (590,000) is at the top of the list, followed by the number of members of tennis, badminton, table tennis, gate ball, and daily calisthenics clubs.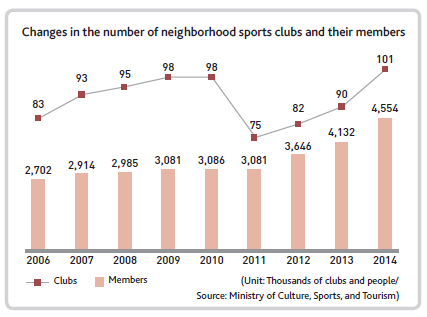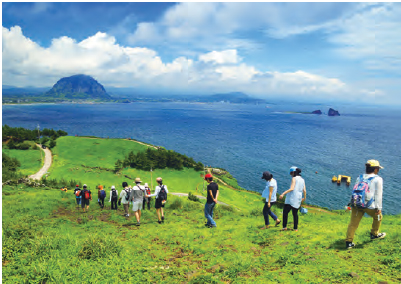 The government strives to encourage people to engage in more positive physical activities by providing support for sports clubs. Most sports clubs hold events from time to time. Over the past few years, the number of marathon clubs has increased drastically. In spring and fall, marathon competitions are held every weekend all over the country. An amateur marathon competition attracts thousands or even tens of thousands of participants. A relevant organization estimates the number of people engaging in jogging, running, and marathon events at somewhere between 800,000 and 4 million.
More than 20,000 people, professionals and amateurs, took part in a marathon event held recently. As a mountainous country, South Korea has an ideal environment for mountain climbers and hikers. There are many mountains near large cities, enabling city dwellers to enjoy mountain climbing and hiking conveniently. The country also has many popular rock climbing spots.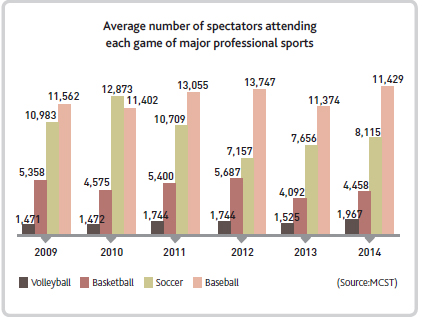 In recent years, the hilly trails of Jejudo Island have emerged as a favorite destination for hikers. Amid the new hiking boom, local governments have vied with each other in their efforts to establish good hiking paths. Bike riding has also become the focus of attention as an environmentally friendly sport, and the number of cycling clubs has increased accordingly. A vast network of bike paths has been established across the country, and many people now enjoy cycling along the country's major rivers on weekends.
A large number of people are attracted to professional baseball, soccer, and volleyball games. Rooting for one's favorite team is a fun pastime. Professional baseball and soccer games are attended by 8 million and 3 million people, respectively, each year.
Collaboration of Sports and Science
At the 2012 London Summer Olympics, a South Korean won the gold medal in the vault final. This achievement was the result of collaboration between science and sports. Sports scientists studied what the optimal conditions should be to pull through the hardest skills. They reached the conclusion that the optimal time span for an athlete to touch the vaulting horse was 0.15 seconds and that the optimal angle between arm and body was 22 degrees in order to stay in the air longer and make more rapid turns. The South Korean athlete was able to win the gold medal as a result of training based on optimal conditions suited to his body structure.
The Korea Institute of Sport Science (KISS) employs experts in sports dynamics, psychology, physiology, and so on. These specialists help athletes to achieve the best possible results in competitions. Five experts accompanied the national team during the 2012 London Summer Olympics. There are sixteen sports-related societies in the country in total, all of which exchange information through an integrated computer system.
Korea has many practice and training facilities, including the Taereung Training Center in Seoul. The center in Taereung is equipped with training facilities, running tracks, indoor and outdoor courts, an indoor swimming pool that meet international standards, and a dormitory for 300 athletes. In 2011, the country built a new training facility in Jincheon, Chungcheongbuk-do for athletes selected for international events. Among those who practiced here were the winners of gold and silver medals in track and field, swimming, and rifle shooting at the 2012 London Summer Olympics. The facility in Jincheon will be expanded to accommodate up to 800 athletes in 25 sports. Another facility specializing in the enhancement of athletes' cardiopulmonary functions is in Hambaeksan Mountain near Taebaek.
Featured Topics
http://www.korea.net/AboutKorea/Sports/How-South-Korea-Became-Sporting-Powerhouse
URL Copy
Department Global Communication and Contents Division, Contact Us