Transportation
Getting to Korea
Arrival by Air

Korea is connected by air to every major capital in the world, either through direct flights or by connecting flights from major international airports in East Asia. About 52 international airlines maintain regular services, with over 1,876 flights into and out of Korea every week. Korea has eight international airports: Incheon International Airport, which opened in March 2001, and Gimpo for Seoul; Gimhae for Busan; Jeju; Cheongju; Daegu; Yangyang; and Muan. Gimhae and Jeju operate direct flights to and from Tokyo, Fukuoka, Nagoya and Osaka in Japan.
Incheon International Airport
Special airport buses and city buses leave from various points in Seoul every 15~30 minutes from 4:30 a.m. to 10:30 p.m. and are less expensive alternatives to the KAL Limousine Bus line which connects Incheon International Airport with about 20 major hotels in Seoul.
Arrival by Ferry

Several companies, such as the Pukwan Ferry, Korea Ferry and Korea Marine Express, provide regular ferry services that link Busan with the Japanese ports of Shimonoseki, Fukuoka and Hakata. Another ferry service plies between Incheon and the Chinese ports of Tianjin and Weihai.
Temporary entry for private cars is allowed for passengers arriving by ferry, providing that drivers obtain the proper documentation.
How to Travel Around Korea
Domestic flights

Most domestic destinations are within an hour's flight from Seoul. Located between the western area of Seoul and the newer Incheon International Airport, Gimpo Airport is primarily used for domestic travel and short flights to Japan and China. Korean Air, Asiana Airlines and a few domestic discount carriers handle all flights within the country.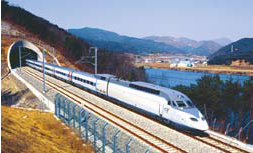 KTX (Korean Train eXpress), high-speed rail service launched in April 2004.
Railway services

The Korea Railroad (KORAIL) operates three types of trains - high-speed (KTX), express (Saemaeul), and local (Mugunhwa) - along an extensive nationwide network. The KTX trains link Seoul with Daejeon, East Daegu, Busan, Gwangju and Mokpo. Most popular destinations in the nation can be reached via direct line or a single transfer. Check Korea Rail's website (www.korail.go.kr) for information about combination train-ferry tickets and rail passes available. (Note: Rail passes are only available to inbound tourists and must be purchased from certified Korail vendors overseas.)
Local and city bus services

Regular intercity and long-distance express bus networks connect virtually all cities and towns in the country. Regular intercity buses are the least expensive way to travel around the country but make frequent stops. Bus fares range from 1,000 to 1,950 won (US$0.9~1.76). The website "www.visitkorea.or.kr" has detailed information.
Long distance express buses

Long distance express buses go directly to their destinations, stopping only at expressway rest areas every few hours. Two types of buses link every major city in the country. Regular buses have four seats per row. The more-expensive deluxe buses have only three seats per row and offer amenities such as phones and movies. Some lines run late-night deluxe express buses as well. Seoul has three intercity terminals providing service to different parts of the country - the main Express Bus Terminal on Subway Line 3,7 or 9 and Nambu Bus Terminal on Subway Line 3 in Gangnam and the Dong (East) Seoul Bus Terminal near Gangbyeon Station on Line 2. Busan's Express Bus Terminal is in its eastern downtown area.
Subway services

The subway is the most efficient and convenient way to get around Seoul, Busan, Daegu, Gwangju, Incheon and Daejeon. Subways have developed into these cities' main transportation systems and provide fast, safe, and comfortable rides. The Seoul Metro links all neighborhoods with the outlying areas and satellite cities. Fares vary according to destination, the basic fare being 1,050 won (US$ 0.95). Passengers can easily pay bus and subway fares and receive free transfers by using a debit card, known as T-money.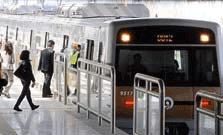 Seoul Metropolitan Subway opened Line 1 in 1974 and now operates nine lines. The subway system is the most heavily used means of public transportation in Seoul.
Taxi services

There are two kinds of taxis - regular and deluxe. Fares are based on distance and time. The black deluxe taxis are more comfortable, provide better service and, therefore, charge more than the regular taxis. Nearly all taxis are equipped with a free third-party interpretation system that can be accessed by cell phone if passenger and driver have difficulty communicating.

Regular Taxi

Fares are 2,400 won for the first 2 km and 100 won for each additional 144 meters. (Seoul) People can call taxis from anywhere in the city and be picked up within five minutes.

Deluxe Taxi

Deluxe taxis are black with a yellow sign on the top. They offer a higher quality of service and charge 4,500 won for the first 3 km and 200 won for each additional 164 meters.

Taxi Van

Eight-passenger van taxis are also available.
Car rental

Driving can be an exciting and effective way of getting around Korea. Extensive road and expressway networks are available, which means you can visit every corner of the country easily.

Drivers must meet the following requirements :

- Have more than one year's driving experience.
- Have an International Driver's License.
- Be over 21 years of age.
- Possess a valid passport.

Rental fees vary from 60,000 to 460,000 won (US$ 54.15~415.16) per day, depending upon the type of car. The speed limit is 60kph for most roads in the city and 80-100kph on expressways. Driving under the influence of alcohol or drugs is a felony that may result in a heavy penalty.
Ferry services

One of the most pleasant ways to see Korea, popular mainland to island ferry routes are Busan to Jejudo, Mokpo to Hongdo, and Pohang to Ulleungdo. There are ships making runs between Busan and Yeosu, with many in-between stops possible at ports along the south coast and Hallyeo Maritime National Park. Click on the website "www.visitkorea.or.kr" for more information about transportation and many other tourist-related information.
Department Global Communication and Contents Division , Contact Us