Summit Diplomacy

RSS
Summit Diplomacy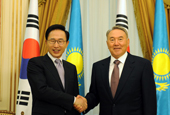 Korea- Kazakhstan Summit (August 2011)

President Lee Myung-bak agreed to strengthen bilateral economic cooperation between Korea and Kazakstan at a summit with President Nursultan Nazarbayev of Kazakhstan on August 25 in Astana. The two leaders reaffirmed Korean-Kazakhstani relations as a "strategic partnership" and discussed ways to substantially enhance cooperation in various sectors. Both leaders agreed to closely cooperate on the implementation of the joint development projects.
Current Affairs President Lee's state visits to Mongolia, Uzbekistan, Kazakhstan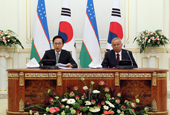 Korea- Uzbekistan Summit (August 2011)

President Lee Myung-bak held a summit talk with his Uzbek counterpart Islam Karimov on August 23 in Tashkent where two leaders reaffirmed their will to solidify cooperation on the bilateral joint venture set for the Surgil Project to ensure its smooth progress. The Surgil Project involves development of gas fields near the Aral Sea and construction of a related plant in Uzbekistan. Seoul and Tashkent pledged to expand the scope of bilateral economic cooperation in the realms of health care, medicine, IT, and the fiber industry.
Current Affairs President Lee's state visits to Mongolia, Uzbekistan, Kazakhstan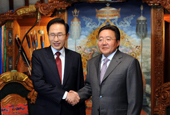 Korea-Mongolia Summit (August 2011)

President Lee Myung-bak and Mongolian President Tsakhia Elbegdorj held a summit on August 22 in Ulan Bator, the capital city of Mongolia. The two leaders agreed to upgrade Korean-Mongolian relations to a "comprehensive partnership" and adopted the joint statement. They also adopted a mid-term action plan to boost bilateral cooperation between Korea and Mongolia in various sectors, including economic, energy, and resource development.
Current Affairs President Lee's state visits to Mongolia, Uzbekistan, Kazakhstan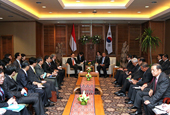 Korea-India Summit (July 2011)

President Lee Myung-bak and Indian President Pratibha Patil held a summit on July 25 at Cheong Wa Dae in Seoul to discuss ways to expand bilateral cooperation. President Lee and Patil agreed to boost the effect of Korea-India Comprehensive Economic Partnership Agreement (CEPA) which took effect on Jan. 1, 2010 between Seoul and New Delhi by advancing the agreement through reflecting trade environment between the two countries. The two leaders signed a nuclear energy cooperation pact, which will allow Korean atomic power firms to enter India's nuclear energy market. They also signed a memorandum of understanding on media exchanges and cooperation between Korea and India.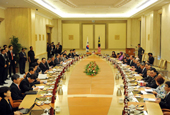 Korea-Malaysia Summit (July 2011)

President Lee Myung-bak and Malaysia's King Mizan Zainal Abidin met on July 20 at Cheong Wa Dae to discuss ways to promote bilateral cooperation between the two countries.President Lee and King Mizan said they strongly valued the cooperation between Korea and Malaysia, which has evolved into an important partnership since the establishment of diplomatic relations in 1960. President Lee urged King Mizan to strengthen bilateral cooperation in the energy, nuclear and human resource sectors. King Mizan expressed his hopes that Malaysia can expand cooperation with Korea in tourism, culture and human resources exchanges, as well as in renewable energy and green technology areas.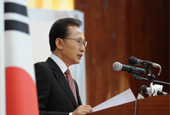 Korea-Ethiopia Summit (July 2011)

President Lee Myung-bak held summit talks with Ethiopian Prime Minister Meles Zenawi on July 8 in Addis Ababa and discussed reinforcing bilateral ties in development and resources. The two leaders called for expanded cooperation in the agriculture and green growth sectors, in line with the successful implementation of the Ethiopia's five-year "Growth and Transformation Plan," which includes insights from Korea's development experience. Both leaders also agreed to step up policy cooperation on the G20 Development Agenda and to enhance the level of partnership for increased trade and investment, resources development and science technology collaboration.
Current Affairs President Lee's state visits to African countries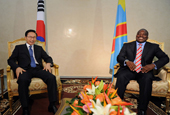 Korea-Democratic Republic of the Congo Summit (July 2011)

President Lee Myung-bak held summit talks with President Joseph Kabila of the Democratic Republic of the Congo on July 7, during his state visit to Kinshasa. The two leaders discussed boosting bilateral cooperation in the fields of agriculture, investment and resources. Presidents Lee and Kabila saw further agreement on a comprehensive partnership in infrastructure projects, including water purification facilities and coastal structures, while exchanging views on the state of international affairs in African region and the Korean Peninsula.
Current Affairs President Lee's state visits to African countries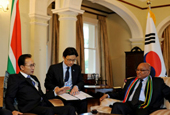 Korea-South Africa Summit (July 2011)

President Lee Myung-bak held a summit with President Jacob Zuma of South Africa on July 5 on the occasion of President Lee's state visit to Durban, South Africa. At the summit, both leaders agreed to further reinforce bilateral partnership in nuclear and mineral energy resources and to increase trade and investment. They sought closer collaboration in making progress on the implementation of G20Seoul Summit Consensus.Seoul and Durban also agreed on stronger cooperation on the 2012 Nuclear Security Summit in Seoul next March.
Current Affairs President Lee's state visits to African countries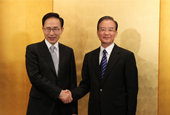 Korea-China Summit (May 2011)

President Lee Myung-bak and Chinese Prime Minister Wen Jiabao held a summit on May 22 on the occasion of the fourth Korea-Japan-China summit in Tokyo. At the summit, President Lee and Prime Minister Wen agreed to strengthen cooperation in nuclear safety and disaster control management and work together for the denuclearization of the Korean Peninsula. They also agreed to boost exchanges among high-profile officials to mark the 20th anniversary of the establishment of diplomatic relations between Korea and China.
Current Affairs The 4th Korea-Japan-China Summit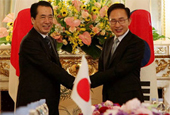 Korea-Japan Summit (May 2011)

President Lee Myung-bak and Japanese Prime Minister Naoto Kan held a summit on May 22 on the occasion of the fourth Korea-Japan-China summit in Tokyo. At the summit, President Lee expressed condolences to the victims of the earthquake and tsunami that hit northeastern Japan in March. The two leaders agreed to strengthen cooperation in nuclear safety and disaster control management.
Current Affairs The 4th Korea-Japan-China Summit