Summit Diplomacy

RSS
Summit Diplomacy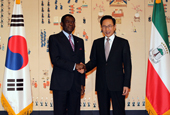 Korea-Equatorial Guinea Summit (August 2010)

President Teodoro Obiang Nguema Mbasogo of Republic of Equatorial Guinea and President Lee held a summit on Aug. 12. They discussed energy resources, such as gas and oil and cooperation in the field of infrastructure. They also exchanged opinions about Agenda 2020, a long-term economic development plan drawn up by the Equatorial Guinea government.
Korea-New Zealand Summit (July 2010)

Korea and New Zealand agreed to speed up talks for a bilateral free trade agreement during a summit meeting held on Monday (Jul. 5). President Lee Myung-bak and the visiting Prime Minister of New Zealand John Key released an 18-point joint statement that included the above contents. Moreover, Lee and Key also decided to designate the year as "Korea-New Zealand Year of Friendship" and widen cultural and personnel exchanges.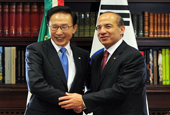 Korea-Mexico Summit (July 2010)

President Lee Myung-bak met with his Mexican counterpart Felipe Calderon and agreed on this new detail in summit talks on Thursday (Jul. 1). Mexico agreed to allow Korean companies' participation in international bidding for public projects even before concluding a free trade agreement (FTA). The two leaders agreed that once the FTA is concluded, it would help increase the trade volume and investment between the two nations.
Current Affairs G20 Financial Summit and SICA Meeting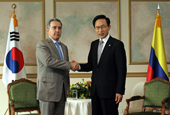 Korea-Colombia Summit (June 2010)

President Lee Myung-bak met with President of Colombia Alvaro Uribe on the sidelines of the third Korea-SICA summit meeting in Panama to discuss pending issues between the two countries and other matters of mutual concerns on Wednesday (Jun. 30). The two heads agreed to accelerate talks for a free trade agreement and to continue to take systemic measures to enhance cooperation in bilateral trade and economy.
Current Affairs G20 Financial Summit and SICA Meeting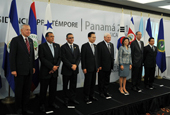 Korea-SICA Meeting (June 2010)

Korea and the eight member nations of the Central American Integration System (SICA) agreed to boost economic cooperation by implementing measures that allow more business opportunities for both regions. A 13-point joint declaration was adopted at the third Korea-SICA summit meeting held in Panama on Tuesday (Jun. 29). SICA is a governmental body in Central America established in 1993 for regional cooperation among nations there.
Current Affairs G20 Financial Summit and SICA Meeting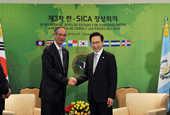 Korea-Guatemala Summit (June 2010)

President Lee met with Guatemalan President Alvaro Colom on Tuesday (Jun. 29) on the sidelines of the Korea-SICA meeting. Both leaders agreed to expand the scale of investment and cooperation between Korea and Guatemala. Lee called for the Guatemalan government's continuous cooperation and support for some 10,000 overseas Koreans and 145 Korean companies situated in the country.
Current Affairs G20 Financial Summit and SICA Meeting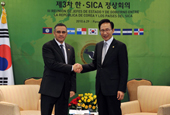 Korea-El Salvador Summit (June 2010)

President Lee, upon meeting with El Salvador's President Mauricio Funes, asked for the El Salvadoran's support for the business activities of Korean companies there in big projects like infrastructure and energy. Funes expressed big hopes for a local closed circuit television project that is being launched jointly with Korea.
Current Affairs G20 Financial Summit and SICA Meeting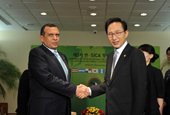 Korea-Honduras Summit (June 2010)

President Lee Myung-bak, held summit talks with Honduran' President Porfiro Lobo in Panama on Tuesday (Jun. 29). President Lobo promised his country's full support for Korea's position in regard to the Cheonan sinking after listening to President Lee's explanation of the circumstances surrounding it. Lobo also said that he'd pay more attention to Korean companies in the future.
Current Affairs G20 Financial Summit and SICA Meeting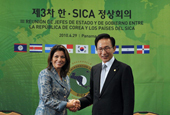 Korea-Costa Rica Summit (June 2010)

In their meeting for one-on-one talks, President Lee Myung-bak and Costa Rican President Laura Chinchilla agreed on possible synergy effects when combining Korea's state-of-the-art technology and Costa Rica's high growth potential, and decided to intensify cooperation in related fields. The two sides also agreed to cooperate closely on green growth and the issue of climate change.
Current Affairs G20 Financial Summit and SICA Meeting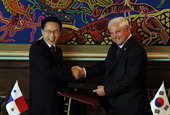 Korea-Panama Summit (June 2010)

President Lee Myung-bak made a state visit to Panama and met with his counterpart Ricardo Martinelli on Monday (Jun. 28 local time) and held a summit meeting. The two sides agreed to deepen bilateral ties in trade and economy and produced a 13-point joint declaration. The two presidents agreed to conclude a free trade agreement and decided to seek the participation of other countries in Central America.
Current Affairs G20 Financial Summit and SICA Meeting