Indonesian media spotlights Korea-Indonesia cooperation
Oct 15, 2013
Indonesian media reported in detail and with eagerness on President Park Geun-hye's recent state visit to Indonesia and on the progress made in Korea-Indonesia bilateral economic cooperation.
"We have agreed to make joint efforts to reach a bilateral trade volume worth USD 100 billion by 2020," said President Park during the joint press conference on October 12 after holding summit talks with Indonesian President Susilo Bambang Yudhoyono.
Her Indonesia trip paved the way for increased cooperation and for the development of stronger Korea-Indonesia ties. Reflecting its significance, the Indonesian media reported in detail on President Park's remarks and published her daily itinerary each day of the trip.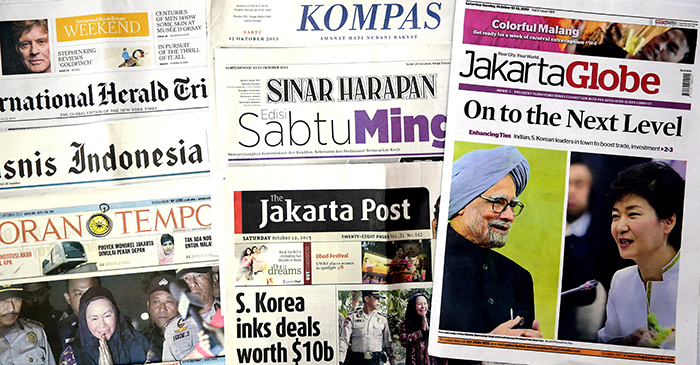 The cover story in the Jakarta Globe on October 12 was titled "On to the Next Level." The article focused on Indonesia's economic cooperation with Korea and India and included photos of President Park and Indian Prime Minister Manmohan Singh, who also visited the country at that time.
The Globe sub-heading read, "S. Korean, Indonesian business ink deals ahead of Presidential meeting." It predicts that Korea and Indonesia will find measures to, "boost trade and investment cooperation," during President Park's Indonesia state visit. The paper also said that, during President Park's trip, eight memoranda of understanding (MOU) were signed between Korean and Indonesian companies.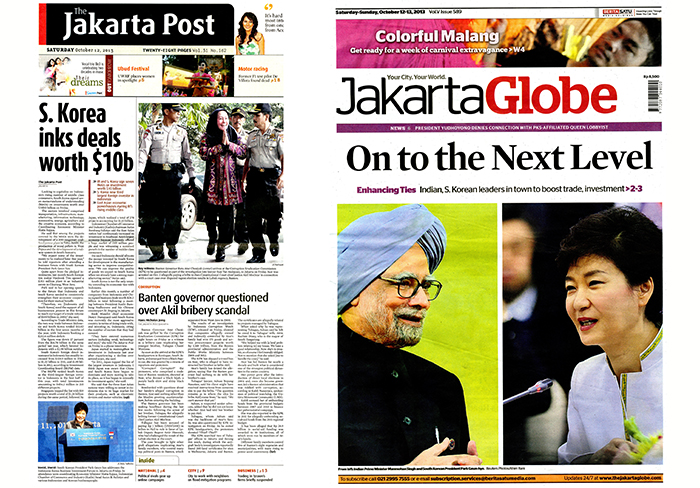 On the same day, the Jakarta Post ran the headline story, "S. Korea inks deals worth $10b." It mentioned that Korea is, "now [the] third [largest] foreign investor in Indonesia." The report quoted Indonesian Chamber of Commerce and Industry Chairman Suryo Bambang Sulistyo as saying that, "Indonesia should allocate the money invested by South Korea for development in the manufacturing sector to improve competitiveness."
The Post also reported on President Park's address at the Korea-Indonesia Business Investment Forum. It wrote about the agreements and the progress made on Korea-Indonesia economic cooperation, all due to President Park's Indonesian visit. Korea's robust investment in Indonesia covers a wide range of sectors, including transportation, infrastructure, manufacturing, IT, automobiles, energy, agriculture and the creative industries, it said.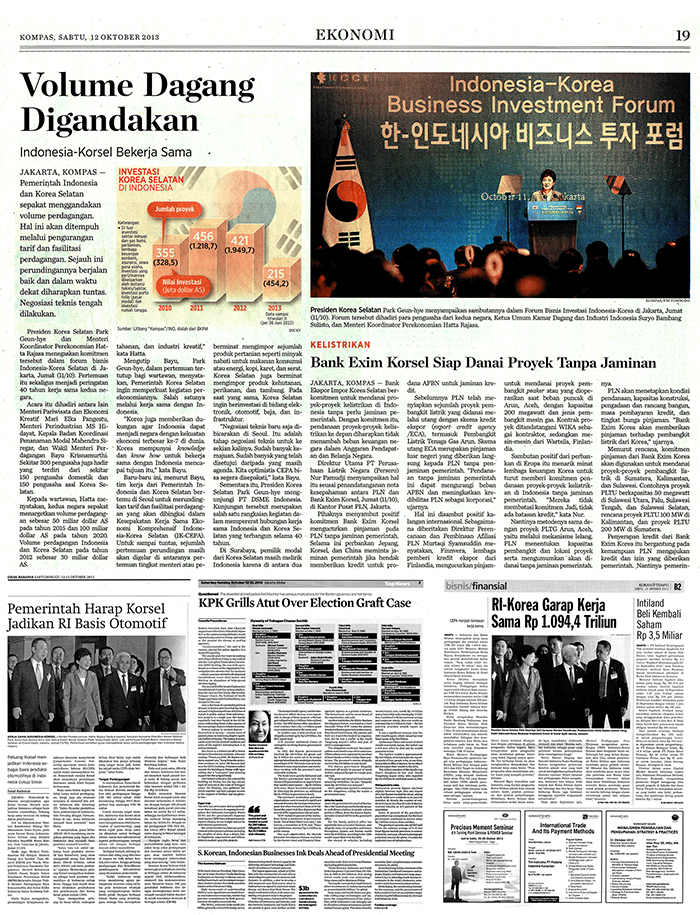 Other Indonesian newspapers-- Kompas, Bisnis Indonesia, Koran Tempo and Sinar Harapan-- also had detailed reports about the progress made on Korea-Indonesia cooperation achieved through President Park's Indonesia trip.
By Jeon Han, Yoon Sojung
Korea.net Staff Writers
hanjeon@korea.kr
Department Global Communication and Contents Division, Contact Us