Banks to expand services for foreigners
Sep 17, 2010
Many banks in Korea are expanding their services to better serve more than 1 million foreigners residing in Korea. Banks are concentrating especially on improving their language services in order to offer high quality services, regardless where their customers hail from.

Hana Bank launched a multi-language financial counseling service on September 9. It offers financial counseling services in 17 languages, including Mongolian, Sinhala and Cambodian. Hana Bank has also installed direct lines to a non-profit organization called 'Sharing Love in the Global Village' for counseling. When non-Korean speakers connect with Hana's call center (1599-0644) or the foreign workers support center (1644-0644) and request financial counseling, they will be connected with the non-profit for real time translation.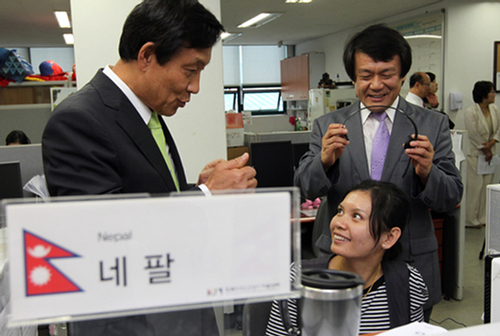 Shinhan Bank also now offers a multi language counseling service (1577-8380) for speakers of Mongolian and Vietnamese. More than 2,500 foreign customers used the service in the first half of the year. The most popular questions are about how to send money to other countries and how the Korean won is trending. There are also many questions about the electronic banking system, such as how to use internet and phone banking. Shinhan Bank will launch an online multi language service that will include English, Japanese, Chinese, Vietnamese, Thai, Mongolian, Indonesian and Tagalog banking services by the end of September.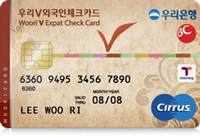 Woori bank has developed a 'Woori V Expat Check Card'. The card has been issued to more than 10,000 foreigners living in Korea since last May. It gives users discounts of 5% on any purchase over 30,000 won at big box stores such as Lotte Mart, E-mart and Homeplus. Users also receive a 4,000 won discount at CGV theaters and exemptions from overseas transaction fees. The card's T-money function for use on public transportation has received a very positive response from foreign customers.
Korean Exchange Bank (KEB) now offers accident insurance for foreign workers who send more than 500 dollars overseas. An officer from KEB said, "We also send insurance money to families of foreign workers if something unfortunate occurs. We try to help them in the process of getting money." It also now opens 12 branches, including its offices at Daelim Station and Hyehwa-dong in Seoul and Daehwa Station in Gyeonggi-do, on Sundays for the benefit of foreign workers.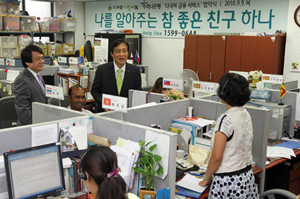 Citibank Korea offers a 'World Link Overseas Remittance' service to directly send money in 44 different currencies, such as Philippine Peso (PHP), Thai Baht (THB) and Indonesian Rupiah (IDR). "We are planning to expand services for foreigners in Korea." a Citibank official said.
Meanwhile, the Financial Services Commission offers an 'E-Briefing' service for foreigners on its official website. It gives weekly briefings of Korea's important financial issues in English using video clips. The videos can be seen at
http://www.fsc.go.kr/eng/wn/list_vo.jsp?menu=04&bbsid=BBS0101
.
By Jessica Seoyoung Choi
Korea.net Staff Writer
http://www.korea.net/NewsFocus/Business/view?articleId=82895
URL Copy
Department Global Communication and Contents Division, Contact Us