A world of alcoholic drinks in COEX
May 04, 2012
Lovers of alcohol can get more than they bargained for in the COEX Convention & Exhibition Center, which is running two side-by-side alcohol-themed exhibitions in Hall C. The 10th Seoul International Wine and Spirits Expo (SWS Expo) and the World Traditional Alcoholic Beverage Festival 2012 (WTA Expo) opened on Thursday, May 3, continuing until Saturday, May 5.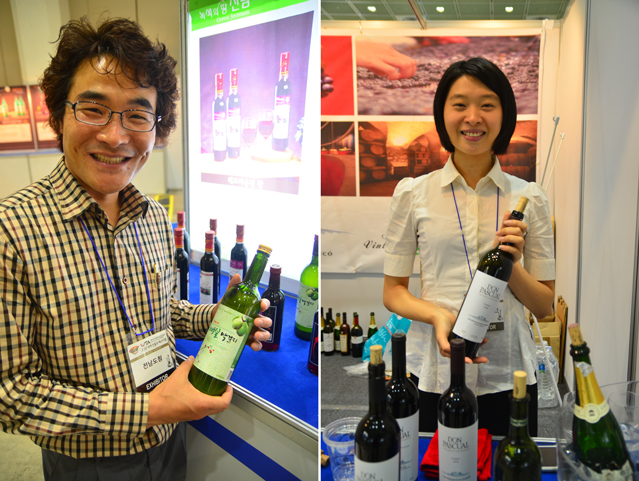 The SWS Expo brought together global distributors of beer and wine, while the WTA Expo had pavilions representing the regions of Korea alongside smaller booths sponsored by national embassies to Korea.
The Jeollanam-do pavilion offers many types of makgeolli including plum makgeolli (left), while the Uruguay booth offers Don Pascual wine (right).

The centerpiece on both sides, however, was makgeolli, Korea's traditional milky rice wine. At the WTA Expo, the pavilions dedicated to Gyeonggi-do (Gyeonggi Province), Chungcheongnam-do (South Chungcheong Province), and Jeollanam-do (South Jeolla Province) offered dozens of different strains of makgeolli made with unique ingredients including plum, sweet potato, and curry, as well as different fermentation methods.

The WTA Expo also featured the winners of last year's Korea Liquor Contest, including liquors made of ginseng, apple, and Jeju tangerines.

As well, many foreign traditional alcohols had their own booths, with eight countries represented in all. The New Zealand booth offered its own interpretation of soju, marketed as Mana Shochu, with flavors including lemon and golden kiwi.

The Czech Republic booth offered draught beer brewed in Seoul at the Castle Praha microbrewery. Castle Praha is a Korean-owned business with restaurants operating in Sinsa-dong, Hongdae, and Itaewon. The third floor of the Hongdae branch has a Czech Republic information center.

Over on the SWS Expo side, a booth dedicated to Prestige Makgeolli, a new brand of makgeolli made with gamma-aminobutyric acid (GABA), stole the show. Stronger and smoother-tasting than regular makgeolli, it showed promise for attracting drinkers from around the world.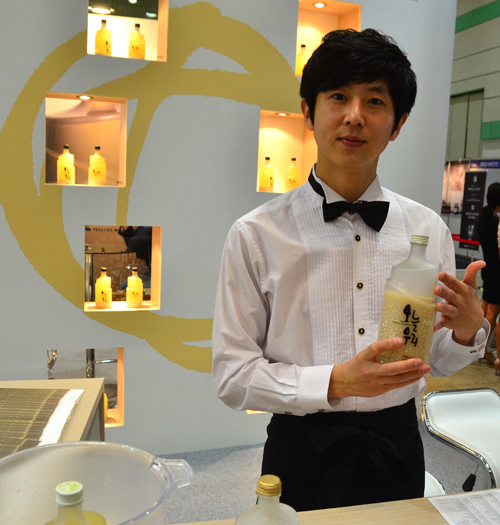 The SWS Expo had a larger number of booths, with exhibitors coming from 16 countries including Korea and Japan. The Japanese booths offered a variety of sake, while most other countries presented wines and beers, vying for room in Korea's increasingly competitive consumer market.

South Africa, which has participated in the SWS Expo for the last eight years, saw its wine exports to Korea drop in 2011, largely due to recently enacted free trade agreements Korea has signed with the U.S. and the EU. "This makes us even more determined to continue promoting our wine through participation at the SWS Expo," said Economic Counsellor Paul Pieterse of the South African Embassy in Seoul in a congratulatory message, "and hopefully we will regain our loss of market share."

In the Australia section, visitors could taste a selection of Australian wines. John Young, owner of the premium West Australian winery Fermoy Estate, was at hand to pour samples of his acclaimed wines. "We export to China, Hong Kong, Singapore, Thailand, and the Philippines, so Korea is about the only area we don't export to," he said. "So, the purpose of this exercise is to correct that."

There was also a beer area featuring eleven booths featuring beers mainly from Europe and Asia, such as Turkey's Efes Pilsener, Austria's Edelweiss wheat beer, and Japan's Sapporo. The exhibitors at the booths come from distribution companies that supply the beers to Korea's bars and markets.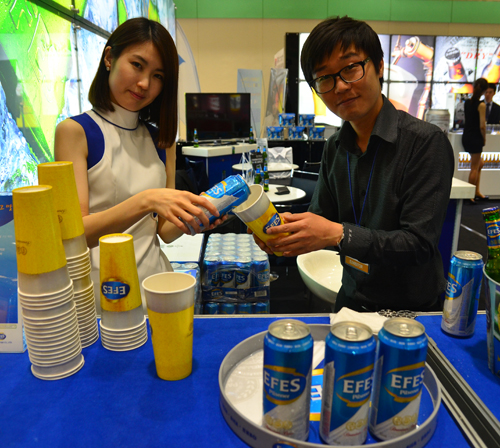 The WTA Expo is organized by the Korean Traditional Alcohol Beverage Development Association, and the SWS Expo is organized by the Korea Wines & Spirits Importers Association (KWSIA). Both exhibitions end on Saturday at 5 p.m. For more information about the WTA Expo, please visit WTA Expo website. For more about the SWS Expo, please visit SWS Expo website.

By Jon Dunbar
Korea.net Editor
Department Global Communication and Contents Division, Contact Us