"All Eyes on Korea" brings essence of Korean culture to Olympic city
May 24, 2012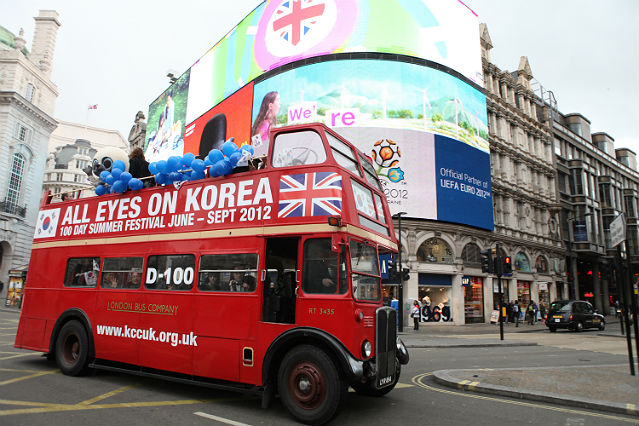 The host city of the upcoming Olympic Games will soon embrace one of the most spectacular Korean culture festivals held overseas, which promises enriching opportunities for an interactive Korean experience throughout the summer.
From June 2 to September 9, the 100-day summer festival All Eyes on Korea will present an extensive series of cultural and entertainment programs that showcase the modern and traditional sides of Korean culture.
The Korean Cultural Centre UK has teamed up with local artistic venues including the
Southbank Centre
and
Victoria & Albert Museum
, to introduce the essence of Korean culture.
All Eyes on Korea will also offer an eclectic collection of classical and traditional music performances alongside Korean film screenings, poetry readings, and cuisine.
If you are not yet familiar with Korean contemporary art, be sure to swing by the Hayward Gallery. You may discover an intriguing mix of cutting-edge contemporary artwork by Korean artists with critical acclaim, including Lee Bul and Kim Beom, along with "Time After Time," an outdoor installation by Choi Jeong-hwa.
A gala reception accompanied with "Shining Bright," a private Hanbok fashion show is expected to mesmerize audiences with the exquisite beauty of colorful costume designs by Lie Sang Bong at the Victoria & Albert Museum on July 30.
An evening of classical music with violinist Sarah Chang and soprano Sumi Jo will be hosted on July 31 at Royal Festival Hall of Southbank Centre, following a series of traditional Korean music performances. Pansori Brecht Sacheon-ga, a modernized adaption of a traditional Korean music genre by Lee Jaram and Pansori Project ZA will be also unveiled on July 30.
At the Korean Cultural Centre located close to Trafalgar Square, a relay of film screenings will take place every Thursday night under the theme "Year of the 12 Directors," as an extension of the centre's regular film night program.
Moreover, poet Kim Hyesoon is set to represent Korea at the Poetry Parnassus, a gathering held from June 26 to July 1, as part of the Southbank Centre's Festival of the World, which brings poets and spoken-word artists from 200-plus competing Olympic nations.
The summer festival will draw to a close on September 9, the last day of the Paralympic Games, with a free, highlight outdoor event on the London calendar. Londoners and Olympic travelers are invited to experience authentic Korean culinary delights and arts at the Mayor's Thames Festival, slated for September 8 and 9.
To browse listings of all events by category and date, and find something you can get involved in, visit the
official website of Korean Cultural Centre UK
.
By Hwang Dana
Korea.net Staff Writer
Department Global Communication and Contents Division, Contact Us