Beauty of Hangeul as art form explored in exhibition
Feb 07, 2013
Over five centuries have passed since Hangeul was created, but only in the last few years have artists from various fields started exploring its potential as a motif for producing artwork. As it turns out, there seem to be unlimited possibilities in artistic expression inspired by Hangeul.
In Seoul, now there are a number of arts and design exhibitions that present artwork produced from experiments with Hangeul typography, ranging from paintings and sculpture to dance and fashion.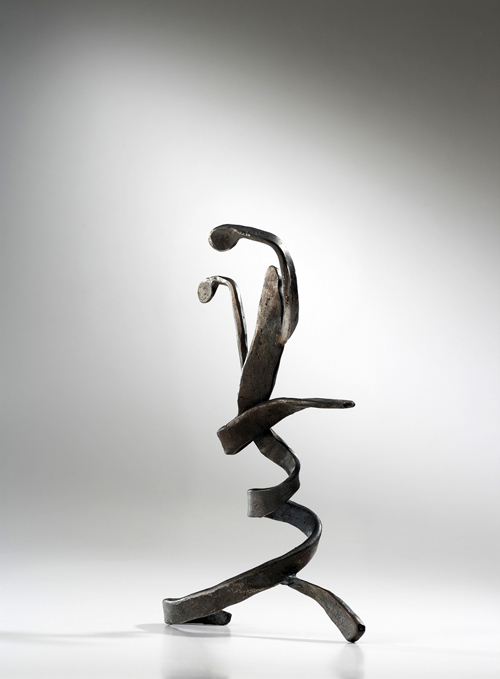 SeMA Nam Seoul
, a southern branch of the city's municipal museum, has an ongoing exhibition titled "Korean alphabet: the art of inspiration and interaction" in which 17 contemporary artists and groups highly active in numerous fields of arts including calligraphy, design, and fine arts exhibit their collections. This exhibition provides a rare opportunity to see the works of established artists who have refigured Hangeul and used it as art forms with diverse perspectives at some point in their careers.
"Flower Stands" by calligrapher Kang Byung-in is a unique art piece that reorganizes the shape of a Hangeul letter into a flower. The top consonant transforms into a flower in full bloom while the vowel becomes a branch and the bottom consonant is a root. Kang produced many calligraphy works with Hangeul words such as "flower" or "Arirang" and this is an example of how calligraphy turns into sculpture.
"Blooming Dream" by Jeong Goam shows both direct and indirect images of Hangeul through mixed colors applied on wooden surface relief grating. It may not be easy to actually read Hangeul words on his work but a closer look with a bit of explanation by a curator will help visitors understand why it is titled as it is.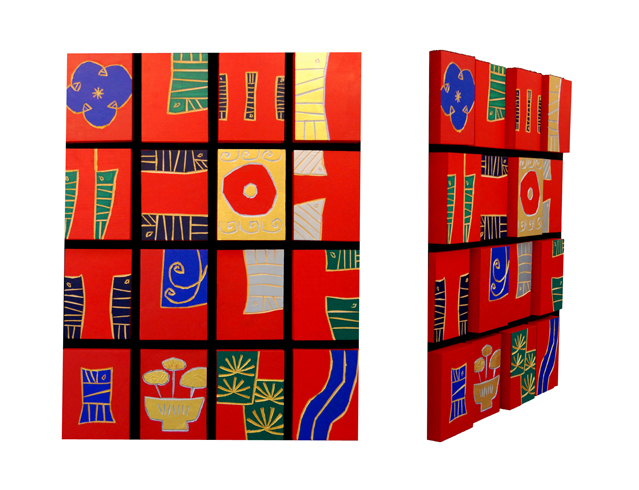 What looks like a painting titled "Steel Powder Painting" by Kim Jong-ku is made by applying steel powder on a cotton cloth moistened with PV glue. Kim illustrates a sense of melancholy through poetry, handwriting, and painting all expressed with steel powder. This work is completed over time through the powder's oxidation process.
Kim Jong-won reorganizes consonants and vowels by mixing and overlapping them, creating an effect that makes them look like pictographs. For his several works on display, he used poems written by Joseon Dynasty scholars and authors from the early 20th century and printed these letters with Chinese ink on old-style paper.
Lie Sang-bong, a renowned fashion designer who is known for his costumes that employ images of Hangeul, echoes poems and calligraphy in a black coat and silk dress.
The work "Things I Know" by Kang Ik-joong is inspired by his experience using flash cards to teach Hangeul to a child. The mosaic work consists of 7.6X7.6cm wooden panels and it is a part of a greater piece that was once shown in other exhibitions.
"The artists tried to express the beauty of Hangeul's shapes," said Kim Hye-jin, a curator at Seoul Museum of Art, summing up the event. "Through this exhibition, we came to realize the inner value and possibilities of Hangeul."
The exhibition continues until February 27. For more information, call (02) 598-6247 or visit www.seoulmoa.org. To visit the museum, go to Sadang Station on Line 2 or 4, Exit 6.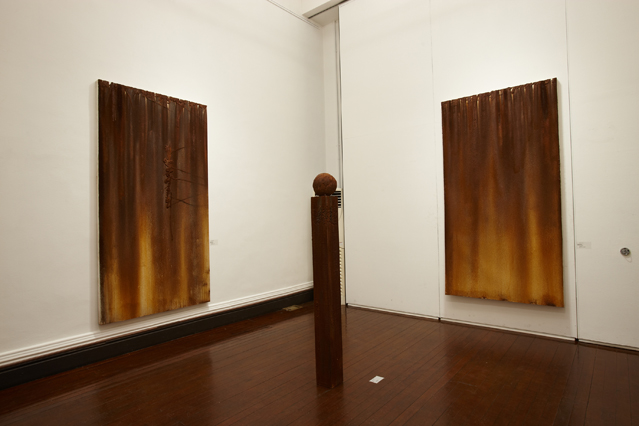 Another exhibition titled "Playground of 28 Characters: The Pai Chai Hakdang and Korean alphabet 'Hangul'" at
Appenzeller Noble Memorial Museum
in Jeong-dong, downtown Seoul, shows the gradual spreading of Hangeul and the Korean language through historic events and cultural exchanges such as Hallyu. The event also highlights the 127-year-old Pai Chai Foundation's efforts to teach Hangeul.
The exhibition narrates the modern history of Hangeul with 28 displays divided into different themes. It shows historic artifacts as well as contemporary art and posters by 28 teams of designers, architects, and artists who offer meaningful interpretations of the exhibition. The event continues until October 25.
For more information, call (02) 319-5578 or visit
appenzeller.pcu.ac.kr
. To visit the museum, go to City Hall Station on Line 2 or 1, Exit 10.
By Limb Jae-un
jun2@korea.kr
Featured Topics
http://www.korea.net/NewsFocus/Culture/view?articleId=105361
URL Copy
Department Global Communication and Contents Division, Contact Us