Korea-made films come to Hollywood
Mar 13, 2013
Just as Korean music finally broke through last year with PSY's "Gangnam Style," this might be the year that Korean directors take over Hollywood, according to the
Washington Post
.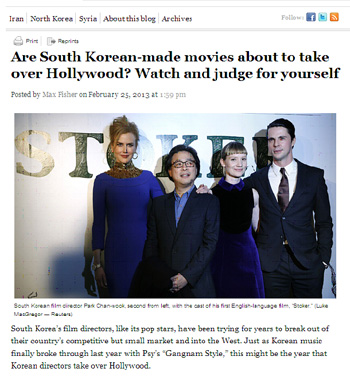 In the February 25 edition, foreign affairs blogger Max Fisher introduced three new releases created by Korean directors in anticipation of their success in Hollywood. Fisher also provided trailers and synopses for each film:
Park Chan-wook's Stoker
,
Kim Ji-woon's Last Stand
, and
Bong Joon-ho's Snowpiercer
.
"South Korea's film directors, like its pop stars, have been trying for years to break out of their country's competitive but small market and into the West," Fisher mentioned in the article, suggesting the likelihood of Korea's top directors dominating the Hollywood stage.
Fisher quoted the
New York Times
, saying that "American producers appreciate that Korean directors' style and restraint go hand in hand with a taste for visceral, often bloody stories in popular categories like horror and crime.'"
Korean movies are becoming a big thing among Hollywood movie stars and directors. Recently, more and more celebrities are making visits to Korea, called on by Hugh Jackman, Tom Cruise, Arnold Schwarzenegger, Mia Wasikowska, Robert Zemeckis and more. On March 6, Leonardo DiCaprio joined the flow, making his first trip to Korea.
The recent surge of Hollywood stars' appearances in Korea suggests that Korea's film industry has been enjoying a full-blown renaissance. An increasing number of moviegoers choose films that fit their own tastes rather than stick to Hollywood-produced films.
The domestic film market in Korea has recently been on the rise and, has already surpassed the 30 million mark in the first two months of this year, 65.7 percent up from last year's record.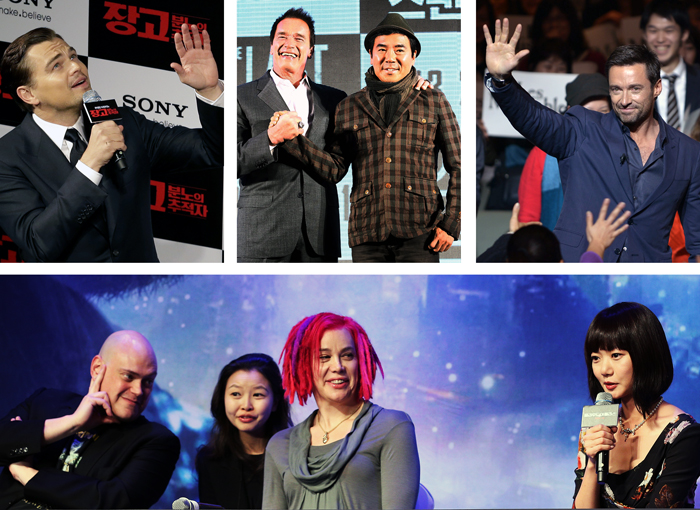 Responding to the emerging phenomenon, Hollywood studios tend to focus their energy on promoting and marketing their newest productions while keeping an eye on Korea's market.
In addition, Korea welcomed the first foreign company to fully finance a Korean film production this year. Global entertainment giant Fox International Productions (FIP) is involved in investing and producing
Running Man
, a soon-to-be-released action flick.
"We were very impressed with the concept of trying to make a film that would be pushing the action portion, all done in a realistic way in Seoul itself,"
FIP president Sanford Panitch
explained at a press conference in Seoul.
Panitch also mentioned that he was impressed by the level of Korea's filmmaking skills, especially when he found that the intensity in action is in balance with fully developed characters and deep-cutting drama.
The head of the global firm, confident about the prospects of this first local project, has a number of more Korean productions in the pipeline.
By Lee Seung-ah
slee27@korea.kr
Department Global Communication and Contents Division, Contact Us