Korean, Indonesian artists think out of the box
Oct 14, 2013
President Park Geun-hye paid a visit to the opening of a Korea-Indonesia exhibition of contemporary art on October 11 during her state visit to Indonesia. The exhibition featured artists from both nations and the president encouraged them all with words of praise.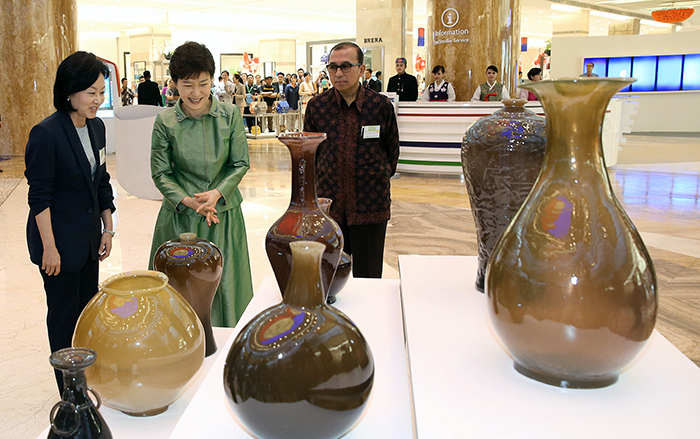 The exhibition, "Apa Kabar Indonesia," was held in commemoration of the 40th anniversary of diplomatic ties between Korea and Indonesia.
After talking with some of the representative artists from both nations, President Park participated in a tape-cutting ceremony along with Indonesian Minister
Mari Elka Pangestu
of Tourism and Creative Economy, Director Tubagus Andre Sukmana of the Indonesia National Gallery, Korean Minister
Yoo Jin-ryong
of Culture, Sports and Tourism and Minister
Yun Byung-se
of Foreign Affairs.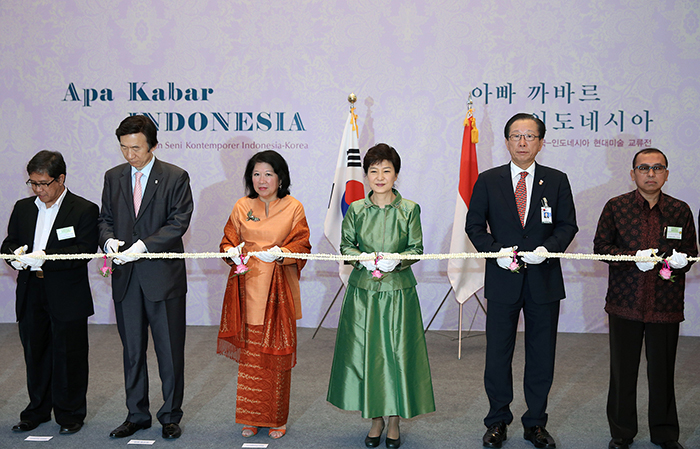 "It is a great pleasure to see artistic interaction between Korea and Indonesia," said President Park. "Over the past 40 years, both nations have developed strong bilateral relations across many areas, including politics and economics, and further improvement can be achieved with more cultural interaction."
"There is nothing better than culture to inspire interest in each other's country," Park continued. "Hopefully, our two nations can continue to have artistic exchanges and we can invite more people to come visit."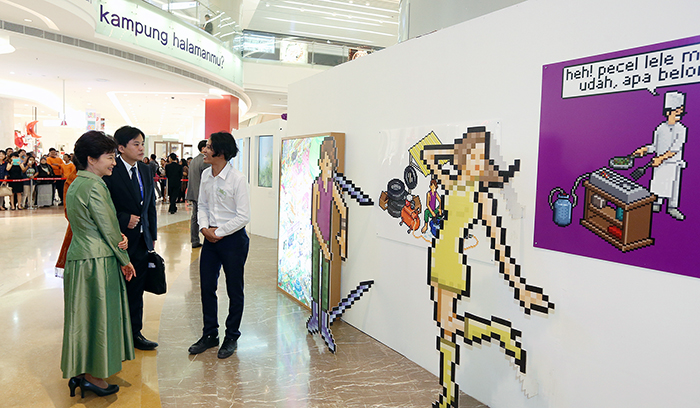 President Park showed an interest in the soap pottery created by Korean artist MeeKyoung Shin. Visitors were able to wash their hands at the artist's display, rubbing their hands on the soap art. The Korean president said that it is very unique and that it seems as if a "conceptual shift" had made it possible.
President Park also met with Indonesian artists Tintin Wulia and Narpati Awangga. Regarding the works of Awangga, which show complex building structures in the heart of the city, President Park said that it is true that there are plenty of chicken restaurants in the heart of Jakarta.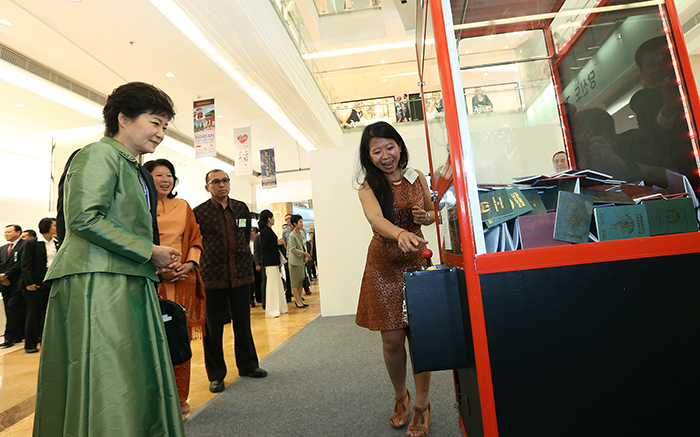 Organized in a shopping center, not a gallery, the arts exhibition was divided into two sections: installation art and media art.
The installation art section was designed by the
National Museum of Modern and Contemporary Arts Korea
. It was filled with modern sculptures and artwork made out of a variety of materials. The other section was dedicated to media art and focused on exchanges between the two nations across three different elements: pop culture, commodities, and the diaspora.
The exhibition showed how the three different elements were expressed in the form of contemporary art, and furthermore how the mall had been transformed into a content-producing space from a consumption-focused commercial space.
The exhibition, with its 24 artworks made by 19 Korean and Indonesian artists, will be open until November 3.
By Jeon Han, Lee Seung-ah
Korea.net Staff Writers
hanjeon@korea.kr
Department Global Communication and Contents Division, Contact Us