Over 80,000 fans gather to see Psy perform "Gangnam Style"
Oct 05, 2012
More than 80,000 fans gathered to see Korean rapper Psy perform on stage at the square in front of Seoul City Hall at 10 p.m. on October 4. The singer offered the free concert to express his gratitude to domestic fans for their support for his international hit song "Gangnam Style."
The fans screamed "Psy" and danced as Psy performed the signature horse-riding dance at the concert. The song has caused a huge sensation worldwide since its July release on YouTube and has stayed in second place on the Billboard Hot 100 chart for the second week.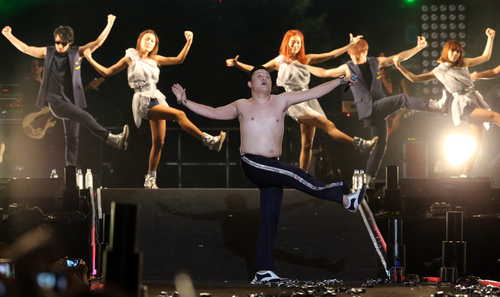 "I am Psy and am having my heyday twelve years after my debut and I have become a new singer in other countries," Psy told fans before starting the show. "With the concert being broadcast live on YouTube, it's a golden opportunity to show how well Koreans play.".
Psy took off his shirt as he had promised at a press conference on September 25 where he said he would perform topless if his song rose to No. 1 on the Billboard chart.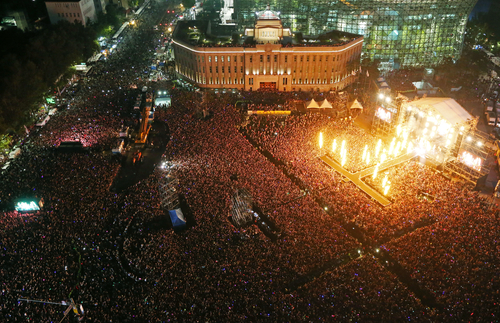 The concert drew many middle-aged people as well as young fans. "Although I have grown old, I like Psy so much," Lee Jeong-hee, 55, was quoted as saying by Yonhap, adding she was impressed by Psy's global success.
The concert was broadcast live online via Seoul City's social channel "Live Seoul" and YouTube, enabling fans worldwide to join the show.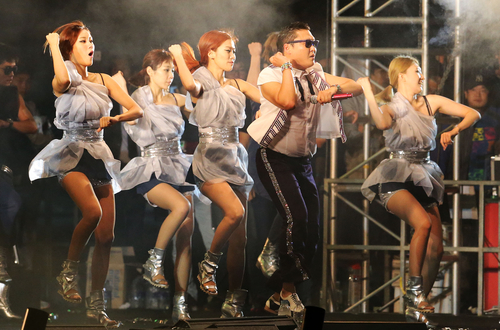 "Gangnam Style" became a global sensation just a couple of months after its debut, with its music video spawning a series of copycat videos and parodies on the Internet. The music video, highlighted by Psy's comic horse-riding dance move, recently topped the 300-million-view mark on Youtube.
Meanwhile, the Ministry of Gender Equality and Family said it would consider lifting the ban on "Right Now" for fans younger than 19. The ministry classified the song, expected to be Psy's next single to be released in the United States, as harmful to those under 19 because of what it considered "obscene words" in its lyrics in 2010.
The song has already generated 6.5 million views on YouTube and there are positive replies such as "I would prefer this over Gangnam Style" and "Better than a lot of pop music I hear in the U.S. Psy's got serious talent."
By Limb Jae-un
Korea.net Staff Writer
Featured Topics
http://www.korea.net/NewsFocus/Culture/view?articleId=621
URL Copy
Department Global Communication and Contents Division, Contact Us