1st Busan Maru International Music Festival to be held in September
Aug 26, 2010
Source : Busan Metropolitan City
This September, Busan City will be filled with beautiful music.
The 1st Busan Maru International Music Festival, hosted by Busan Metropolitan City and organized by Busan Maru International Music Festival Organizing Committee, will be held from September 8 through 12 at Busan Citizens' Hall, Busan Cultural Center, Eulsukdo Cultural Center and other indoor and outdoor concert halls in Busan.
'Maru' means the summit of a mountain or a roof in Korean, and so the name of the festival implies its goal to become the best symphony festival in the nation, attracting the world's top musicians.
Under the theme of "France Fragrance", French-based musicians including Kang Dong-suk, a co-artistic director of the Music Alp Festival in France, are invited to show the quintessence of classical music. In addition, concerts are scheduled to celebrate the 200th anniversary of the birth of two much-loved composers, Schumann and Chopin.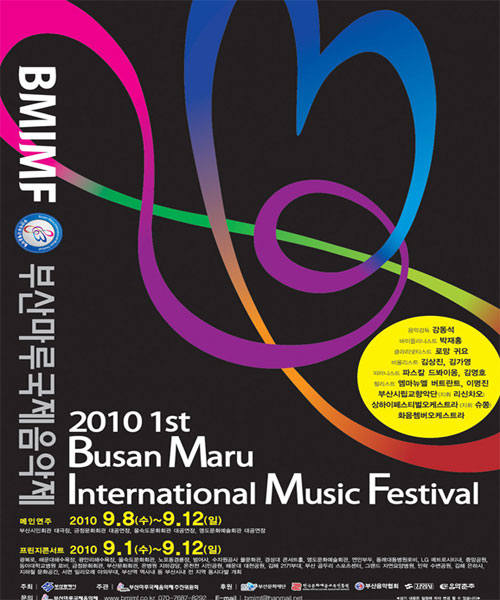 The opening concert by the Busan Philharmonic Orchestra on September 8 and the closing concert by the Shanghai Festival Orchestra on September 12 will take place at Busan Citizens' Hall.
About 900 musicians from 42 orchestras and ensembles performing in the Busan and Gyeongnam region are scheduled to perform fringe concerts at a number of Busan's beautiful attractions including Haeundae Beach, Eulsukdo Cultural Center, Beomeosa Temple, Samrak Park, Millak Waterfront Park, Gwangalli Beach and others.
The aim of the Fringe Concerts is to provide an opportunity for regional classical musicians to perform for the public, to promote a music-loving culture regionally and to boost the festive mood during the festival.
Pre-fringe concerts are also scheduled from September 1 through 7, and during the festival, fringe concerts will be held all over the city.
For more information, please visit the website at http:// www.bmimf.co.kr (Currently only in Korean)
Featured Topics
http://www.korea.net/NewsFocus/Culture/view?articleId=82561
URL Copy
Department Global Communication and Contents Division, Contact Us