Seollal embellished with traditions and cultural events
Jan 20, 2012
Seollal, or the Lunar New Year holiday, is a perfect time to immerse oneself in traditional Korean culture and folk customs. For those curious to know more about one of Korea's most beloved holidays, national museums and royal palaces host a series of special events inviting international visitors to make the most of Seollal and get a glimpse of Korea's traditional customs.


From January 15 to 24, the National Folk Museum of Korea located inside Gyeongbok-gung Palace is offering programs where one can experience the festive ambiance of Seollal. Visitors may take part in diverse hands-on activities and different kinds of Korean folk games, such as yut-nori (a stick-tossing board game) and neolttwigi (traditional Korean see-sawing). Anyone can participate in the traditional cultural experience and sample the seasonal delicacies while exchanging wishes to one another.

During the celebrated holiday period, the museum provides enriching out-of-school opportunities, engaging children to discover Korean traditions with programs dedicated to hands-on learning for all families. No advance reservation is required. Participation is on a first-come, first-served basis.

This year, the National Folk Museum of Korea also offers the traditions of Chinese New Lunar Year, commonly known as Spring Festival in celebration of the 20th anniversary of diplomatic ties with China -- to encourage increased mutual understanding and cultural exchange between the peoples of both countries. Traditional Chinese fortune-telling sessions are available in both Korean and Chinese alongside the Korean equivalent of Tojeongbigyeol, or secret readings for the New Year.

Visitors to Gyeongbokgung Palace can try hanging the emblematic red diamond-shaped fu (福) character upside-down to wish for luck, prosperity, and joy. A sampling of Chinese dishes consumed to usher in wealth and happiness are offered as well. Those born in the Year of the Dragon will receive a red sash, a predominant color used in Chinese New Year celebrations to ensure good fortune.




Highlights of the museum's Seollal events include a series of traditional Korean performances scheduled for the three-day holiday. On the day of actual Seollal, which falls on Monday, January 23 this year, you can enjoy an energetic and colorful pungmul performance -- also called as nongak, which means "farmers' music" -- by troupes from the Pyeongtaek Nongak Preservation Society. Nongak, a tradition handed down in rural villages, is a multi-genre type of Korean folk music that involves dance, percussion, theater, and pageantry. The traditional performances are complimentary with palace admission on a first-come, first-served basis.




Inside the museum exhibition halls, an exhibition is taking place dedicated to the Year of the Dragon. In its 13th year, the special exhibition is put on around this time of year to explore the symbolic meanings of the twelve Oriental Zodiac signs called Sibiji. The dragon, the fifth animal in the Sibiji, represents courage and hope.

The Year of the Dragon special exhibition displays paintings portraying the mythical creature, which long ago served as the symbol of the king, alongside a rich selection of royal artifacts and objects featuring dragon patterns or shape.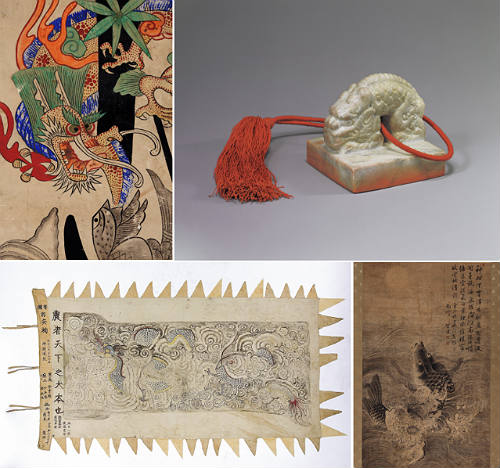 As you reach the end of the exhibition, you will encounter a very special piece entitled "Our Dragon Dreams" created by 18 special-education students who have been tutored through the museum's educational program. Also on view are photographs that illustrate the process of the production. The exhibition runs through February 27.

Besides the events held in the National Folk Museum, anyone is invited to take part in the Lunar New Year events offered at Namsangol Hanok Village and Korean Folk Village throughout the holidays.

For more information on Seollal events held in Namsangol Hanok Village and Korean Folk Village, click here. To access to a list of other recommended tourist spots in Korea, visit the website run by the Korea Tourism Organization (Korea, English, Japanese, Chinese, French, Spanish, German, Russian, Thai, Arabic, and Turkish). For more information on tourism in Seoul (Korean, English, Japanese, and Chinese).

By Hwang Dana
Korea.net Staff Writer


Department Global Communication and Contents Division, Contact Us