Soap sculptor MeeKyoung Shin recognized in London
Aug 07, 2013
Back in 2012, when London heated up with
Olympic fever
, a large-scale equestrian sculpture was installed at Cavendish Square in the west end of London. A statue of the
Duke of Cumberland
was rebuilt in the same location from the original in 1770, which was removed in 1868, but made with soap this time. Some curious onlookers gathered at the site, fascinated by their first sight of the majestic figure and then shocked at the fact that it was all created with soap.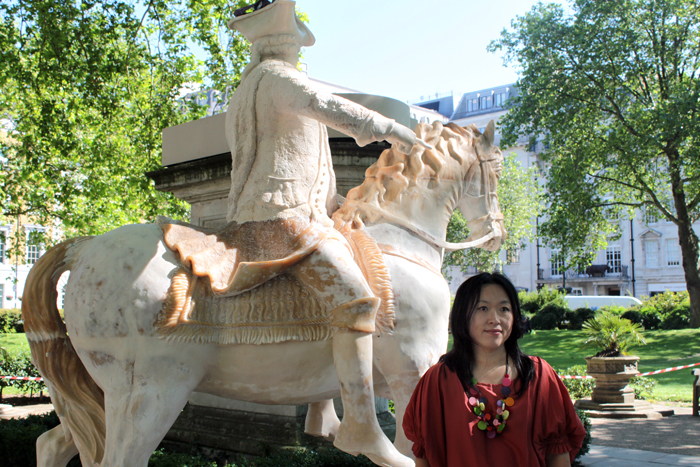 The artwork, officially titled
Written in Soap: A Plinth Project
, was created by Korean artist MeeKyoung Shin. Shin, 45, has been working as a soap sculptor for the past 18 years, having sculpted mostly historic relics ranging from ancient Greek sculptures and Asian pottery to Buddha statues. She is now on the shortlist of four candidates for the Korea Artist Prize sponsored by the
National Museum of Modern and Contemporary Art
(MMCA) and SBS Foundation.
Korea.net talked with the soap master about her work, life, and more.
Q: What made you become an artist?
I have dreamed of being an artist since I was very young. Once entering the world of art, students get training in various fields. During the courses, I found myself quite weak in the sculpture part and so I started to concentrate more on that, which I think ended up leading me to major in sculpture.
Q: The gigantic equestrian sculpture in Cavendish Square was very impressive. What inspired you to pick soap for your medium?
Rather than inspired by one strong factor, I was influenced by many doubts and questions. When I came to see parts of the Parthenon, which I have already seen in Greece, in London again, two things crossed my mind. First, the piece did not look like the original and second, the texture and density of the sculpture seemed quite similar to soap.
Then, I moved to study in England and had an opportunity to experience classical Western sculptures that I am already familiar with. I had had many experiences reproducing these sculptures in Korea for a university entrance exam. It wasn't new at all. But local students did not seem to take classical pieces particularly important for their study.
That moment, a question came to my mind. Why do Koreans take them as a kind of "standard" of the arts? The pieces are just part of their history to westerners.
Listening to my inner voice was translated into an art piece.
Q: Was soap a good material to work with?
It is a general perception that soap is very soft, soluble, and goes away easily. But at the same time, it never goes away in our lives. To me, the ambivalent characteristic of soap was good enough to have meanings or messages behind the artwork. Also, it was a good material to express the lapse of time.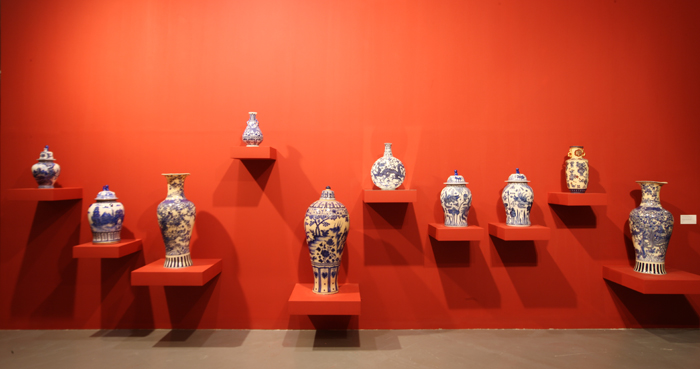 Q: Most of your works are reproductions of historic relics. Is that a way for you to express the lapse of time?
Yes. Time crumbles all of them. Everything will melt, erode, and transform. My works, however, were designed to erode. Just like historic relics do not lose their value even if they are damaged, my works have artistic value in each stage as it melts.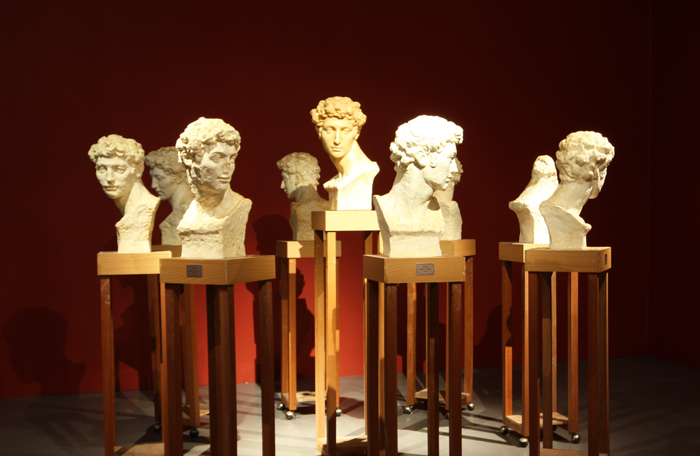 Q: Tell us about your future plans.
I have plans to hold some private exhibitions in the latter half of this year including a launch of another equestrian sculpture in Taiwan in October. Next July, I will be concentrating on building up a seemingly stone structure, but actually with soap in London. The building structure will also be transformed by the weathering process.
By Lee Seung-ah
Korea.net Staff Writer
slee27@korea.kr
Department Global Communication and Contents Division, Contact Us