OECD credits Korea's green policies and growth potentials
May 03, 2012
On April 27, Secretary General Jose Angel Gurria Trevino of the OECD held a press conference at the Korea Research Institute for Human Settlements (KRIHS) where he unveiled the OECD Urban Policy Review of Korea 2012, an assessment of Korea's approach to sustainable urban development and national policies for urban development in the last three years.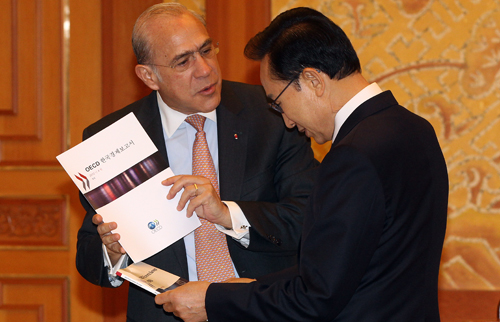 The report says that green policies such as the Four Major Rivers Restoration Project and projects related to express railways have allowed the nation to become the fastest country to overcome the global financial crisis.

The report also comments that Korea is the first OECD member country to introduce comprehensive green growth policies and its Green New Deal, which have been integrated as green growth strategies and have helped the nation's economy to recover since early 2009.

It also comments that "the level of urbanization in Korea has rapidly grown" and "the GDP of Korea drastically increased almost 16 times between 1970 and 2009."

Previously, Secretary General Gurria also revealed the OECD Economic Survey of Korea 2012 on April 26. The report forecasts the economic growth rate of Korea for 2012 at 3.5%, lower than the previous forecast.

"Korea successfully overcame a global financial crisis before," Gurria said. "Although a global crisis is occuring again, Korea is a country that is sufficiently capable of responding to the crisis." He also said, "As Korea has an open economy, international trade is necessary to develop its economy… We have made downward revisions in its economic growth predictions as the world economy has become worse than expected, yet having such economic growth forecasted is good news."

Overall, the report praises the Korean economy, commenting, "Although the world economy is in a serious downturn, Korea is capable of handling it through expanding government expenditure and easing its fiscal policy."

It concludes that the Korean economy will successfully develop through green growth policies, achieving the vision of Low Carbon Green Growth, and proposes revisions to its emissions trading scheme as a priority assignment.

OECD Economic Surveys are issued every 18 months and focus on OECD member countries, and the OECD Urban Policy Review of Korea 2012 is a special report that was co-researched with the Korean government to review Korea's urban development policies.

By Jessica Seoyoung Choi
Korea.net Staff Writer
Department Global Communication and Contents Division, Contact Us