Global Green Growth Summit to open in Seoul
May 04, 2012
Leading international economic and environmental policymakers and experts are coming together in Seoul on May 10 to 11 for this year's Global Green Growth Summit (GGGS).
Organized by the Global Green Growth Institute (GGGI) in association with the OECD, UNEP, and the World Bank, GGGS 2012 will provide an arena for greater cooperation among international organizations and national governments in the pursuit of green growth and green economy strategies.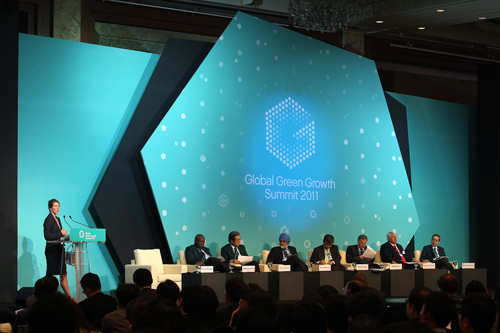 Under the theme of "Global Governance for Green Growth and the Green Economy," GGGS 2012 will incorporate both interactive plenary panel discussions and working sessions on topics such as "Policy and Capacity Building Support for Developing Countries," "Agriculture and Land Use," and "Sustainable Energy Trade."
Among these, a "Water and Green Growth" session will discuss coordination for the improvement of water security and include a presentation on Korea's Four Rivers Restoration Project.
Notable panelists will include American economist and director of Columbia University's Earth Institute Dr. Jeffrey Sachs, UNEP Executive Director Achim Steiner, Softbank founder and CEO Masayoshi Son, and Director-Generel of the United Nations Industrial Development Organization (UNIDO) Kandeh Yumkella.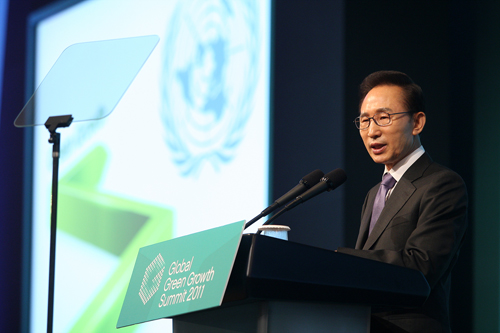 The GGGI was launched in June 2012 for the purpose of creating an international platform for collective learning and policy innovation with regard to the twin goals of economic development and environmental sustainability. The GGGI seeks to foster partnerships among governmental and non-governmental organizations, policy practitioners and academics, and public and private sectors.
More information on GGGS 2012 and the host organizations can be found at
http://www.gggsummit.org/
.
By Kwon Jungyun
Korea.net Staff Writer
Featured Topics
http://www.korea.net/NewsFocus/Policies/view?articleId=100263
URL Copy
Department Global Communication and Contents Division, Contact Us