Korea and Colombia open up a new era of free trade
Jun 26, 2012
President Lee Myung-bak held a summit with President Juan Manuel Santos Calderón on June 25, on the occasion of his state visit to Colombia, and exchanged opinions on topics of mutual interest and other issues concerning the international arena.
Presidents Lee and Santos assessed the gradual development of bilateral ties since the establishment of diplomatic relations in 1962, and expressed satisfaction with the concluding of Korea-Colombia free trade talks, first initiated in 2009. Both sides agreed to take prompt follow-up steps to put the pact into effect as soon as possible. They reaffirmed their shared will to work closely together toward further economic and trade exchanges between the two countries, and agreed that the free trade agreement will accelerate bilateral cooperation, while establishing a bridgeheads on each country's continent.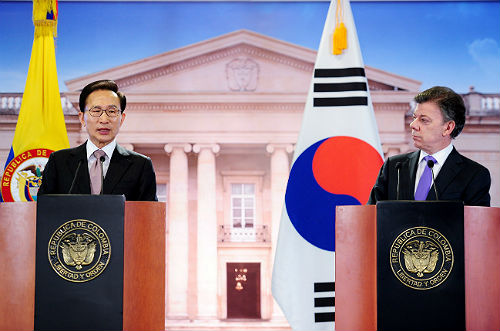 The two leaders gave high marks to the bilateral trade volume, which has doubled in the past three years.
"I expect the trade volume between Korea and Colombia will jump five-fold over the next five years and the deal would create a win-win situation for both sides in economic growth and job creation," remarked President Lee Myung-bak.
Both parties discussed ways to further deepen the bilateral strategic partnership in trade, energy, science, and technology alongside educational, cultural, and personnel exchanges.
Marking the 62th anniversary of the outbreak of the Korean War on the 25th, President Lee Myung-bak conveyed his gratitude for Colombia's support during the Korean War. He introduced various programs run for Korean War veterans and their descendents as a gesture of the appreciation for the sacrifice and dedication to safeguarding the freedom of the Republic of Korea. The Colombian leader reaffirmed his support of the Korean government's policy toward the peace and prosperity of the Korean Peninsula.
President Lee is the first Korean head of state to visit the South American wartime ally who fought on the side of South Korea during the Korean War. The presidential visit is evaluated to have deepened the already solid ties bonded upon the brotherhood forged during the Korean War, alongside the signing of the free trade deal.
By Hwang Dana
Korea.net Staff Writer
Featured Topics
http://www.korea.net/NewsFocus/Policies/view?articleId=100931
URL Copy
Department Global Communication and Contents Division, Contact Us