Korea's UN award-winning e-government goes borderless
Jul 10, 2012
On May 16, a delegation led by
Maros Sefcovic
, European Commissioner for Inter-Institutional Relations and Administration, paid a visit to the Korean
Ministry of Public Administration and Security
(MOPAS). The EU delegation discussed ways to solidify cooperation in e-government projects, in line with its
eGovernment Action Plan 2011-2015
that aims to empower a new generation of open, flexible, and collaborative e-government services.
"The level of e-government in Europe already enjoys high standards," remarked Vice-Minister Seo Pil-Eon of the Ministry of Public Administration and Security. "It does not come as a surprise that six of the top ten places in the United Nations e-government development index rankings were dominated by European Union member states. We are delighted that the administration's proactive 'Smart Government Strategy' and its e-system can further contribute to the implementation of more inclusive and seamless services for the EU."
In recent years, Korea's expertise on the networks of the future and the use of information and communications technologies (ICT) in its
e-government system
has not only enabled efficient public services at home, but also served as a benchmark abroad.
Over 180 high-profile government officials from 43 nations flocked to the Global ICT Development and Cooperation Center (GIDC) in
Digital Media City
, Seoul within the first year of its operations starting last October. The center, co-founded by the
Ministry of Knowledge Economy
and the
National IT Industry Promotion Agency
to facilitate cooperation with overseas partners, has allowed foreign public officers to witness how Korea has incubated ICT in its e-government system.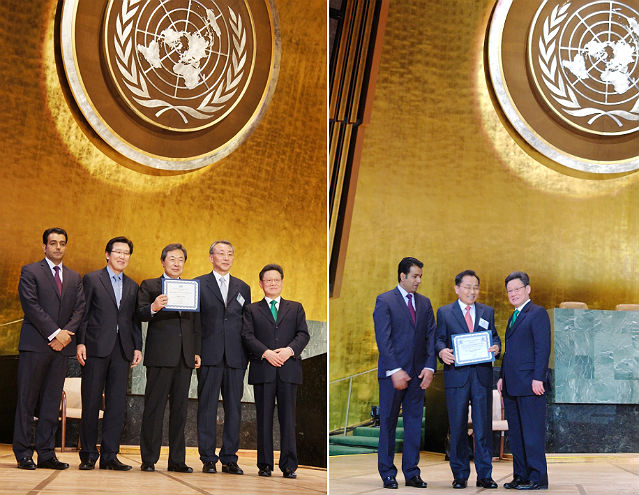 Korea's integrated, user-centric public service outreach continues to earn international acclaim, winning a global grand prize from the United Nations on June 25, for the second consecutive time. Based on the
United Nations' biannual E-Government Survey
, in which the Korean government ranked first in the 2010 and 2012 editions, the award acknowledged the recipient for establishing a robust telecommunications infrastructure, providing outstanding public service standards and development of human capital in the usage of e-government facilities.
The same day, Korea's
Anti-Corruption and Civil Rights Commission
(ACRC) and the
Ministry of Gender Equality and Family
received UN Public Service Awards in recognition for their integrity assessment and youth participation committees, respectively. The
National Science and Technology Commission
also came in second place for advancing knowledge management in government.
Since the 2010 UN e-government rankings, Korea has seen a sharp increase in exports of e-government from USD 100,000 in 2002 to USD 148.76 million in 2010 and 235.66 million in 2011. The Korean government signed a memorandum of understanding on e-government cooperation in Kuwait, Vietnam, Morocco, Romania, and Brunei, and co-established information cooperation centers in countries including Turkey, South Africa, and Peru. The global e-government market accounts for USD 160 billion, an estimated amount equivalent to that of the mobile phone industry.
The ministry expects that the government's
expertise-sharing
will help consolidate ties with partnering nations, alongside having a direct impact on the Korean economy with an estimated USD 3.2 billion economic effect over the next five years.
By Hwang Dana
Korea.net Staff Writer
Featured Topics
http://www.korea.net/NewsFocus/Policies/view?articleId=101133
URL Copy
Department Global Communication and Contents Division, Contact Us