Convergence of culture, science, and technology
Mar 13, 2013
"The convergence of science and technology with industry, the fusion of culture with industry, and the blossoming of creativity made possible by the breaking down of barriers between industries define a creative economy. It is about creating new markets and new jobs by building on the bedrock of convergence, going beyond simply expanding existing markets."
This is an excerpt from the inauguration speech by President Park Geun-hye.
The Park Geun-hye administration's motto is to make real "happiness for the people" and begin "a new era of hope." To achieve this, the government has set five national policy goals, the first of which is to establish a "creative economy based on job creation." One of the six strategies to make these goals real is "to create an ecosystem for a creative economy."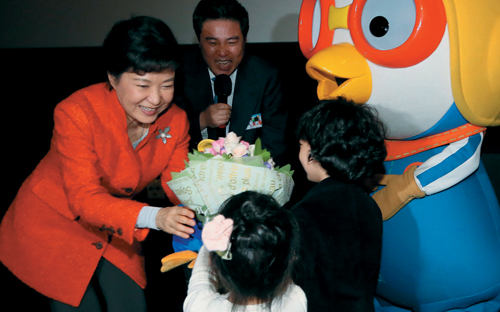 This strategy is backed by the ten national policy goals including "nurturing creative industries based on science and technology."
According to the U.S.-based news website
Huffington Post
, Psy, whose song "Gangnam Style" went viral around the world last year, earned KRW 2.6 billion from selling sound sources, KRW 900 million from YouTube, and KRW five billion won from endorsement deals, making a total of KRW 8.5 billion.
However, Pororo, a Korean animation character that has captured the hearts of children across the world, earned much more than Psy.
Kim Il-ho, the CEO of Ocon and creator of Pororo, said in a January 23 interview with a local television network that Pororo makes KRW 15 billion from royalties a year and merchandising amounts to between KRW 600 billion and KRW 800 billion annually.
Korea used to be a subcontractor and simply produced animations for overseas clients, but now the country is expanding its market to around the world with its creative and well-made animations.
At last October's MIPJunior 2012 Kids' Jury, the world's biggest animation market, T
he Airport Diary
produced by DPS Co. of Korea won the grand prize in the preschool category, the third Korean company to win the prize in a row after
RoboCar Poli
in 2010 and
Canimal
in 2011.
President Park expressed her interest in the animation industry. Before her inauguration, Park appeared at a press conference on January 16 to celebrate the release of
Pororo, The Racing Adventure
at CGV Wangsimni in Seongdong District, Seoul.
"Watching the success of Pororo, I came to have a high expectation of Korea's cultural industries," said Park. "Now, ideas and imaginations determine competitiveness. If the government supports young people full of passion, ideas, and creativity, it will lead to global success."
The new growth engines such as animation are mentioned in the plan "to nurture creative industries through science and technology," which is one of the 140 national policy goals of the Park Geun-hye administration laid out by the presidential transition committee on February 21.
In addition, the goal of "upgrading Korea's major industries through the convergence of information technology and software" is to upgrade and improve the competitiveness of its major industries through the convergence and continued innovation of information and science technologies in the face of stagnating growth of existing industries. It is also intended to find and nurture promising new convergence industries, take growth momentum to a new level, and fuel job creation.
Article from Gonggam Korea
Translated by Limb Jae-un
Featured Topics
http://www.korea.net/NewsFocus/Policies/view?articleId=106302
URL Copy
Department Global Communication and Contents Division, Contact Us