President Park pledges support for venture startups
Mar 19, 2013
President Park Geun-hye promised government support for venture start-ups in order to realize a creative economy, one of the five administrative goals proposed by the government. While visiting
Alticast
, a promising venture start-up producing broadcasting software, President Park said on March 12 that the government will introduce a support program for venture businesses to boost the economy through the convergence of broadcasting and communications.
"To foster venture start-ups, venture businesses have to make a creative effort first in the private sector, but the government also needs to help them in a timely way through promotional measures and systemic support," said the president. "To this end, the government will support venture start-ups and improve the system."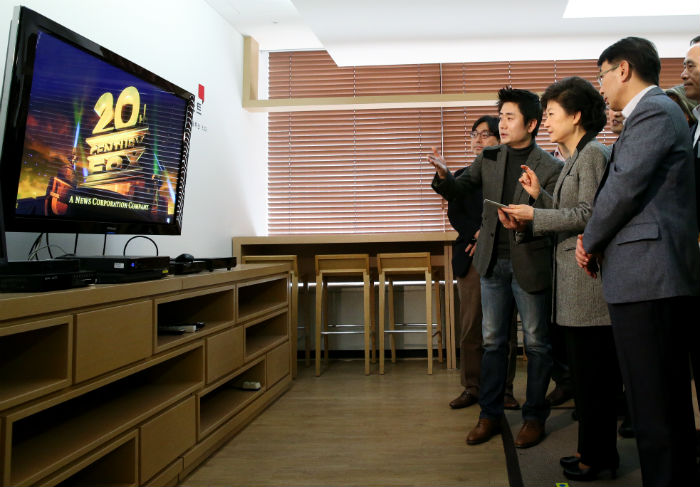 "One of the key points of the creative economy is to foster future growth engines and create jobs through the convergence of the IT industry and future-oriented industries and of the broadcasting and communications industries," said Park, explaining her vision of a creative economy.
Stressing the role of the Ministry of Science, ICT and Future Planning (unofficial translation), which will be introduced in the near future, President Park said that the government will "handle all related IT and communication affairs and enhance efficiency through a 'one-stop decision-making process' in order to help Korean firms better compete in the international market."
"The future of Korea lies in the efforts of creative businesses and talented workers like you," said President Park, cheering on the representatives of venture start-ups present at the meeting.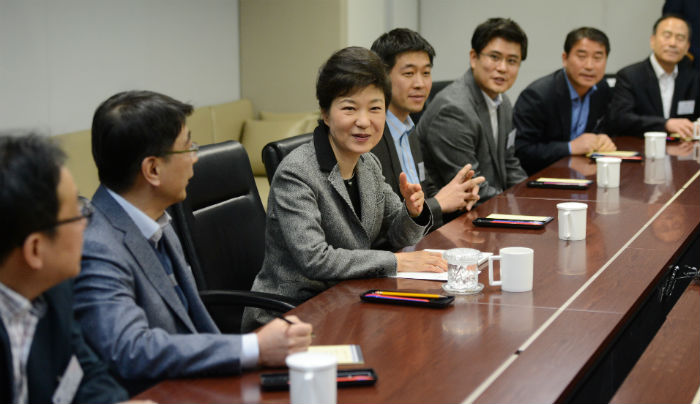 During her visit to the southern Seoul office of Altcast, President Park had a meeting with CEOs from small and medium-sized venture businesses and heads of related government organizations.
Attendees of the meeting included
Minister of Knowledge Economy
Yoon Sang-jick, President of the
National IT Industry Promotion Agency
Park Sooyong, Chairman of the
Korea Venture Business Association
Nam Min–woo, and Chairman of the
Korea Software Industry Association
Cho Hyun Jung.
By Yoon Sojung
arete@korea.kr
Department Global Communication and Contents Division, Contact Us