President Park holds telephone conversation with Peruvian leader
Apr 04, 2013
President Park asked for Peru's support to help persuade Pyongyang to end provocations and stop nuclear development, Cheong Wa Dae said on April 2.
During a telephone conversation with Peruvian President Ollanta Humala, President Park discussed ways to enhance Korea-Peru ties, according to presidential spokeswoman Kim Haing.
President Humala congratulated President Park for her inauguration and expressed his hope that the comprehensive strategic partnership between the two countries can make further progress. The Peruvian leader spoke of his country's support for Seoul in regard to the growing tension on the Korean Peninsula, according to the Cheong Wa Dae spokeswoman.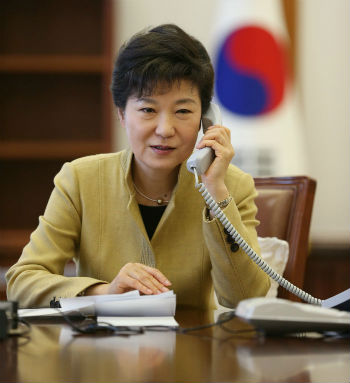 President Park was quoted as saying by the presidential spokeswoman, "It is meaningful to have a telephone conversation with the Peruvian president as this year marks the 50th anniversary of establishing diplomatic relations between South Korea and Peru."
She also thanked Peru for sending its vice president Marisol Espinoza to her inauguration, expressing her hope that bilateral ties can advance in a mutually beneficial way.
Mentioning the continuous provocations of Pyongyang after the UN resolution on North Korea, President Park said, "Pressure and persuasion from the international community are needed to lead the North to give up its nuclear development and stop making provocations."
She asked her Peruvian counterpart to help convince Pyongyang to change its attitude.
President Humala gave his support of President Park's request, vowing cooperation to protect the peace and prosperity of the Korean Peninsula. He also expressed his hope that the two countries can extend cooperation in defense industries and student exchange, mentioning Korean firms' contribution to Peruvian industries through investment and technology transfer.
The Peruvian leader also spoke of a special experience he had in Korea, expressing his affection for the country during the conversation. He had to find a medicine for his sick daughter at midnight when he worked as a diplomat at the Peruvian embassy to Korea in 2004. Though all pharmacies were closed at that time, he was able to get the medicine thanks to the help of a baker in his neighborhood.
By Yoon Sojung
arete@korea.kr
Department Global Communication and Contents Division, Contact Us