President discusses Korea-U.S. ties with American lawmakers
May 03, 2013
President Park Geun-hye met with two members of the U.S. House of Representatives to discuss Seoul-Washington relations, her upcoming visit to America scheduled for May 2013, and issues involving the Korean Peninsula,
Cheong Wa Dae
reported on April 29.
President Park expressed her gratitude to Rep. Steve Chabot, chairman of the House Foreign Affairs Subcommittee on Asia, for showing his consistent support for the South Korean government's North Korean policy by sponsoring the North Korean Human Rights Reauthorization Act of 2008 and the Joint Resolution Condemning North Korean Nuclear Test in 2012.
The president also thanked Rep. Eni Faleomavaega, a Democrat from American Samoa, for showing deep interest in the issue of sexual slavery victims abducted by the Japanese military during the second World War.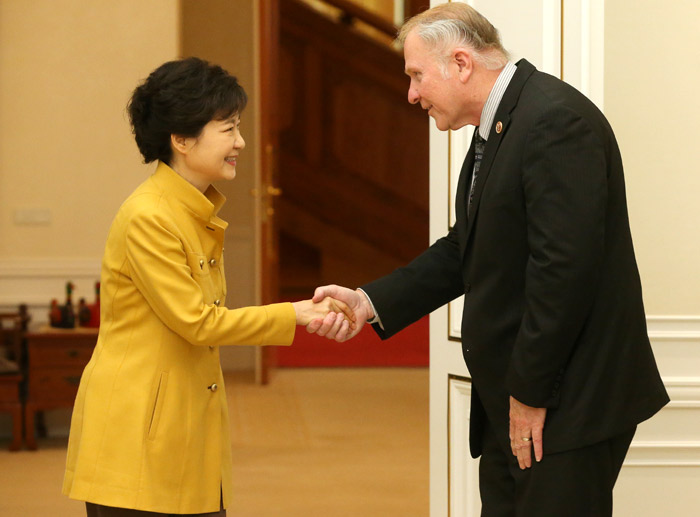 Rep. Chabot said that President Park's speech in the Capitol during her U.S. trip will symbolize how much the Seoul-Washington relationship means to Congress.
President Park said that her U.S. visit will show the strong Korea-U.S. alliance in the current critical security conditions of the Korean Peninsula. Evaluating the Korea-U.S. alliance "the most successful alliance in history," the president said that her visit will offer a chance to share a new vision of bilateral relations, celebrate the Korea-U.S. alliance which marks its 60th anniversary this year, and appreciate the friendship.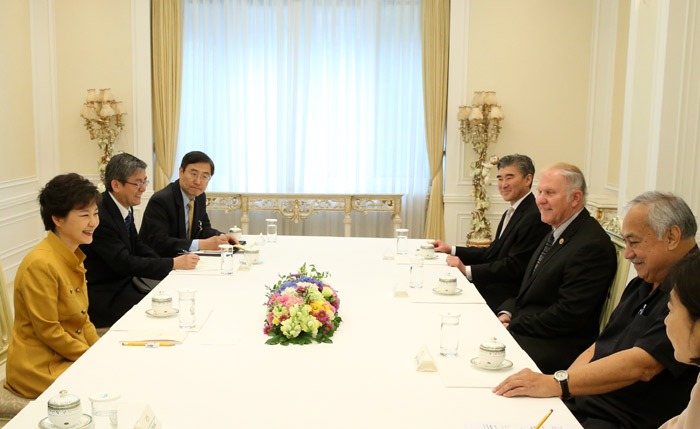 Rep. Chabot said that the Korea-U.S. alliance has successfully contributed to peace on the Korean Peninsula and the economic prosperity of Korea. Chabot also stressed the need to extend bilateral cooperation in trade and defense and other global issues, mentioning the Korea-U.S. free trade agreement (KORUS FTA).
Rep. Eni Faleomavaega congratulated President Park on becoming the first female leader in Korea. Faleomavaega said that 2.2 million Koreans living in America have been playing an important role in developing bilateral relations. He also advised President Park to make Americans understand in person how Koreans feel during her U.S. trip in regard to the issue of victims of sexual slavery forced by the Japanese military during World War II. Faleomavaega hoped that President Park can display a balanced leadership like Henry Kissinger, saying that both Koreas need to actively solve the problems of the Korean Peninsula.
On the issue of the Gaeseong (Kaesong) Industrial Complex, Rep. Chabot expressed "an absolute support" for Seoul's stance. President Park said the current situation of the inter-Korean joint plant complex is "too unpredictable," saying, "If the North does not show its stance as a responsible member of the international community, it will be impossible to achieve economic development or anything." The president called for the international community to urge Pyongyang to make the right choice.
By Yoon Sojung
arete@korea.kr
Featured Topics
http://www.korea.net/NewsFocus/Policies/view?articleId=107545
URL Copy
Department Global Communication and Contents Division, Contact Us