Korea-China ties, a trust-based partnership for 20 more years
Jul 01, 2013
"Growing grains will offer a year of prosperity. Growing trees will offer ten years of prosperity. Growing people will offer 100 years of prosperity." (一年之計 莫如樹穀, 十年之計 莫如樹木, 百年之計 莫如樹人)"
This is a saying from one of the ancient Chinese classics -- Guanzi (管子) -- which
President Park Geun-hye
quoted in her speech at Tsinghua University, Beijing, on June 29.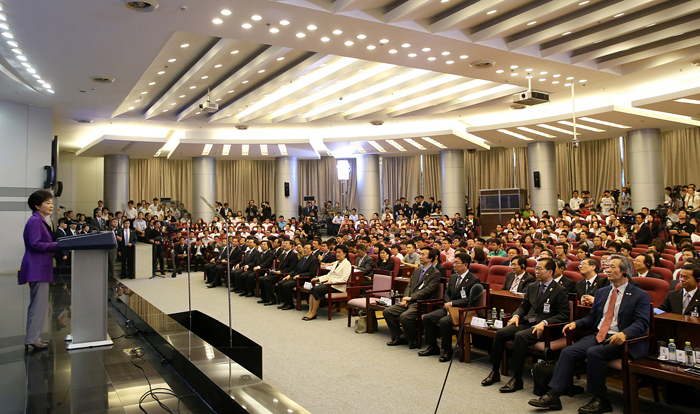 President Park Geun-hye delivered a speech titled "Korea-China, a trip of trust that opens the next two decades" at China's prestigious Tsinghua University, Beijing, on June 29 in which she envisioned the future direction of Korea-China ties. Nearly 400 people gathered for her speech, including Chinese Vice Premier Liu Yandong and Tsinghua University President Chen Jining.
"Only 20 years have passed since the establishment of the diplomatic relationship between Korea and China in 1992. But the bilateral cooperation between the two countries has shown rapid, unprecedented development," said President Park in her 20-minute speech, in which she spoke both Korean and Chinese. She stressed the cooperation potential among Asian countries, including Korea and China, saying that Asian countries will be able to create "a bigger synergy if they strengthen cooperation in greater ways."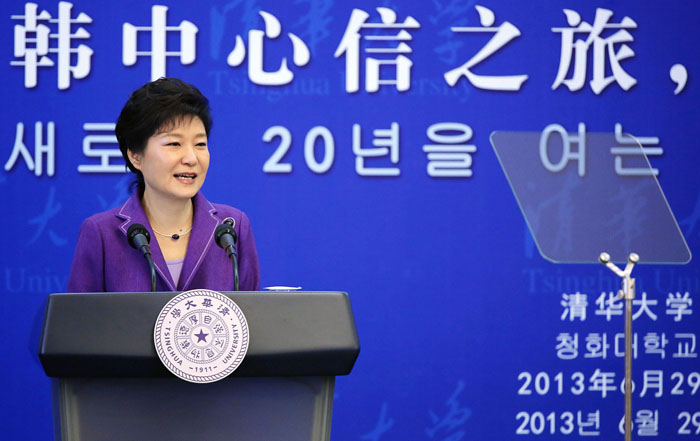 In regard to her vision of Northeast Asia, President Park emphasized the need to build trust by solving shared difficulties in the region. "Countries in Northeast Asia need to build trust by starting a multilateral dialogue on common issues such as the environment, climate change, disaster relief, and nuclear safety, and that trust will be expanded into wider areas to politics and security sectors," said President Park. "This is my vision of multilateral dialogue which will lead to the establishment of a peace cooperation initiative in Northeast Asia. I hope both Korea and China will share a trust-based partnership to build a 'new Northeast Asia.'"
"If peace prevails on the Korean Peninsula and the peoples from the two Koreas can come and go freely, this will contribute to the prosperity of China by helping the country's development, including its three Northeast provinces." She also urged the students in attendance to "build the great future of a 'new Northeast Asia' together by establishing peace on the Korean Peninsula," while expressing her hope that Tsinghua University students can be a part of the plan.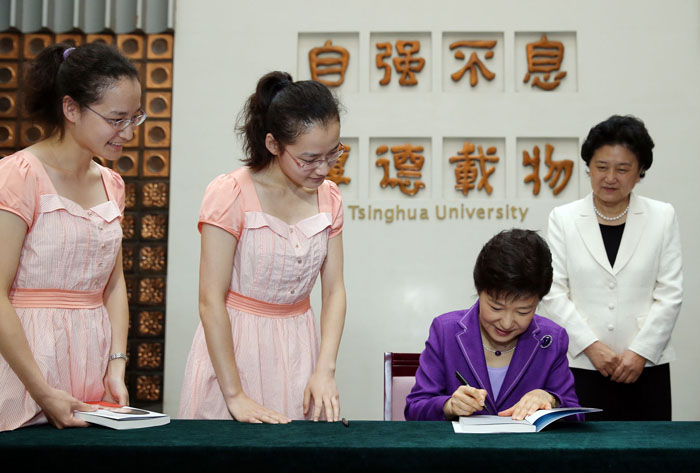 President Park stressed that Seoul and Beijing can work together to build a "new Northeast Asia" as their dreams are linked together. "Under President Xi Jinping's leadership, China is making an energetic move towards its dream," she said. "Korea is also moving forward to achieve its dreams of ushering in an era of happiness for the people and helping the Korean Peninsula to contribute to world peace. As rivers of the two countries meet in one ocean, both China's dream and Korea's are related. If the two countries work toward the same dream, I believe we can realize the dream of building a new Northeast Asia."
At the end of her speech, she expressed her hope that youths from the two countries can become closer through exchanges in culture and humanities studies and wished for a brighter future for them.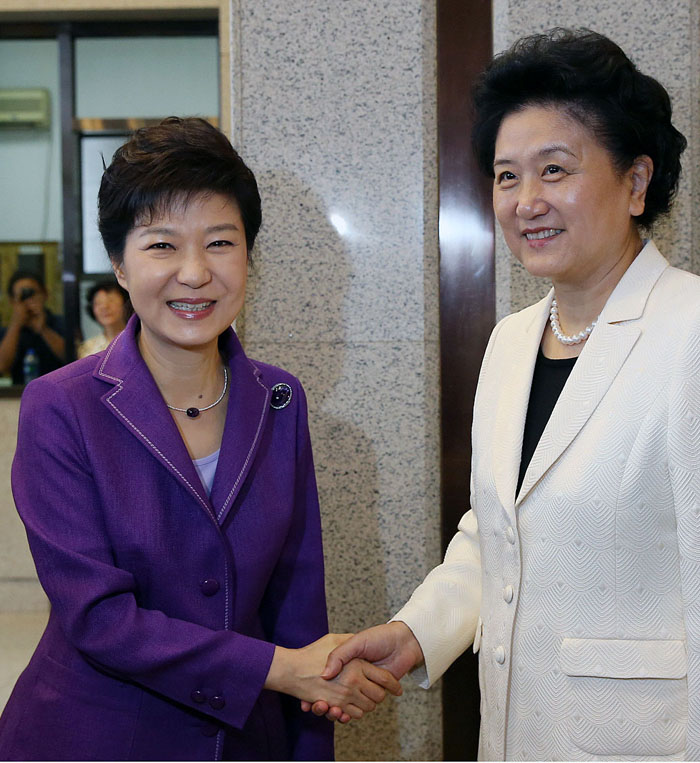 After the speech, President Park answered questions from the students on various topics, including the Korea-China relations, her vision for bilateral economic cooperation, academic exchanges between youths, and democratization of the economy. She signed the Chinese version of her autobiography for the students and offered them as gifts.
By Yoon Sojung, Jeon Han
Korea.net Staff Writers
arete@korea.kr
Department Global Communication and Contents Division, Contact Us