Korea, Indonesia hold summit: trade pact by end-2013
Oct 14, 2013
President Park Geun-hye
and Indonesian President Susilo Bambang Yudhoyono held a summit on October 12 in Jakarta and adopted a joint leaders' declaration which contains measures to expand bilateral cooperation. In the statement, the two leaders agreed to conclude ongoing trade negotiations on the Comprehensive Economic Partnership Agreement (CEPA) between Korea and Indonesia by the end of the year.
With 2013 marking 40 years of Korea-Indonesia diplomatic relations, Korea and Indonesia launched negotiations last year on the Korea-Indonesia CEPA, a comprehensive economic partnership which includes not only trade liberalization of goods and services but also investment and economic cooperation.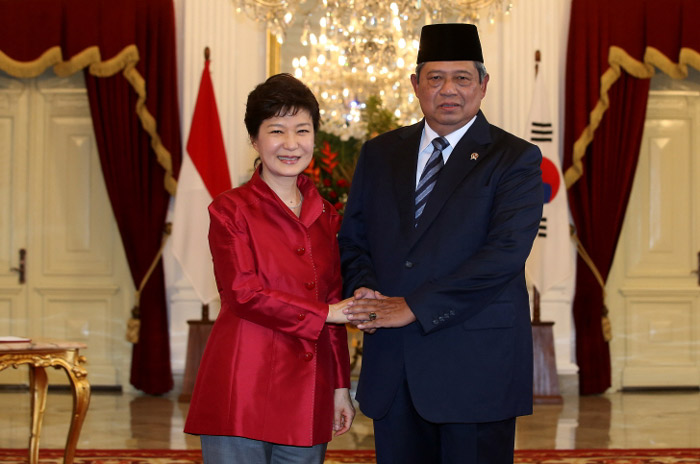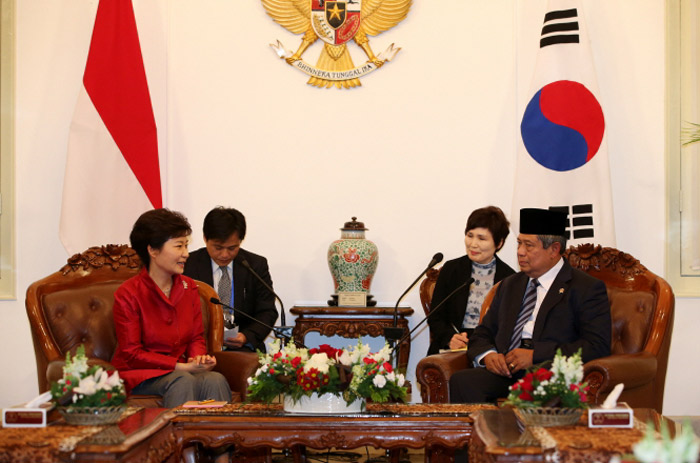 The two leaders agreed to extend the volume of bilateral trade and the scope of economic cooperation, aiming to hit a bilateral trade volume of USD 100 billion by 2020 and hoping to conclude CEPA negotiations by the end of 2013. Both leaders held an in-depth discussion on how to develop the strategic partnership between the two countries across a broader range of areas, including politics, economics, society and culture.
President Park celebrated Indonesia's successful hosting of this year's Asia-Pacific Economic Cooperation (APEC) as chair country. She expressed her hope that good progress on backing the multilateral trade system can be made during the ninth World Trade Organization Ministerial Conference scheduled to take place in December 2013 in Bali and added that Korea will actively cooperate.
The two leaders expressed satisfaction on the bilateral relationship between Jakarta and Seoul, which has made remarkable progress over the past 40 years. They both remarked on the volume of bilateral trade which has shown a 150-fold increase since 1973. They noted that the adoption of the leaders' joint statement will offer an opportunity to cement friendly and cooperative relations. They agreed to pursue mutual development of the two countries for the next 40 years and strengthen bilateral cooperation as partners that contribute to peace and prosperity in the international community.
Cooperation between Korea and Indonesia has been quite strong across a variety of sectors, the presidents said, including national defense, the defense industry, the creative economy, forestry, society and culture, all of it in a co-prosperous, future-looking way. As part of the presidential state visit, the two countries signed a series of agreements to boost cooperation, which includes memoranda of understanding to cooperate on national defense, the creative culture industry, the development of ecotourism, the forestry and leisure industries and the development of special economic areas within Indonesia, all to promote investment and trade.
President Park explained her vision of a trust-building process for the Korean Peninsula and outlined South Korea's stance of non-acceptance of a North Korean nuclear program. She urged Indonesia to continue its interest and support in these matters. President Yudhoyono answered that the Korean Peninsula trust-building process is essential for the peace and stability of East Asia as well as that of the Korean Peninsula. The Indonesian leader added that he will spare no effort to help resolve the North Korean nuclear issues.
The two leaders agreed to closely cooperate in regional and international frameworks based on their well-developed bilateral relations. President Yudhoyono invited her to deliver the keynote speech at the upcoming Bali Democracy Forum, slated for December 2013. President Park highly valued the forum's contribution to promoting democracy and welfare around the globe.
President Yudhoyono hoped that Korea and Indonesia can cooperate in handling global issues such as green growth and international conflicts. The two leaders expressed hope that the two countries can enhance friendship and understanding by boosting bilateral exchanges in various sectors, including education, culture and sports.
By Yoon Sojung
Korea.net Staff Writer
arete@korea.kr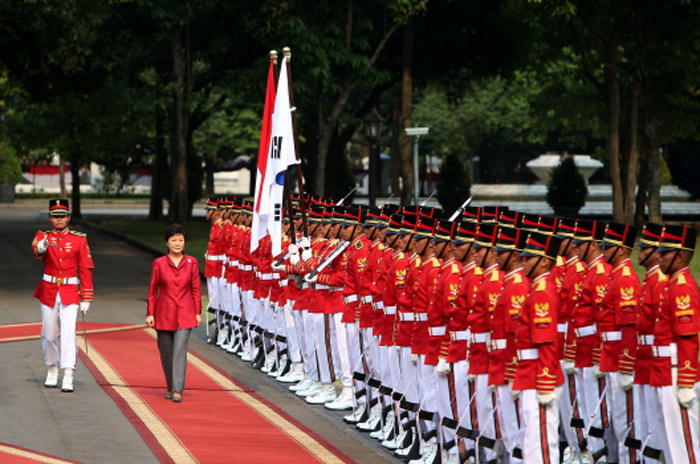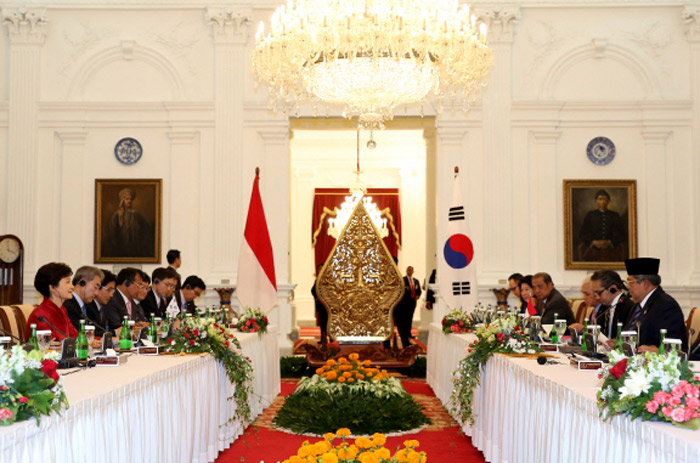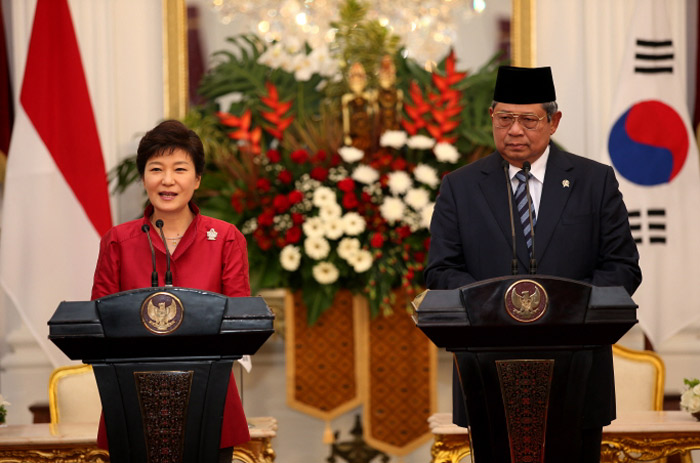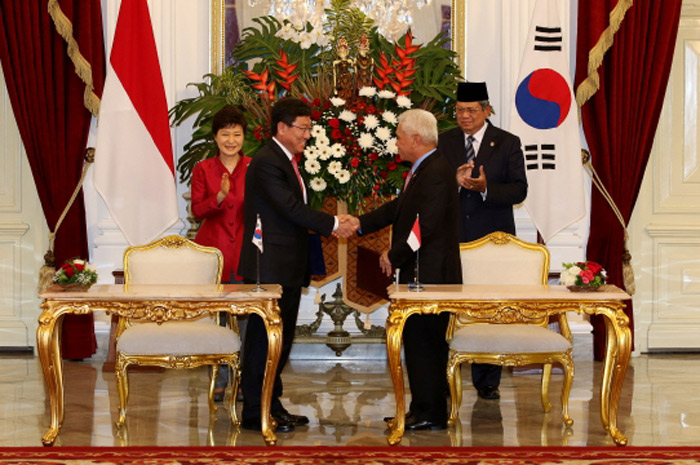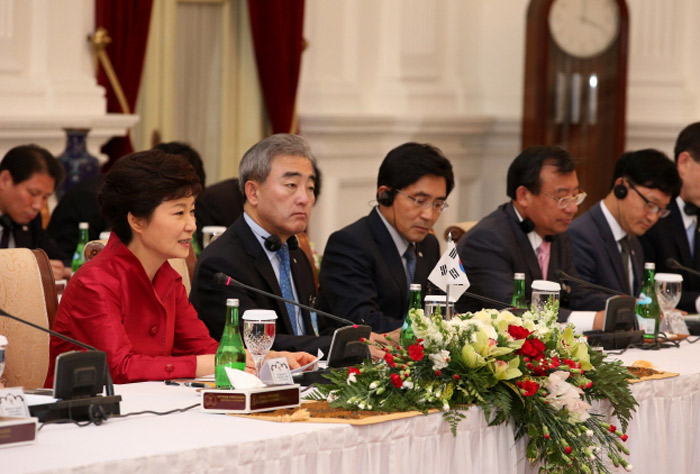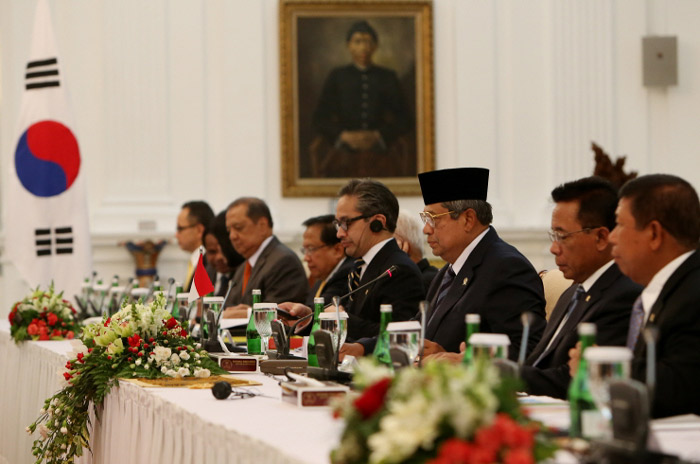 Featured Topics
http://www.korea.net/NewsFocus/Policies/view?articleId=113578
URL Copy
Department Global Communication and Contents Division, Contact Us