Korea, Central Asia sign MOU on forestry cooperation
Oct 15, 2013
At the 7th Korea-Central Asia Cooperation Forum held in Bishkek, Kyrgyzstan, on October 4, the
Korea Forest Service
(KFS) signed a memorandum of understanding (MOU) with five Central Asian nations: Kazakhstan, Kyrgyzstan, Tajikistan, Turkmenistan and Uzbekistan.
The agreement covered cooperation in the forestry industry between Korea and the Central Asian countries, including reforestation of areas damaged by logging and environmental abuse.
At the forum, representatives agreed to allow third party countries and third party country organizations to participate in the cooperative projects between Korea and Central Asia.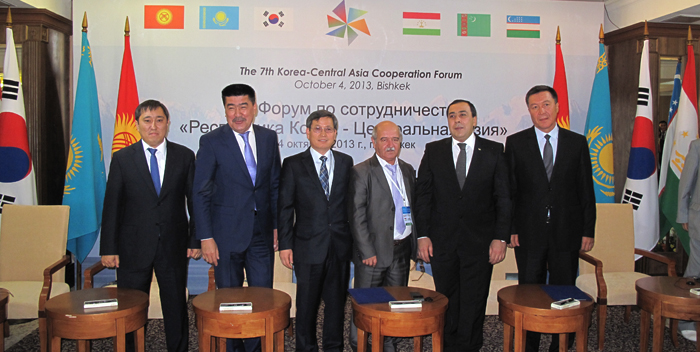 Even ahead of this MOU, the KFS has been fostering cooperative relationships with its Asian counterparts through workshops in Mongolia and Kazakhstan, aimed at strengthening cooperation with Korea's continental neighbors.
Up until recently, the Central Asian nations have focused their forestry resources on the restoration of forests and ecosystems previously destroyed by misuse, pollution, industrialization and logging. But now, they hope to turn their sights on Korea's successful experiences in reforestation and in greenification.
"Only when we come together and cooperate with our neighbors can we cope with problems such as forest blight, insect infestation and forest fire. Such disasters can happen anywhere, regardless of national boundaries. Protecting the ecosystem from ridge to ridge is the most effective way," said Ryu Kwang-su, director general at the International Affairs Bureau of the KFS.
With this MOU, the KFS plans to push ahead with a wider range of forestry cooperation projects across Asia, building on its joint Mongolian anti-desertification campaign it has been carrying out since 2007.
By Wi Tack-whan, Sohn Ji-ae
Korea.net Staff Writers
whan23@korea.kr
Department Global Communication and Contents Division, Contact Us