Korea, Philippines share prosperous future: President
Oct 18, 2013
President Park Geun-hye emphasized the importance of Filipino President Benigno S. Aquino III's state visit to Korea, saying that this visit can lead the two nations down the path of trust and understanding and can build a better future for both Korea and the Philippines. Her remarks were made during a state banquet at Cheong Wa Dae on October 17.
"I hope today's meeting can help deepen the friendship between Korea and the Philippines and serve as a starting point that can offer a future of happiness for the peoples of the two countries," said President Park in her congratulatory remarks during the banquet.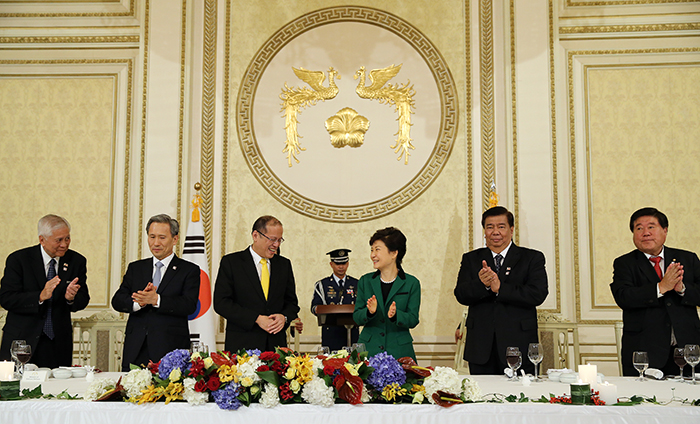 During the banquet, held in the Yeongbin-gwan, the state guest house at Cheong Wa Dae, President Park said both the Korean people and herself truly welcome President Aquino's state visit to Korea. "Thanks to President Aquino's special, long-lasting affection for Korea, the two countries were able to narrow the gap and become closer friends, based on belief and trust," she added. "The sacrifice and devotion of his father led to today's precious meeting between President Aquino and me," said President Park, mentioning the fact that the father of President Aquino, Senator Benigno "Ninoy" Aquino, Jr. (1932-1983), served as a war correspondent for
The Manila Times
covering the Korean War (1950-1953).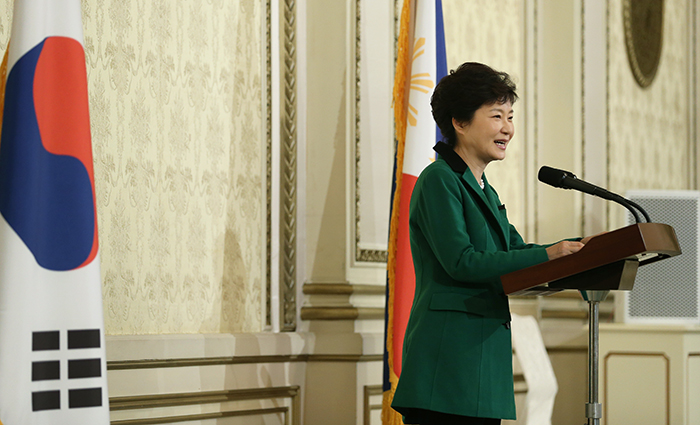 She went on to say that the world sees the Philippines as an attractive partner for trade and investment, mentioning that the country recorded a 6.6 percent economic growth rate last year and a 7.6 percent growth rate during the first half of this year, despite the worldwide economic recession. "Korea and the Philippines now share a true partnership of mutual prosperity in all areas. The peoples of the two countries have become one and through our shared culture have developed heartfelt feelings for one another," said President Park.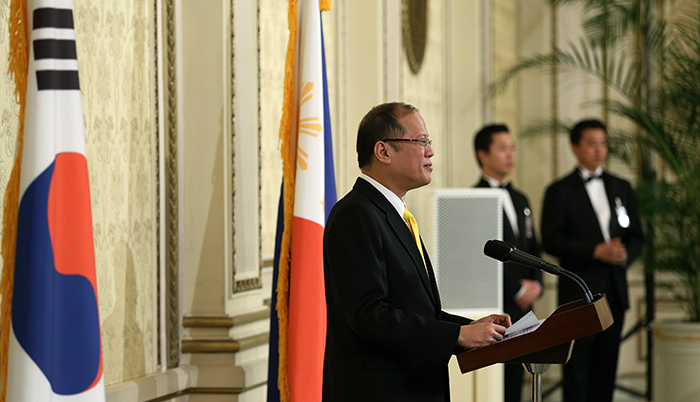 President Aquino expressed his gratitude for the warm hospitality which welcomed him and his delegation to Korea. He said he is honored to be the first foreign leader to pay a state visit to Korea since President Park took office. "As the first female leader of Korea, just as my mother was the first female leader of the Philippines, I hope that President Park's leadership will lead the Korean people toward a better future," said President Aquino in his speech, mentioning his mother, former Filipino President Corazon Aquino (1933-2009).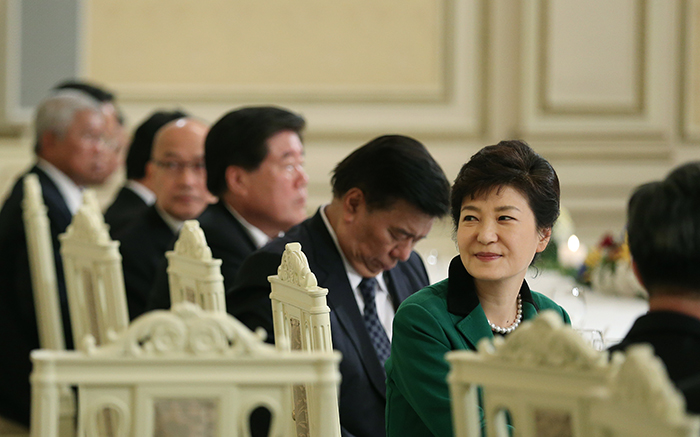 By Jeon Han, Yoon Sojung
Korea.net Staff Writers
hanjeon@korea.kr
Department Global Communication and Contents Division, Contact Us