President makes first state visit to Europe
Nov 01, 2013
President Park Geun-hye will embark on an eight-day trip to France, the United Kingdom, Belgium and the European Union (EU) from November 2 to 9. This is her first presidential trip to Europe since her inauguration this February.
President Park will begin her itinerary in Paris on November 3 where she will attend a Korean TV drama festival and visit some of France's most famous museums. The next day, she will hold summit talks with French President Francois Hollande at the Élysée Palace and attend a luncheon meeting.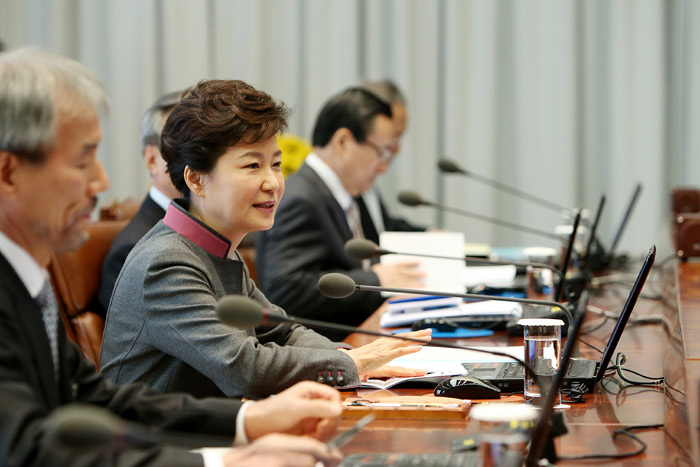 President Park will then pay a state visit to the United Kingdom from November 4 to 7 at the invitation of Queen Elizabeth II. The president will attend the groundbreaking ceremony for a Korean War memorial, the first monument of its kind in the United Kingdom, marking the 60th anniversary of the armistice and the 130th anniversary of Korea-U.K. diplomatic relations. She will also visit the British Parliament to hold dialogue meetings with about 100 members of the House of Lords and the House of Commons. On November 5, she will attend a state banquet with Queen Elizabeth at Buckingham Palace. The president will hold summit talks with Prime Minister David Cameron on November 6. At the summit, the two countries are expected to sign a memorandum of understanding (MOU) to extend bilateral cooperation in transport infrastructure, finance, energy and information and communications technology (ICT).
President Park will then head back to the continent to visit Belgium on the third leg of her trip. She previously visited the country twice in 2006 and 2009. The president will lay a wreath at the Korean War memorial, attend a banquet hosted by Prince Philippe of Belgium and hold a summit with Prime Minister Elio Di Rupo. She will lay the foundation for future friendly relations between Korea and Belgium by signing a working holiday agreement and attending the opening ceremony of a new Korean Cultural Centre in Belgium.
On November 8, President Park will visit the EU headquarters in Brussels where she previously visited as a presidential envoy in 2009. At the EU offices, the president will hold a series of summit meetings with President José Manuel Barroso of the European Commission and President Herman Van Rompuy of the European Council. After the Korea-EU summits, she will attend an MOU-signing ceremony to increase Korea-EU academic exchanges.
During her European tour, President Park will discuss measures to extend Korea's cooperation in the economy, trade and investment with leaders of the European countries through the faithful implementation of the Korea-EU free trade agreement. She will also endeavor to create new growth engines by combining Europe's advanced basic sciences and high-end technology with Korea's ICT, building on Europe being the center of many creative industries. President Park will send an appeal to her European hosts to support her Eurasia initiative, her Korean Peninsula trust-building process and her Northeast Asian peace visions.
In this respect, at a meeting with chief presidential advisors on October 31 in Seoul President Park said that this trip will lay the foundation for stronger Korea-EU trade and extend opportunities for Korean people and firms to enter the European market, as Europe is the largest single economic bloc in the world and is undergoing an economic recovery.
By Wi Tack-whan, Yoon Sojung
Korea.net Staff Writers
whan23@korea.kr
Department Global Communication and Contents Division, Contact Us