Korea, Israel cooperate on agricultural technology
Nov 28, 2013
Korea's
Rural Development Administration
(RDA) and Israel's Volcani Institute of Agricultural Research signed a memorandum of understanding (MOU) on November 19 agreeing to cooperate on farming technology. The agreement aims to promote the exchange of researchers and information between the two countries in order to develop the two countries' farming technology.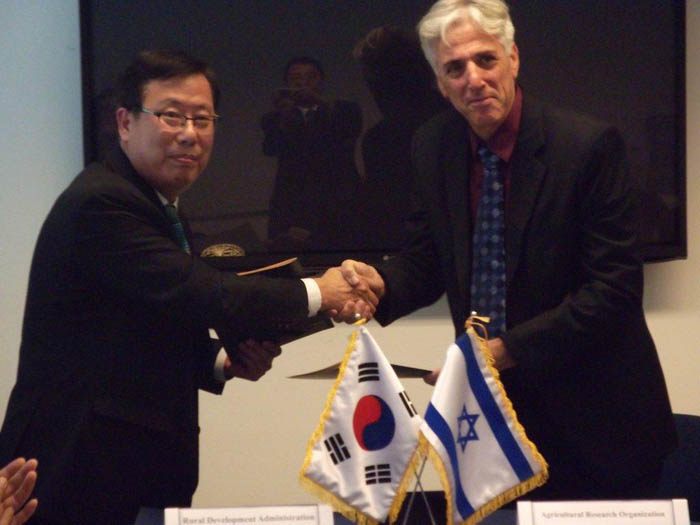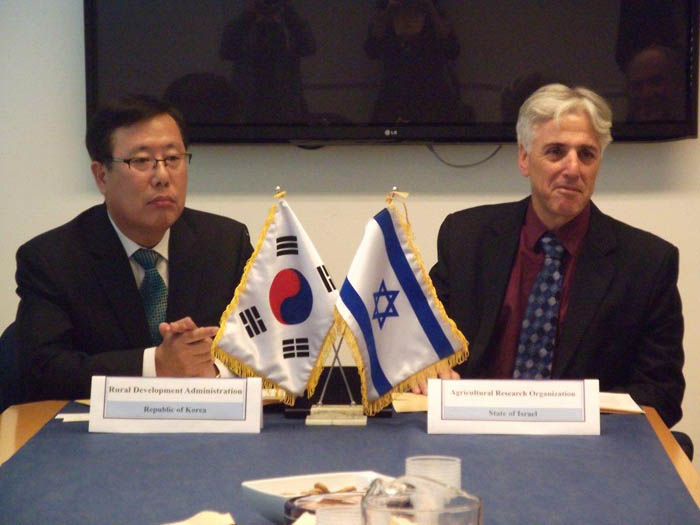 The two organizations agreed to carry out joint research in mutually beneficial areas, including water management, harvesting technologies and dairy farming. Specifically, their planned three-year joint research project will look at how to save as much water as possible when watering crops, to maintain the freshness of garden produce with better packaging and to maintain the body temperature and high nutritional levels in dairy cows. They also agreed to promote technological exchanges through joint workshops and symposiums.
The two agricultural bodies will co-host a joint workshop in 2014 to deal with the rapidly changing agricultural industry that has come about due to climate change and the spread of free trade agreements.
The two institutions agreed to deal with impending issues faced by both countries, such as aging farm workers, a high-cost production structure and the opening of agricultural markets to imports. They also decided to develop strategies for the "sixth industrialization" of the rural sector, such as creating added-value through the convergence of knowledge and technology.
In all, they agreed to cooperate on strengthening the foundation of rural technology in both countries and on improving the efficiency of farming and related industries. They will continue to conduct joint research into various advanced technologies and commercialization methods through the application of these technologies.
By Wi Tack-whan, Limb Jae-un
Korea.net Staff Writers
whan23@korea.kr
Department Global Communication and Contents Division, Contact Us