President Lee holds meeting with Saudi Arabian minister
Feb 08, 2012
President Lee Myung-bak, currently on a state visit to Saudi Arabia, held a meeting with the Saudi Arabian Minister of Petroleum and Mineral Resources Ali Al-Naimi in Riyadh on February 7.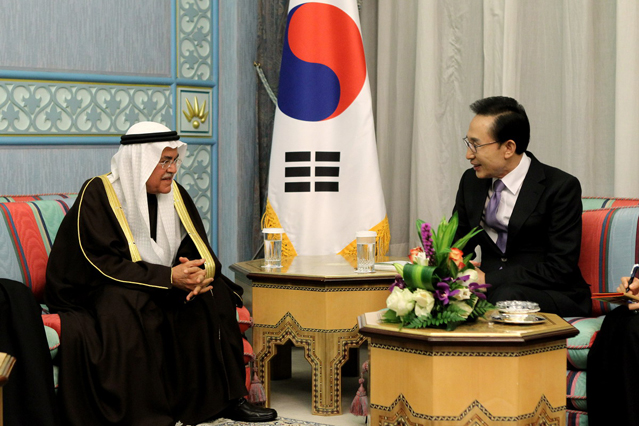 President Lee Myung-bak (on the right) and the Saudi Arabian Minister of Petroleum and Mineral Resources Ali Al-Naimi (Photo: Cheong Wa Dae)
President Lee praised the endeavors of Saudi Arabia to stabilize oil price and supply and requested a stable supply of oil to Korea in emergencies.


"During the economic downturns, an increasing oil price can bring economic crisis," said President Lee during the meeting. "We will seriously have to consider possibilities that diplomatic disputes may occur among oil countries."
"We'll satisfy any requests or demands from Korea regarding the oil supply," the minister said.


The meeting was held to reinforce the cooperative channel with Saudi Arabia while the the world's oil market has been destabilizing since Iran cut off its oil exports.


President Lee also mentioned that the Saudi minister visited a groundbreaking ceremony for the S-Oil Onsan Plant in Korea last year which Saudi Arabian oil company Aramco had invested in. "We hope that Saudi Arabia actively invests in new industries in Korea or industries that are competitive, just like Aramco has done," the president said.


He also requested the participation of Korean companies in large projects in Saudi Arabia, such as an expansion project for the oil industrial complex and a construction project for an oil and chemical industrial complex, to contribute to the development of the Saudi Arabian economy.


Previously, President Lee held a meeting with 150 overseas Korean at the Ritz Carlton Riyadh in Saudi Arabia. He encouraged the overseas Koreans for successfully leading the development of the relationship between the two countries despite difficult circumstances.

By Jessica Seoyoung Choi
Korea.net Staff Writer
Featured Topics
http://www.korea.net/NewsFocus/Policies/view?articleId=98559
URL Copy
Department Global Communication and Contents Division, Contact Us