President Lee's Middle Eastern tour reaches Qatar
Feb 10, 2012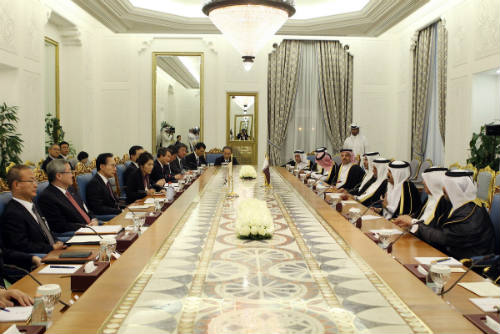 President Lee meets Abdul Rahman, minister of the Municipality and Urban Planning of Qatar in Doha on February 9 (photo courtesy of Cheong Wa Dae).
President Lee, currently in Qatar for his official visit to the Middle East, was in Doha to meet Abdul Rahman, minister of the Municipality and Urban Planning of Qatar, on February 9 to exchange views on joint construction plans between the two nations.
The two nations have maintained ties since 1976 when Korean companies, mainly in the construction business, first entered the Qatar market. President Lee thanked all the care and support the Qatar government showed during the advancement of Korean construction companies into the market. The total value of orders Korean companies received from Qatar hiked up from USD 640 million in 2007 to USD 1.8 billion in 2011.
Mentioning Korea's advanced technology built up from years of experience with large-scale infrastructure construction, President Lee expressed hope for the expanded participation of Korean companies in the construction industry, especially for 2022 World Cup facilities as well as urban development plans currently underway.
President Lee also emphasised various benefits offered to investors involved in projects with the Incheon Free Economic Zone or the Saemangeum Gunsan Free Economic Zone, and suggested the Qatar government take part in them with their sovereign wealth funds.
On the same day, President Lee attended an official dinner at Qatar Palace organized by Hamad, Emir of Qatar.
The two leaders agreed that this state visit established a foothold for enhanced cooperation on liquefied natural gas (LNG) and natural gas between the two nations that will further develop to include various sectors such as construction, medical and health care, education, green growth, and climate change.
Also, a variety of topics including the Qatar 2022 World Cup, improvement on Korea-Qatar culture exchange, and political issues of the Korean Peninsula and the Middle East were discussed during the dinner.
By Lee Seung-ah
Korea.net Staff Writer
Department Global Communication and Contents Division, Contact Us