President Lee winds up Turkey and Middle East tour with reinforced ties, oil sources
Feb 14, 2012
President Lee Myung-bak flew back to Seoul on February 11, wrapping up a week-long trip to Turkey and the Middle East, buoyed by consolidated ties in a resource-rich region.
President Lee's four-nation tour to Turkey, Saudi Arabia, Qatar, and the United Arab Emirates led to the sealing of a bilateral strategic partnership pact with Turkey along with a series of in-depth summit talks which have fostered a future-oriented relationship with Middle-Eastern nations.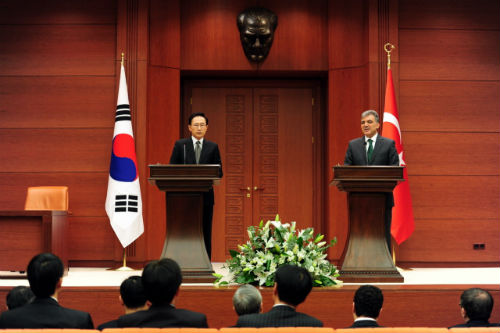 Presidents Lee and Gül hold a joint press conference following the summit on February 6 (Photo courtesy of Cheong Wa Dae).
The president's state visit to Turkey from February 4 to 7 marked the first visit in seven years, since former President Roh Moo-hyun's previous visit in April 2005. President Lee and his counterpart President Abdullah Gül of Turkey agreed to elevate the level of cooperation into strategic partnership, at a summit held on February 6, upgrading the already solid ties bonded upon the brotherhood forged during the Korean War.
At a joint press conference following the summit, the two presidents reaffirmed their shared will to further consolidate bilateral relations. Calling for a bilateral free trade pact, Presidents Lee and Gül noted that the two nations aim to conclude the deal within the first half of this year, to further reinforce economic, trade, and personnel exchanges between the two countries. Bilateral trade volume has increased six-fold in the past ten years, reaching an annual breakthrough of USD 6 billion last year.
With regards to Korea's participation in atomic power plant construction projects in Turkey, President Lee stressed Korea's willingness to actively cooperate, responding to a strong request from the Turkish government, urging for resumption of negotiations.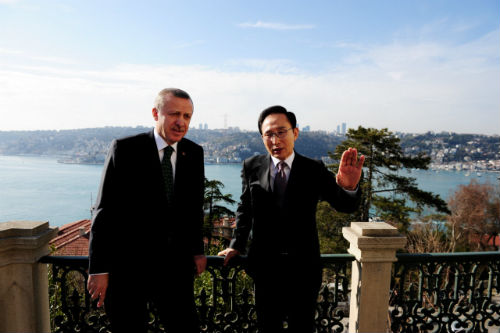 President Lee holds a talk with Turkish Prime Minister Erdogan on February 5, discussing a wide range of issues including the Korea-Turkey FTA (photo courtesy of Cheong Wa Dae).
Ahead of the summit talk with President Gül, President Lee met with Turkish Premier Recep Tayyip Erdogan on February 5 and engaged in an in-depth dialogue on a wide range of bilateral relations, further deepening friendship at their reunion three months since the Cannes G20 meeting last November.
During the three-country whistle-stop tour of the Middle East, President Lee strived to establish future-oriented relationships with Saudi Arabia, Qatar, and the UAE, bringing strengthened ties in the realms of energy, economy, trade, construction, and health care.
Arriving in Saudi Arabia, the Korean president held talks with Ali al-Naimi, Minister of Saudi Arabia's Petroleum and Mineral Resources, and pledged for continued support from the world's largest oil-rich nation in the stabilization of the international oil market. The Saudi minister responded that the country will strongly consider providing additional resources to Korea. President Lee also met with Salman Bin Abdul-Aziz Al Saud, Saudi Arabia's Minister of Defense, and conversed on state and international affairs along with ways to enhance bilateral cooperation in defense.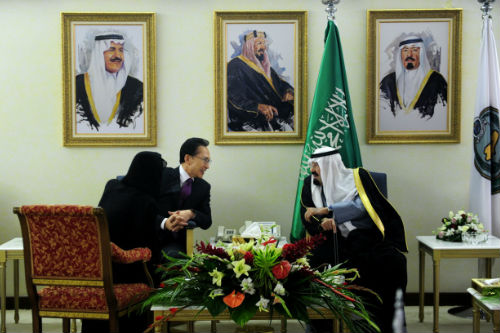 President Lee holds a summit with King Abdullah of Saudi Arabia on February 8 (photo courtesy of Cheong Wa Dae).
On February 8, President Lee held a summit with King Abdullah bin Abdul-Aziz Al Saud of Saudi Arabia. During the summit, held on the grounds of the Janadriyah Festival, President Lee extended his gratitude to Korea's invitation as guest of honor country at this year's festival.
Marking the 50th anniversary of diplomatic relations between the two countries, the two leaders agreed to deepen the friendship as well as cooperation in a wider range of sectors, including health care, national defense, and IT.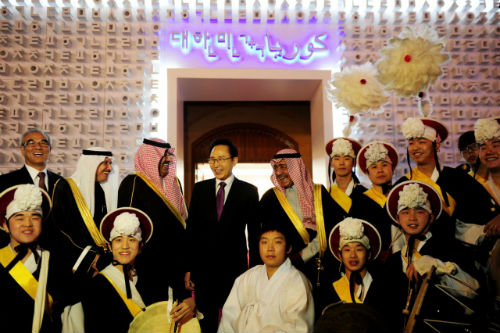 President Lee attends the opening ceremony of the Janadriyah National Festival for Heritage and Culture, where Korea was invited as guest of honor (photo courtesy of Cheong Wa Dae).
President Lee also attended the Korea-Saudi Arabia Business Forum the same day, and encouraged the entrepreneurs of both countries, emphasizing reinforced cooperation in the energy sector in particular.
During his two-day stay in Qatar, President Lee, joined by First Lady Kim Yoon-ok, attended an official dinner on February 9 at Qatar Palace hosted by Emir Sheikh Hamad bin Khalifa Al Thani. Both leaders remarked that President Lee's state visit was establishing a foothold for enhanced cooperation in natural gas and agreed to further expand the scope of cooperation into construction, medical and health care, education, green growth, and climate change.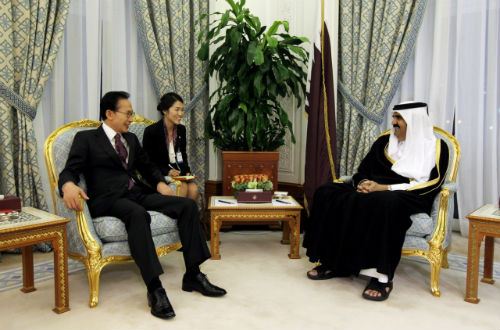 President Lee holds a summit with Emir of Qatar, Sheikh Hamad bin Khalifa Al Thani on February 9 (photo courtesy of Cheong Wa Dae).
Giving a keynote address at the Korea-Qatar Business Forum, President Lee noted the need to further expand the scope of bilateral cooperation beyond the energy and resource sectors. The Korean leader spoke of the green growth sector as one of the promising paths to lead the next phase of bilateral relations, combined with Korea's expertise on green growth as a national vision since 2008 and Qatar's hosting of the next major UN Climate Change Conference this year.
In the United Arab Emirates, the last stop of the tour, the Korean president met with Abu Dhabi's Crown Prince Sheikh Mohammed bin Zayed Al Nahyan on February 10, concluding his week-long diplomatic move to secure and diversify oil sources. President Lee's visit to Abu Dhabi, the capital of the first Gulf nation to sign a strategic partnership agreement with Korea in 2009, is the third time in his presidential term.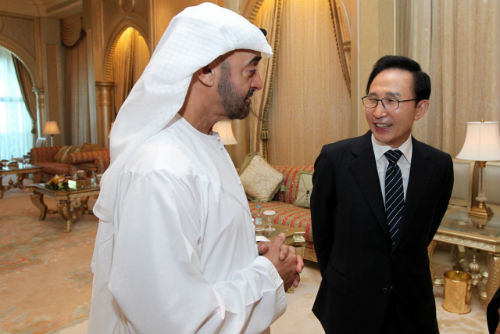 President Lee meets with Abu Dhabi's Crown Prince Sheikh Mohammed bin Zayed Al Nahyan on February 10 (photo courtesy of Cheong Wa Dae).
President Lee expressed his gratitude to the Crown Prince of Abu Dhabi for his positive response to the request for an additional oil supply during Korean Prime Minister Kim Hwang-sik's visit to the UAE last January. The prince promised his continued support in producing a concrete assessment of Korea's needs.
By Hwang Dana
Korea.net Staff Writer
Featured Topics
http://www.korea.net/NewsFocus/Policies/view?articleId=98650
URL Copy
Department Global Communication and Contents Division, Contact Us